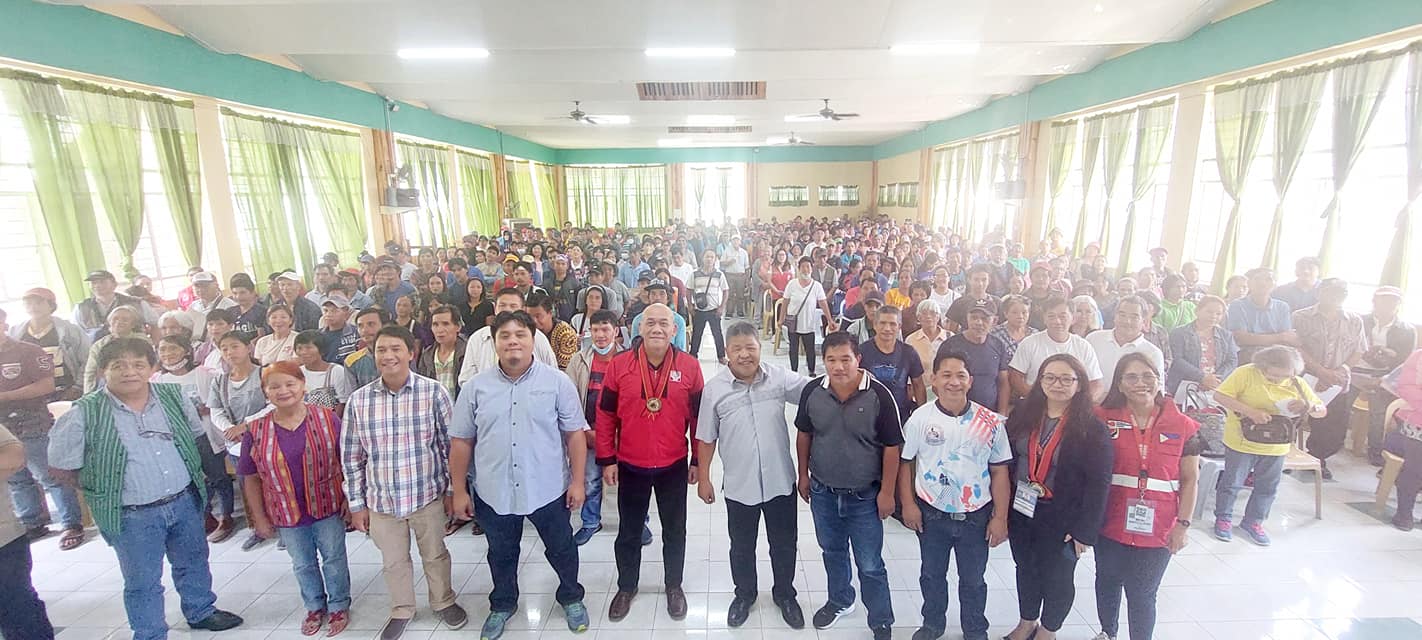 BONTOC, MT. PROVINCE- In the aftermath of the effects of Super Typhoon Egay, the Department of Social Welfare and Development Field Office Cordillera Administrative Region (DSWD FO CAR) started the roll out of Emergency Cash Transfer (ECT) in the region.
On August 11, during the formal launching held at Multi-Purpose Building Hall, Bontoc, Mountain Province, a total of PHP 3,519,000.00 cost of assistance were provided to 389 beneficiaries of Mt. Province. Four beneficiaries with totally damaged houses were provided PHP 13,500.00 each and 385 families with partially damaged houses received PHP 9,000.00 each.
"ECT is an adaptive strategy of the government in bridging the gaps between immediate humanitarian response and early recovery. This is an unconditional cash transfer to the beneficiaries with partially and totally damaged houses," said Regional Director Leo L. Quintilla representing DSWD Secretary Rex Gatchalian.
In his message, Director Quintilla also acknowledged all DSWD FO CAR Staff and explained that the agency will continuously support the needs of the affected families of the typhoon.
Among the beneficiaries of the ECT in Mt. Province is 75-year-old Adela Tayawa Omanhan from the municipality of Natonin who expressed her gratitude to the agency. She stated that the cash assistance is important in order to replace their roof which was blown away by the wind brought about by the effects of the typhoon.
Also joining the payout are DRMD OIC-Division Chief Marifil C. Jugal, SWAD Mt. Province Staff led by Team Leader Jackielyn O. Guitangan, Lone District Representative of Mt. Province Congressman Maximo Y. Dalog Jr., Governor Bonifacio C. Lacwasan Jr., OCD-CAR Regional Director Albert A. Mogol represented by OCD-CAR Training Officer Arianie Cristie Atolba, Bontoc Municipal Councilor Viola P. Okko, Provincial, Municipal and Barangay Officials, and Philippine National Police.
In his message, Congressman Dalog Jr. said the launching of the DSWD's ECT is in favor of Mt. Province and they are confident that the agency will continue and sustain the recovery and rehabilitation programs of the government to help fellow constituents to recuperate from the recent calamities in the region.
Meanwhile, Governor Lacwasan Jr. narrated that their experienced during the height of Typhoon Egay was not the first as they have experienced more destructive typhoons in the past and they expect to see more of these in the future. "What is important is that we have to rise from the remnants of these calamities," he added.
Representing Mayor Jerome B. Tudlong Jr., Councilor Okko also expressed their heartfelt gratitude to the national government through the DSWD for always taking innovative and adaptive ways and means to bring government services closer to the people.
This month, the agency seeks to also deliver ECT to the 12, 704 beneficiaries in the province of Abra.
On October 2022, the first implementation of ECT was held in Abra and Mt. Province to help the victims of the magnitude 7.0 earthquake. ECT is an adaptive strategy in bridging the gaps in immediate relief, humanitarian response and early recovery support through provision of unconditional cash to victims of disaster of situation requiring DSWD intervention.As per Memorandum Circular 17, series of 2021 of DSWD, the amount of relief assistance is equivalent to 75% prevailing Regional Daily Wage Rate multiplied by the number of days. # DSWD FIELD OFFICE CAR, SOCIAL MARKETING UNIT, LAUREN ALIMONDO, DRMD Information Officer