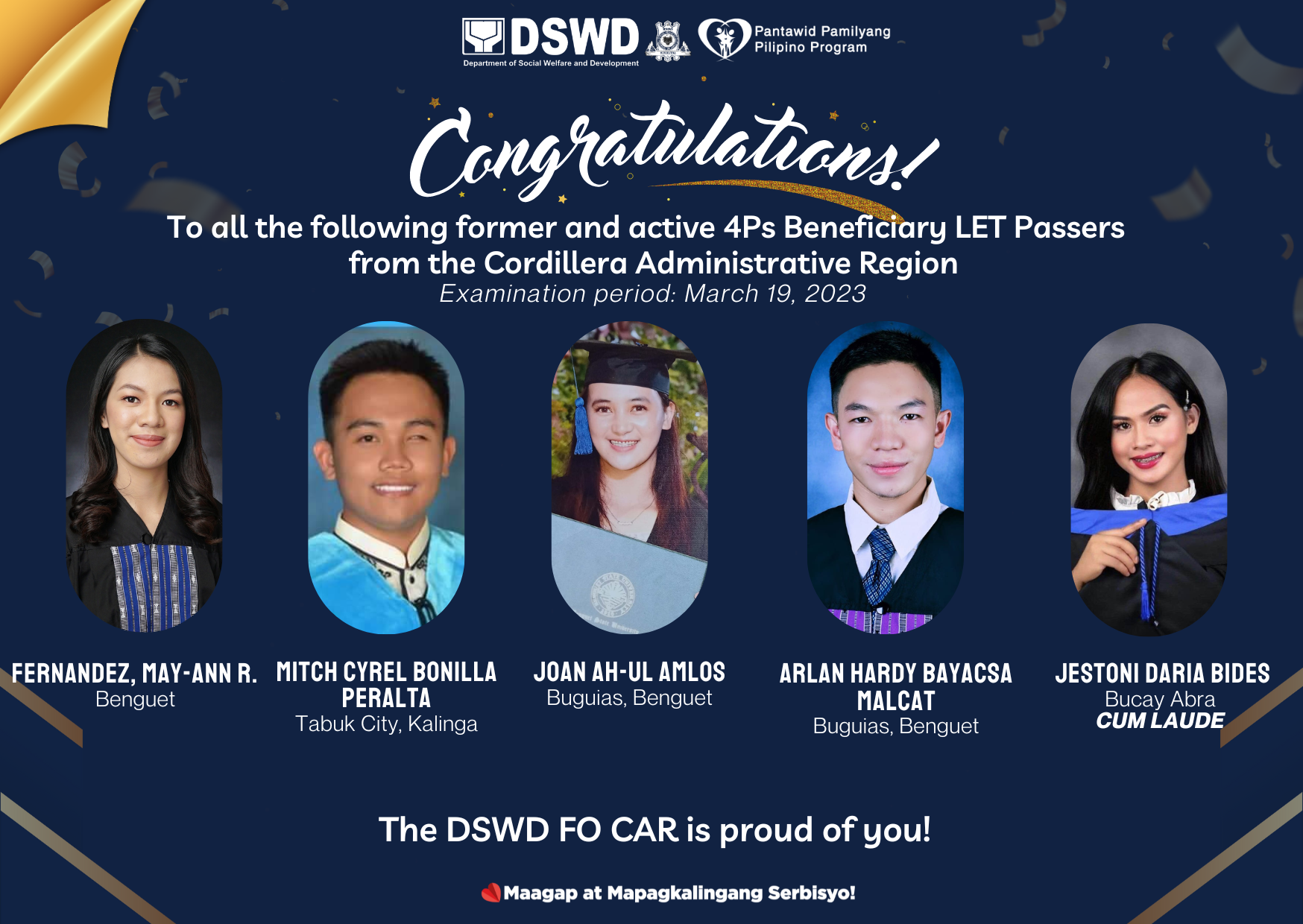 Beneficiaries of the Pantawid Pamilyang Pilipino Program (4Ps) from the different provinces of the Cordillera Administrative Region (CAR) continue to bring hope in their community as they successfully passed the different licensure examinations for Teachers, Electrical and Civil Engineers, Public Accountants, and the Civil Service Exam.
As of writing, about 125 former monitored children beneficiaries from the region passed the Licensure Examination for Professional Teachers held on March 28-29, 2023.
Mr. Limuel Cabanisan and Mr. Jeward Barney, both from the province of Abra in the town of Tayum and Licuan-Baay, respectively joined the rosters of new Electrical Engineers. The Registered Electrical Engineers Licensure Examination was held in April 2023.
In addition, Mr. Val Caray-as from Itogon, Benguet made his family and community proud as he successfully joined the new Civil Engineers held on April 29, 2023.
Meanwhile, Ms. Charlotte Ammadang from the province of Kalinga joined the new Certified Public Accountants after passing the Certified Public Accountant Licensure Exam (CPALE) held on May 21-23, 2023. Ammadang is former grantee of the Expanded Student's Grants-in-Aid Program for Poverty Alleviation (ESGP-PA), a scholarship program led by the Commission on Higher Education and the DSWD.
Joining the apron of new Registered Nurses is Ms. Hazel Lee Binunag from the municipality of Flora, Apayao. The family of Binunag has been a consistent compliant to the program conditions. Recently, the Binunag family attained an improved level of well-being based on the result of Listahanan 3.
Moreover, Ms. Phoebe Baggas from Pinukpuk, Kalinga made it to the list of passers for Career Service Examination-Pen and Paper Test (CSE-PPT) under Professional Level of the Civil Service Commission conducted on March 26, 2023.
"We are happy that many 4Ps beneficiaries are making waves in their respective chosen careers. These are products of their determination, hard work, and grit despite the challenges of their families. Let this success be an inspiration to everyone, especially to the new 4Ps beneficiaries," DSWD FO CAR Regional Director Leo L. Quintilla said.
Led by the DSWD, the 4Ps was institutionalized in 2019 by virtue of Republic Act 11310 as the government's major poverty alleviation program that invests in the health, nutrition, education and psycho-social development of the beneficiaries. The program ensures that the beneficiaries will have the capacity to live a decent life and are ready to exit within seven-years as mandated by the law. ### DSWD-CAR Social Marketing Unit – Marlo C. Abyado Jr., 4Ps Information Officer