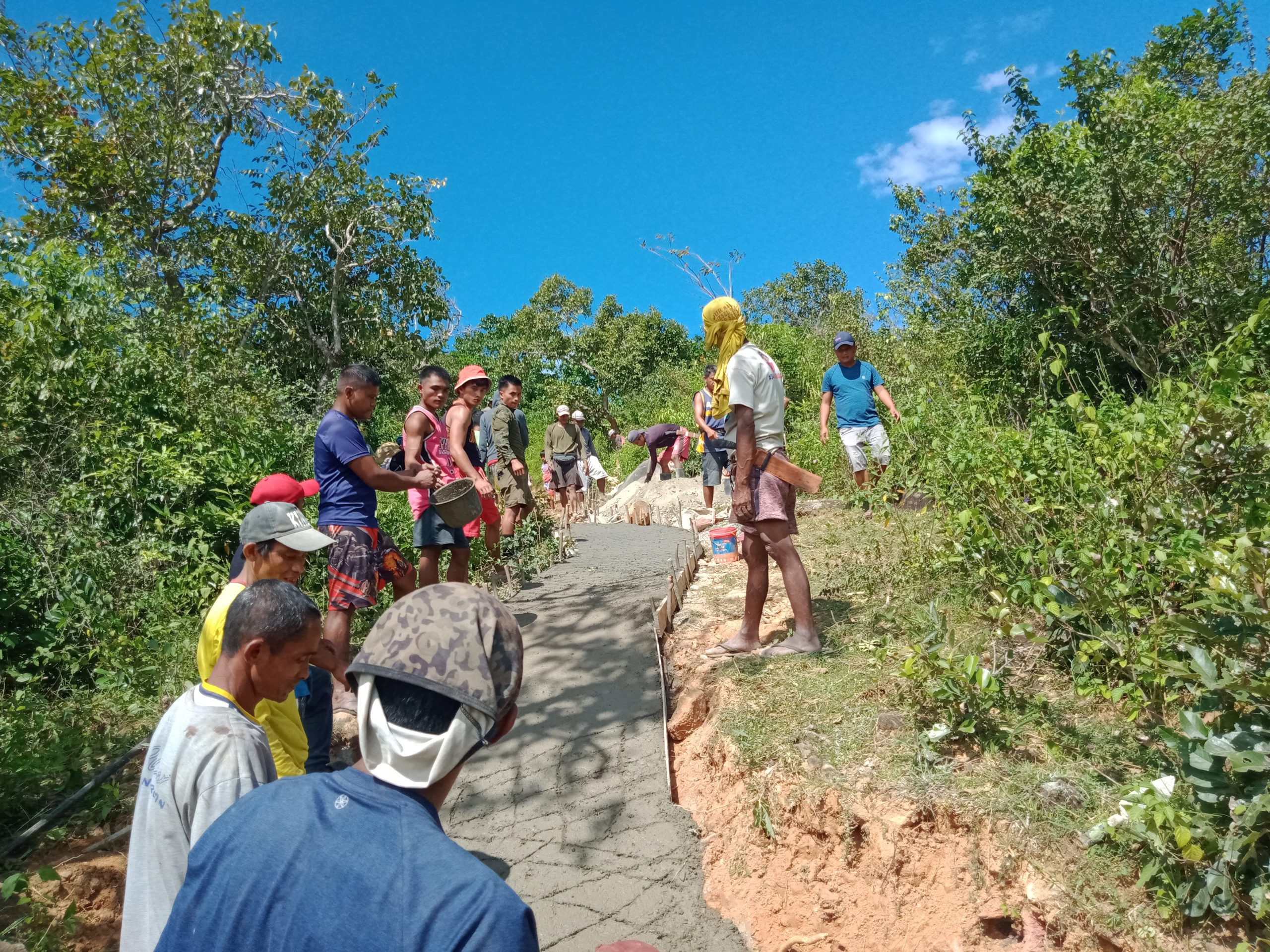 Growing up in poverty, Somica Gayban thought she had nothing to give for her community. She has witnessed how each of them hustle to bring food to the table-put their children to school and hope for a better tomorrow. She was use to minding her own business while letting the local officials do their job for their barangay.
As a farming community, they depended on the sales of their crops. During the dry season, they would walk for an hour carrying their produce to the market. Making enough money to buy food that was not from their farm-such as fish. But during the wet season, they are left with no choice but to settle with what they have harvested. This is because their road turns into a mudslide whenever it rains. With such slippery road, they are not able to bring their products to the market. This had been the cycle of her life for 32 years. Not until 2020, when she was asked to attend an assembly called by the Department of Social Welfare and Development (DSWD) Kapit-bisig Laban sa Kahirapan-Comprehensive and Integrated Delivery of Social Services (KALAHI-CIDSS) Program.
"Patas na pagtrato sa Komunidad" (Fair treatment of the community), this was the phrase that enticed her to stay throughout the assembly. "This might be our chance to be heard-even if I have nothing" she thought to herself. With the intention of learning more about the program, she mustered her courage and joined the group of community volunteers to be trained for the implementation. She knew this was out of her comfort zone. She was a shy and quiet woman, keeping her thoughts to herself and would only speak when asked. But her excitement to learn and to experience the process was louder than her reservations.
Defining the Dream
When they were asked to identify the needs of their community, Somica and her neighbors did not hesitate to make mention of the concreting of their footpath. This way, it will be faster for them to bring their crops to the market and it would also bring convenience during the rainy season. This will also make it safer for the sickly, old, and pregnant to be brought to the Barangay Health Station when needed. After reaching agreement with the local government officials, the training for the preparation of the documents for the implementation began.
"Even if I was just a mere member of the Project Preparation Team, I learned a lot from the series of trainings that were provided to us. Such as budgeting, procurement, preparation of project proposal, being a good leader, communiting with the members of your community." Somica shared in their own dialect.
The trainings made her realize that funds for government projects are not outrightly given and then implemented the next day. She learned that it was a process of preparation, budgeting, monitoring, and ensuring that it is utilized according to plan.
"I learned that there is a process in everything, just like in life, you have to work hard for your dream if you want to achieve it, because it is not something that will just be handed out to you. We dreamed for the concreting of the footpath-and we worked hard for it." Somica shared in their own dialect.
Coming together in unity
Just when they thought the concreting of their path would come shortly, their implementation was disrupted by the weather condition. Since the materials were hauled manually, they had to wait for the rains to stop every now and then. But slowing down was not an option, as it may cause the cement to be exposed to moisture causing spoilage. So they decided to call on a meeting ensuring that every household is represented. As one, they came into an agreement that each household must send in a representative to haul the materials as scheduled. In October 2021, almost a hundred individuals hauled the materials. After which, they proceeded with the construction, men and women participated in what they can do to hasten the work. A total of 39 laborers worked for the project. Nine of which were skilled male laborers, 15 unskilled female laborers, and 15 unskilled male laborers.
"All of us joined the construction, most were women. When the skilled laborers were informed that the budget was not enough because of the hauling labor, they decided to receive the same compensation as everyone else. No one complained about the compensation they received. In form of bayanihan, we gave extra days of labor without pay because we all had one goal, to complete the project that was for the development of our barangay." Somica added.
With their joint efforts, the 780 li.m concrete footpath was completed and inspected to be in accordance to its Program of Works in November 2021.
"Iti daytoy nga programa nga naipaay kanyami ket naipakat wenu naipakita manen ti nainsigudan nga kaugalian nga ada unity ken panag-titinulong iti umili. Ubbing man,agtutubo,amma,inna ken mamanakem ket nagtitinulong iti panakaimplementar na daytoy nga proyekto." (The implementation of this program has showcased the extraordinary practice of the indigenous peoples-that there is unity and cooperation. Children, natives, fathers, mothers, and elders helped out in the implementation of the project.) shared Augilyn Cardona during the turnover of the project to the Talampac-Pacoc Farmers Association. The footpath will be maintained by the association to ensure that it will remain functional to the next generation. #DSWD FO CAR Eden Faith S. Fataner.