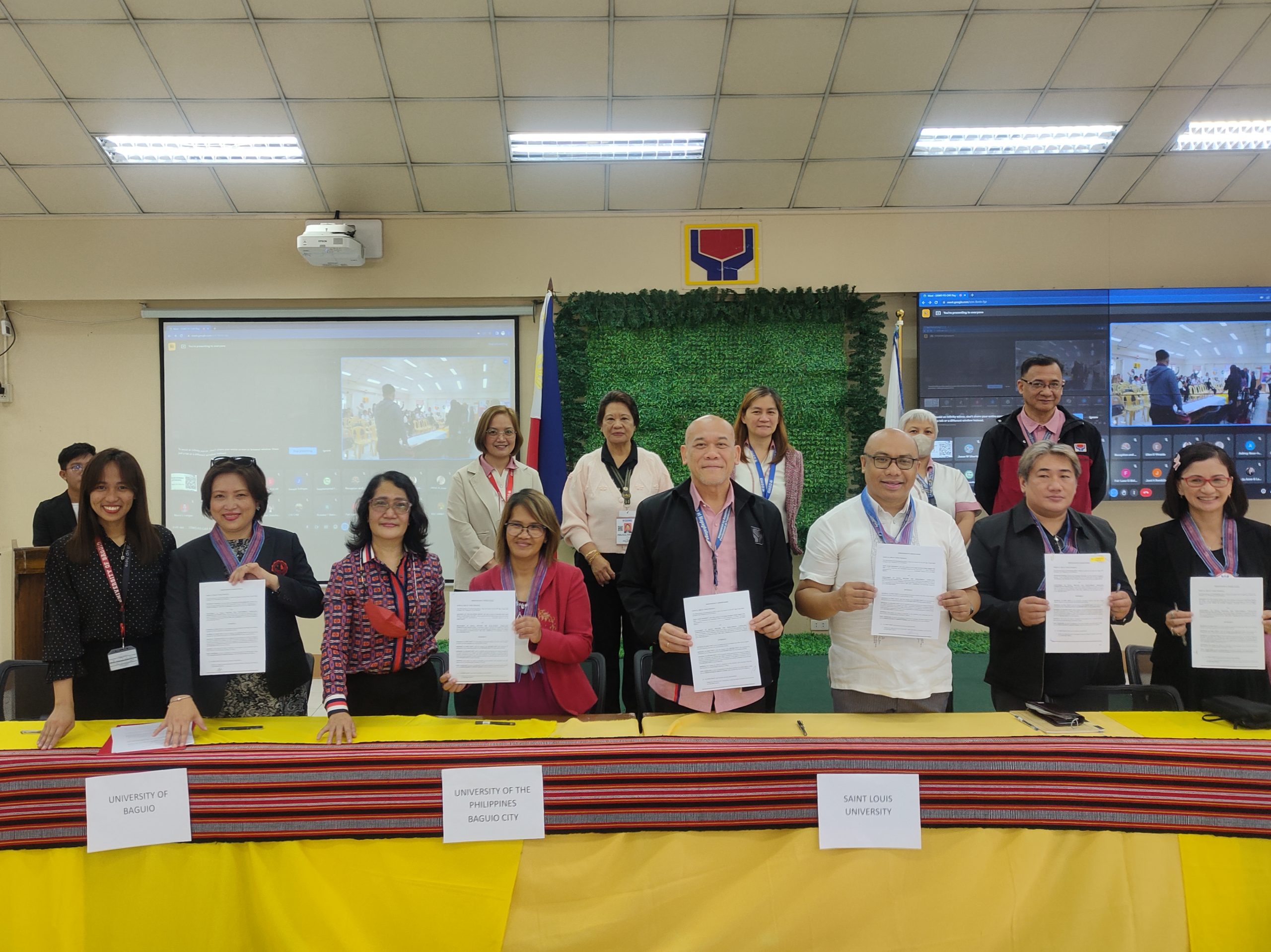 The Department of Social Welfare and Development Field Office Cordillera Administrative Region (DSWD-CAR) inked a Memorandum of Understanding (MOU) with State Universities and Colleges (SUCs) and Higher Educational Institutes (HEIs) in Cordillera Administrative Region on 24 April 2023. The partnership is in support of DSWD's recruitment plan to entice a diverse and significant pool of potential and qualified applicants to become part of the Agency's human resources. 
"With this collaboration, we can make social work, community development, and disaster management an attractive course. It will also make the hiring process faster, and democratize representation for we can hire from different provinces of Cordillera through the different Universities and Colleges in the Region," said DSWD CAR Regional Director Leo L. Quintilla. 
"It is with our gratitude to be part of this endeavor in forging cooperations and initiatives for development opportunities among our agencies, particularly in becoming a workforce development partner. We understand that this partnership and linkage will spur our efforts to assist our graduates to be transformational partners in the communities," said Dr. Edgar G. Cue, president of Mountain Province State Polytechnic College. 
In addition, Miami Lenbel Vinuya, head of the Human Resource Planning and Performance Management Section (HRPPMS), discussed the possibility of accepting interns from different universities and colleges. Vinuya highlighted that ten interns from the year 2022 were absorbed by the Agency after seeing their potential. Interns are also given the opportunity to participate in different trainings conducted by the agency through the SWD Talks. They are also given certificates after completing the trainings which usually lasts for 2-4 hours. Apart from the trainings, interns will be exposed to the work process within the agency. This will give them an advantage when they decide to apply for DSWD. 
The Memorandum of Understanding is made and entered into by the University of the Cordilleras, University of the Philippines Baguio, Mountain Province Polytechnic State College, University of Baguio, Saint Louis University, Kalinga State University, and Ifugao State University. 
In her closing message, ARD for Operations Amelyn P. Cabrera guaranteed the partner SUCs and HEIs that by encouraging their potential graduates to join DSWD, they will be gaining knowledge and experience in working with communities and other agencies. #DSWD FIELD OFFICE CAR, SOCIAL MARKETING UNIT, JEZEBEL L. GUMATAY
Visits: 21 | Today: 8