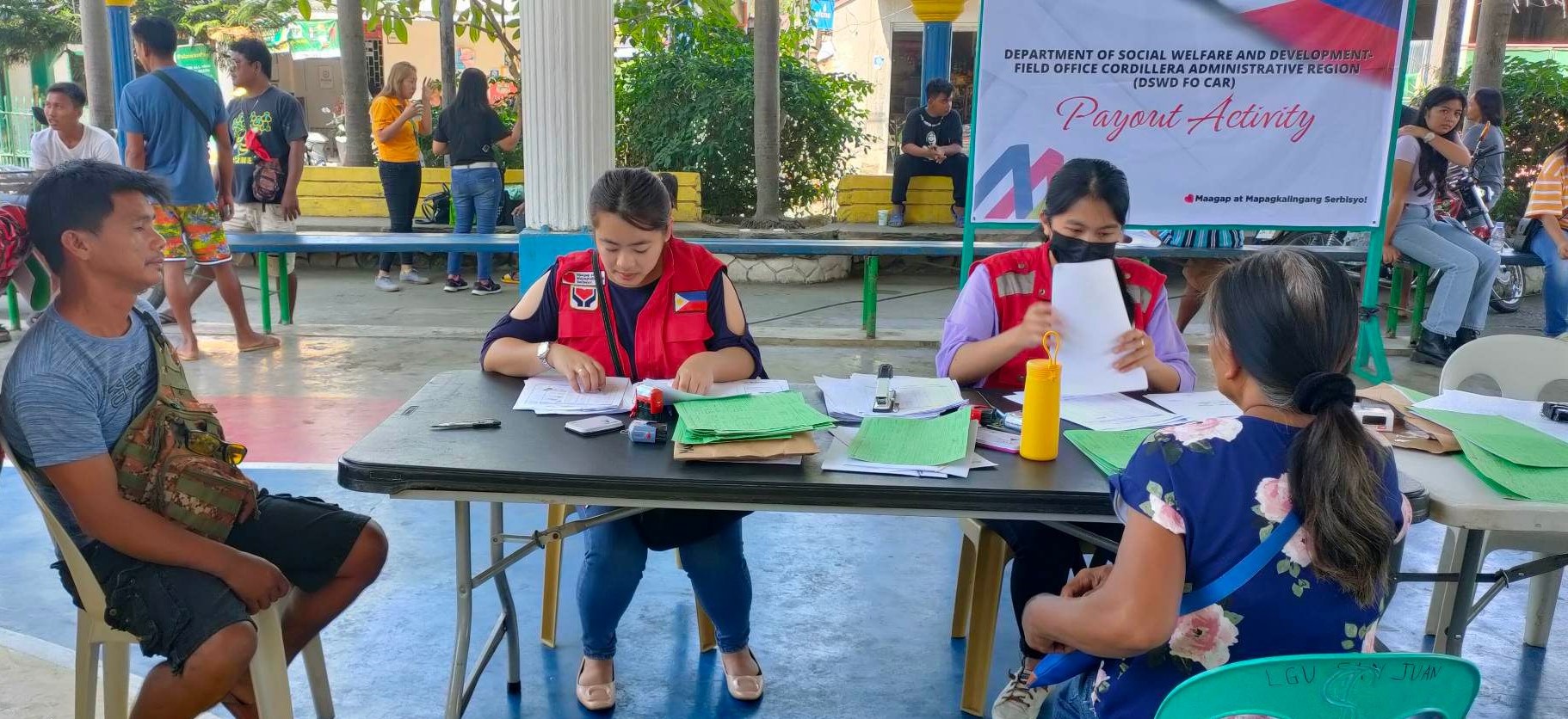 ABRA- For disaster-affected families of the magnitude 7.0 earthquake which occurred on July 27, 2022, receiving the Emergency Cash Transfer financial assistance of Department of Social Welfare and Development Field Office Cordillera Administrative Region (DSWD FO CAR) will help them repair their damaged houses.
During the ECT payout in Abra, Jocelyn B. Verzola, a resident of Calaba, Bangued and a recipient of the financial aid said she is grateful to the agency adding the money will be in addition to their budget to buy materials to their damaged house.
 "Agyaman ak DSWD ta inikan dak gundaway, inikan dak dakel nga tulong. Daytoy ken pangnayon tapnu maigatang iti pagsimpa mi ditoy nadadael nga balay mi (I am grateful to DSWD who gave the means, and big help. This financial assistance will be used in buying materials to fix our totally damaged house)," says Verzola.
The Emergency Cash Transfer (ECT) is an adaptive strategy of the DSWD in bridging the gap between immediate disaster relief, humanitarian response and early recovery support in disasters and emergency by providing unconditional cash assistance to disaster-affected families.
The ECT is an unconditional cash grant, meaning this financial aid may be used by the beneficiary for any purpose that would aid in their day to day needs and repair of their damage house.
Luzviminda Donato from Lagayan, Abra thanked the agency as this will help them buy materials to repair their house.
"Ituloy mi ipasimpa balay mi, pagyamanan mi ta ada daytoy nga pinansiyal assistance paggatang mi iti cemento ken darat tapnu maisimpa balay mi. Salamat iti DSWD, dakkel nga tulong daytoy (We will continue to repair our house, we are thankful to have this financial assistance in order for us to buy cement and sand to fix our house. Thank you to DSWD, this is a big help for us)," Donato shared.
In Mt. Province, Jona Briones also extended her gratitude to the financial assistance provided by the agency.
During the first ECT payout held October 2022, the DSWD Field Office CAR was able to provide PHP 211, 330, 350.00 cash assistance to the 23, 051 beneficiaries recording a 98.42% accomplishment.
For March 2023, the agency seeks to deliver the remaining cash assistance to the 1,793 beneficiaries of Mt. Province and Abra.
The identification of totally and partially damaged house was based on the Office Memorandum dated August 25, 2022 on the Guidance on the Identification of Damaged Houses caused by the earthquake. This was the basis for the classification of totally and partially damaged house. The assessment and validation of house was conducted by DSWD together with the LGUs.
The beneficiaries include all disaster affected families, regardless of economic status are eligible for the financial assistance. During the consultation meeting between DSWD Disaster Response Management Bureau and DSWD Field Office CAR it was agreed that due to fund limitation, families with damaged houses in areas declared under state of calamity were prioritized for ECT cash assistance.
The amount of relief assistance is equivalent to 75% prevailing Regional Daily Wage Rate multiply by the no. of days. For Partially Damaged house a total of PHP 8, 550 was provided to the beneficiaries while PHP 25, 650 cost assistance was provided to beneficiaries with totally damaged house. # DSWD FIELD OFFICE CAR, SOCIAL MARKETING UNIT, LAUREN ALIMONDO