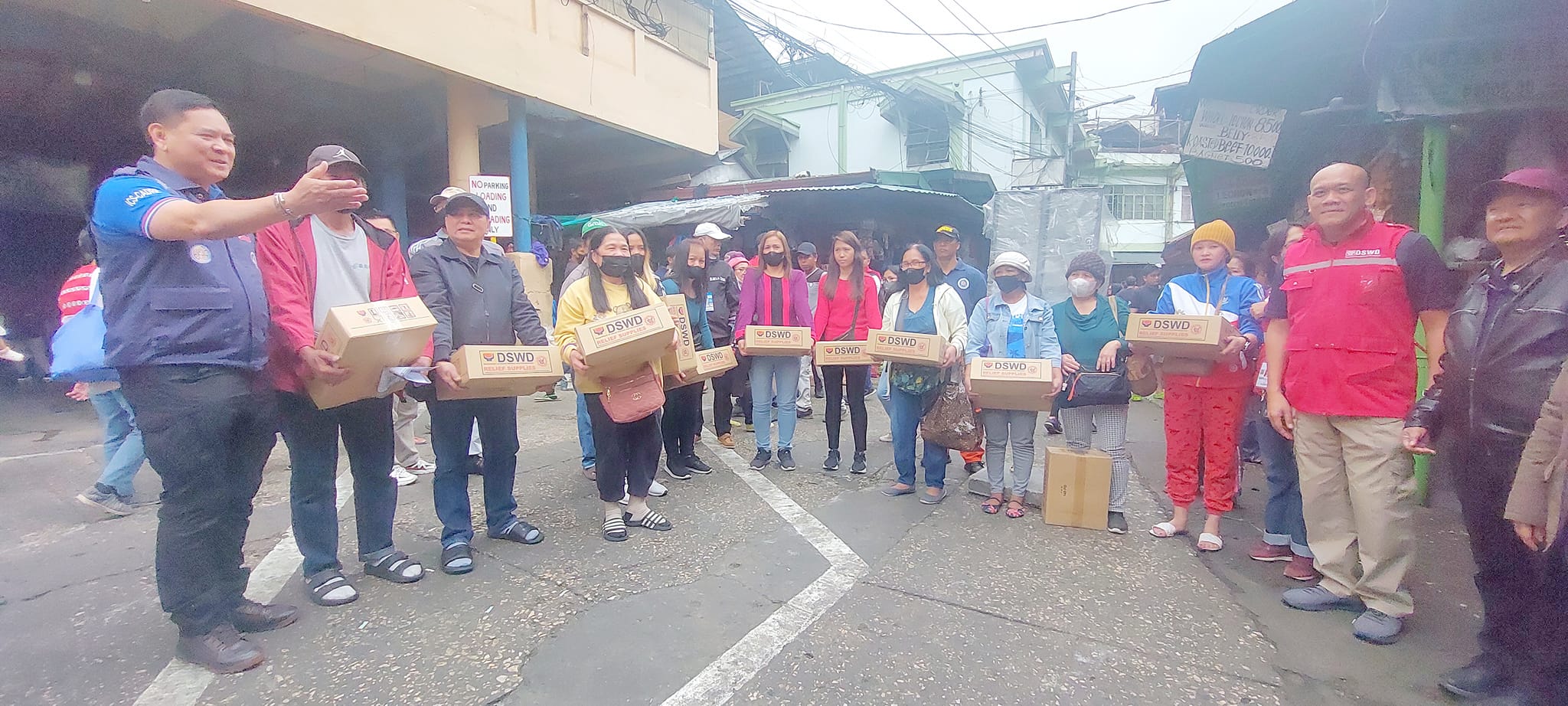 BAGUIO CITY- On the night of March 11, fire razed the Block 3 and 4 of the Baguio City Public Market which affected thousands of market vendors in the city.
To help the affected vendors cope with the effects of the fire, the DSWD Field Office CAR extended immediate response through the provision of family food packs (FFPs) released to the City Government of Baguio on the morning of March 12.
DSWD Field Office CAR Regional Director Leo L. Quintilla, attending the post emergency meeting on Sunday at the Rillera Buildng, Public Market stated the Field Office is ready to augment in the provision of assistance to the affected vendors.
Together with the members of the Cordillera Regional Disaster Risk Reduction and Management Council led by Office of Civil Defense-CAR, the Field Office and the Local Government Unit of Baguio spearheaded the distribution of food and non-food items (NFIs) to the fire victims.
"This is part of our augmentation to the City Government of Baguio intended for the victims of fire. We have released a total of 2,200 for the city. We are currently conducting assessment for the possible aid to individuals in crisis situation and we are planning to conduct planning and proposal for Sustainable Livelihood Program. Alam natin iyong apektado ditto ay vendors, ito po ang Immediate Response natin kasama ang City Government of Baguio at Office of Civil Defense Cordillera," says Dir. Quintilla who also extended his gratitude to all volunteers and partners who helped in the distribution of relief items.
As of 4PM of March 13, a total of 1,678, 574 worth of assistance was provided to the affected market vendors of which PHP 1,556,822 worth of FNIs are from DSWD Field Office CAR while PHP 121, 752 worth of Hygiene Kits are from the Office of Civil Defense Cordillera.
Ms. Mercedes Bravo, market vendor from Block 3 stated her gratitude to the agency for the provision of assistance.
"Dakkel nga banag kenyami daytoy nga na totally damaged ti wagwagan mi. Since 1980 aglaklako kami iti bado akas livelihood mi ditoy Baguio. Kayat mi ited iti pasalamat mi iti DSWD. (This is a big help to us who have been affected by the fire. Our second-hand products have been totally damaged by the fire. Since 1980, I have been selling clothes as a means of livelihood in the city. We would like to extend our gratitude to DSWD)," says Ms. Bravo.
As of March 13, the Field Office has a total of PHP 13.5 million standby funds available, 32, 124 family food packs and 28,586 non-food items currently prepositioned in the regional and satellite warehouses and LGUs in the region. # DSWD FIELD OFFICE CAR, SOCIAL MARKETING UNIT, DRMD IO LAUREN ALIMONDO