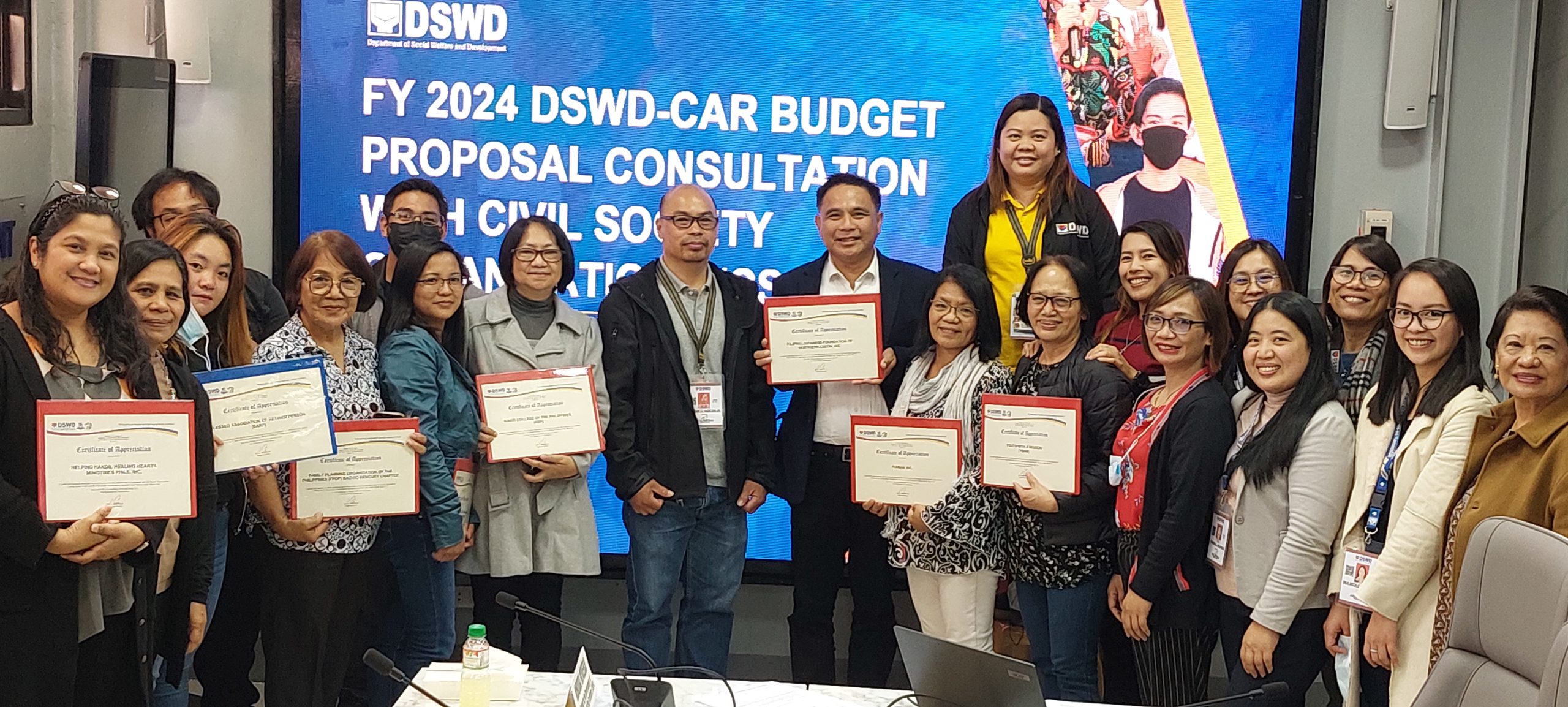 Cordillera Administrative Region (CAR)- The Department of Social Welfare and Development here conducted the 2024 Budget Proposal Consultation with Civil Society Organizations (CSOs) on 17 February 2024. The consultation aims to gather the insights of DSWD's partners on the efficient and effective use of  the Department's funds.
"The DSWD FO CAR recognizes the vital role of our CSO partners in the implementation and monitoring of our programs and services. We will not be able to accomplish what we have done if not of the assistance and support of our partners", DSWD FO CAR Regional Director Leo L. Quintilla said.
Mandated by the Department of Budget and Management (DBM) National Budget Memorandum No. 145 and Regional Budget Memorandum No. CAR-001, series of 2003, national government agencies such as the DSWD call for the participation of CSOs to highlight citizen participation in the budget process and enhance transparency and accountability in the allocation and utilization of public funds.
Under DSWD's engagement framework, the CSOs may engage as Bantay, Gabay, Tulay, and Kaagapay. Bantay or watchdog function allows DSWD and partners cooperate in project implementation geared against corruption. Under gabay or mentor, partnerships focus on enhancing the technical capacities of DSWD direct service providers through the expertise of partners in areas needing their technical assistance. Kaagapay or co-implementers engage in partnerships in the implementation of social welfare programs and projects which target a commonly agreed area. Tulay or links intend to facilitate action, feedback, and monitoring of a specific program and area of implementation through the partner's resources.
Eleven (11) CSO partners including King's College of the Philippines, Filipino-Japanese Foundation of Northern Luzon, Inc. (Abong), Center for Development Programs in the Cordillera, IYAMAN, Inc., Helping Hands Healing Ministries Philippines, Inc., Cordillera Disaster Response and Development Services Incorporated, BARP Foundation Inc., Family Planning Organization of the Philippines, Save Our School Children Foundation, Inc., Youth with a Mission, and Child and Family Service Philippines, Inc. signified their commitment to assist the DSWD through the Budget Partnership Agreement (BPA).
The BPA aims to formalize the partnership of the DSWD and CSOs. It also promotes adherence of the two institutions to the principles of constructive engagement such as transparency, accountability, integrity, partnership, consultation and mutual empowerment, respect for internal processes, sustainability, and national interest.
"We would like to express our gratitude to all our partners who unceasingly provide us with the support and assistance that we need to provide maagap at mapagkalingang serbisyo. We look forward to even strengthening our collaboration. It is our hope that more CSOs will be interested to engage with us so that we can further improve our services to the Cordillera people", Director Quintilla said. #DSWD FIELD OFFICE CAR, SOCIAL MARKETING UNIT, NERIZZA FAYE G. VILLANUEVA-TRINIDAD