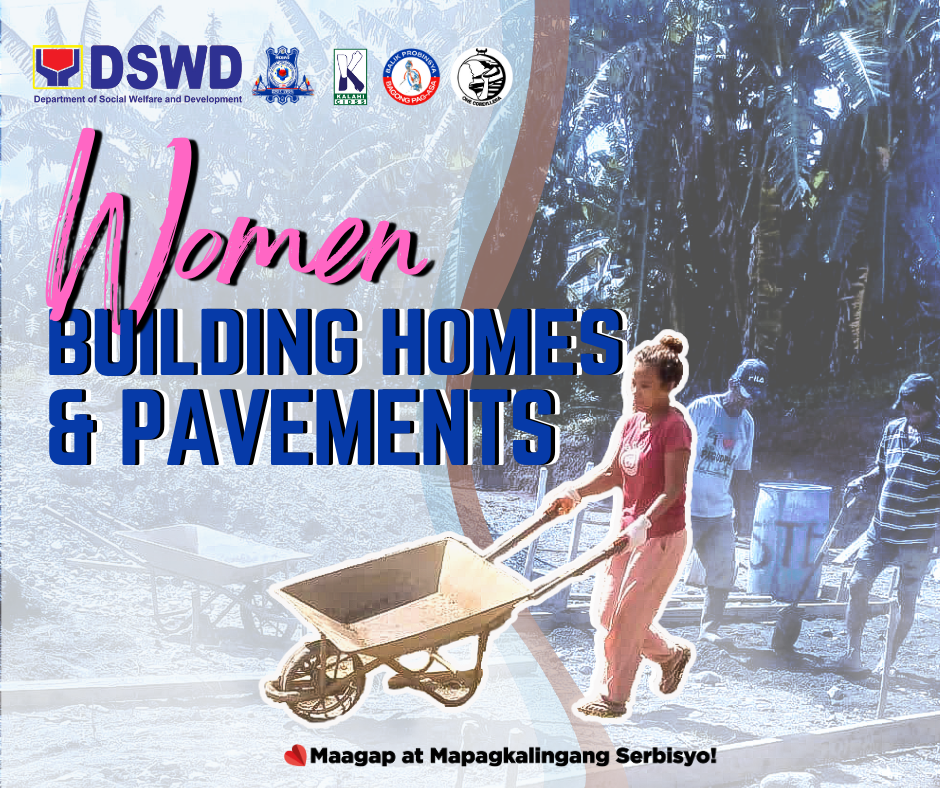 Landscaped with rolling hills, the farming community of Barangay Guinamgamman, Conner, Apayao has been challenged in properly drying their crops with limited post harvest facilities. As such, farmers would turn to drying their corn and rice produce in the barangay road, their small backyards, and would sometimes transport it to the national road in their nearby barangay. Although they were able to come up with a temporary solution, damage to their crop is inevitable resulting to lesser income. Further, farmers with no vehicle and are located in sitios farther from the center have even lesser chance in accessing their desired location in drying their crops.
In hopes of continuing their farming activities, community members of Barangay Guinamgamman identified the construction of a 270 sq.m multi-purpose drying pavement as one of their needs. It was expected to accommodate 30 cavans of corn or rice.
Receiving a grant of Php 249,273.85 from the DSWD Kapit-bisig Laban sa Kahirapan, Comprehensive and Integrated Delivery of Social Services-Balik Probinsya Bagong Pag-asa Program (KALAHI-CIDSS BP2P) and Php 3,000.00 local cash counterpart from the Barangay Local Government Unit (BLGU), the community started the pavement's construction in 15 September 2022.
From the planned 21 days of implementation, the community experienced delays in construction due to the nonstop rains and the unavailability of most men laborers in their community due to the  farming season. However, rather than waiting for sunny weather or for their men to be available, nine (9) women laborers decided to join the five (5)  men laborers and learned the skills needed for the construction of the drying pavement.
Carmelyn Daoan, one of the laborers shared how physically hard it was to manually excavate the land since it was her first time to do such task. But she continued to do it and contributed what she can with all the other ladies exerting their effort to finish the project. As mothers, they would sometimes bring their children along to watch and wait for them on the sides as no one was available to take care of them while they were at work.
Using the barangay patrol car, their barangay treasurer would ferry them to the project site to help ease their need of transportation.
"Idiyay ko nga napatunayan nga kayang-kaya gayam iti babae nga trabahuen iti trabaho iti lalaki. Idiyay ko nasuro no mano iti bilang iti semento nga maihalo iti darat. Normal met lang nga mediyo nabayag kami nga nalpas, ngem uray no kasdiyay ket nalpas diyay sub-project mi." (It was where I have proven that women can do the work men performs. It was where I learned the proper ratio of cement and sand [to be used for concreting. Though we are slow, we were still able to finish the sub-project.) shared Mendal Aryang, another one of the community laborers and also the Barangay Secretary. With all efforts made, they were able to complete the construction in 21 November, 2022.
Using the Community Driven Development approach, the DSWD KALAHI-CIDSS Program encourages 35% women participation in paid labor to encourage, empower, and ensure inclusion of marginalized sectors in its implementation. They are also paid at the same rate as men.
In 2022, in the 44 implementing municipalities in the Cordillera Administrative Region, 35.11% were women paid for their labor. Through years of implementation, the program was able to showcase the strength of women in paid labor and hopes that the same practice will be seen in other government projects implemented. 
To ensure the continuation of the Program's gains, DSWD pushes the CDD Bill which aims to institutionalize the inclusivity and participation of women and other marginalized sectors in implementing government projects. This way, women are given equal opportunity to work and participate without discrimination. #DSWD FO CAR, Social Marketing Unit, Eden Faith S. Fataner.