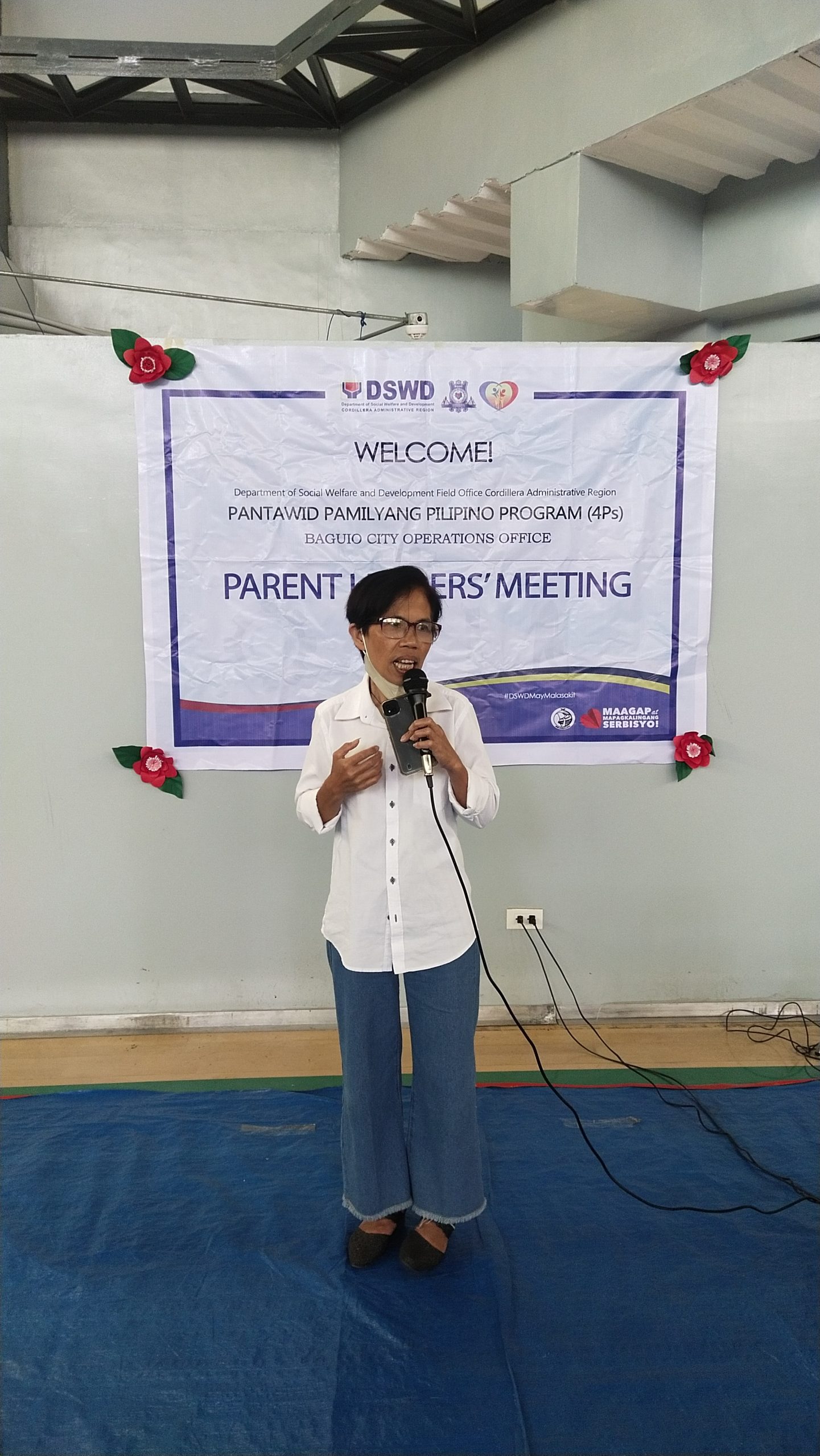 Baguio City – The Pantawid Pamilyang Pilipino Program (4Ps) of the Department of Social Welfare and Development Cordillera Administrative Region (DSWD FO CAR) here recognized the Parent Leaders (PLs) of Baguio City who have been exemplary performing their duties and responsibilities as the main link of the DSWD to the program beneficiaries through the search for the Best Parent Leaders on December 4, 2022. 
The PLs diligently assist in conducting meetings, updating of beneficiaries' profiles, conduct of monthly family development sessions, and other voluntary efforts helpful in program implementation.
"These PLs have long been playing significant roles in ensuring that they and their co-beneficiaries are moving towards an improved level of well-being by religiously doing their responsibilities as 4Ps beneficiaries. They serve as co-program implementers as agents of change in their respective communities. We salute all of you, our 4Ps Parent Leaders," DSWD FO CAR Regional Director Leo L. Quintilla said. 
Out of eight (8) nominees, Zenaida Mercado from San Luis Village, Baguio City emerged as the Best PL with her passionate service and voluntary efforts in helping out her co-beneficiaries in every way she can. 
"Being a Parent Leader is not simple and easy but serving and helping others is one of the things I enjoy the most. Being a volunteer, I have to extend time and effort in helping and assisting my members whenever possible through conducting one-on-one meetings when needed and doing mentoring sessions with my co-beneficiaries who are having difficulties in answering their FDS journal," Zenaida stated in her nomination document. 
Aside from her active participation in various barangay gatherings and school activities, PL Zenaida volunteered in the Ka-Brigada Pagbasa initiative of the Joaquin Smith National High School in Asin Road, Baguio City conducted in 2021. Her dedicated service was able to help learners having difficulties in reading and in coping mode of learning brought by the pandemic. 
Zenaida also ensures that queries of her co-beneficiaries about program updates and other DSWD programs and services are properly and timely responded through their group chat and other communication means she does. 
With her passionate heart as a leader, she was able to build a harmonious relationship with her co-beneficiaries with established open communication and network where they can express and share their ideas for discussion and advice.
PLs in the top 4 spots include Vilmalyn Laroza from City Camp Central, Nelda Pangsio of Apugan-Loakan, and Maribel Balcita from barangay Irisan. 
The winners and finalists of the said search received cash prizes, certificates of recognition, and token of appreciation.
As of December 2022, there are 100 PLs in Baguio City who continuously assist in the smooth implementation of the program without any monetary compensation. This accounts for around 4.5% of the total 2,366 PLs in the entire Cordillera region.
Enacted into law in April 2019, 4Ps is the government's major poverty alleviation program that invests in health, nutrition, and education of the poor eligible households along with psychosocial and psycho-educational interventions such as the Family Development Session towards improved and sustained well-being. ### DSWD-CAR, Social Marketing Unit, Marlo C. Abyado Jr., Pantawid Pamilya Information Officer