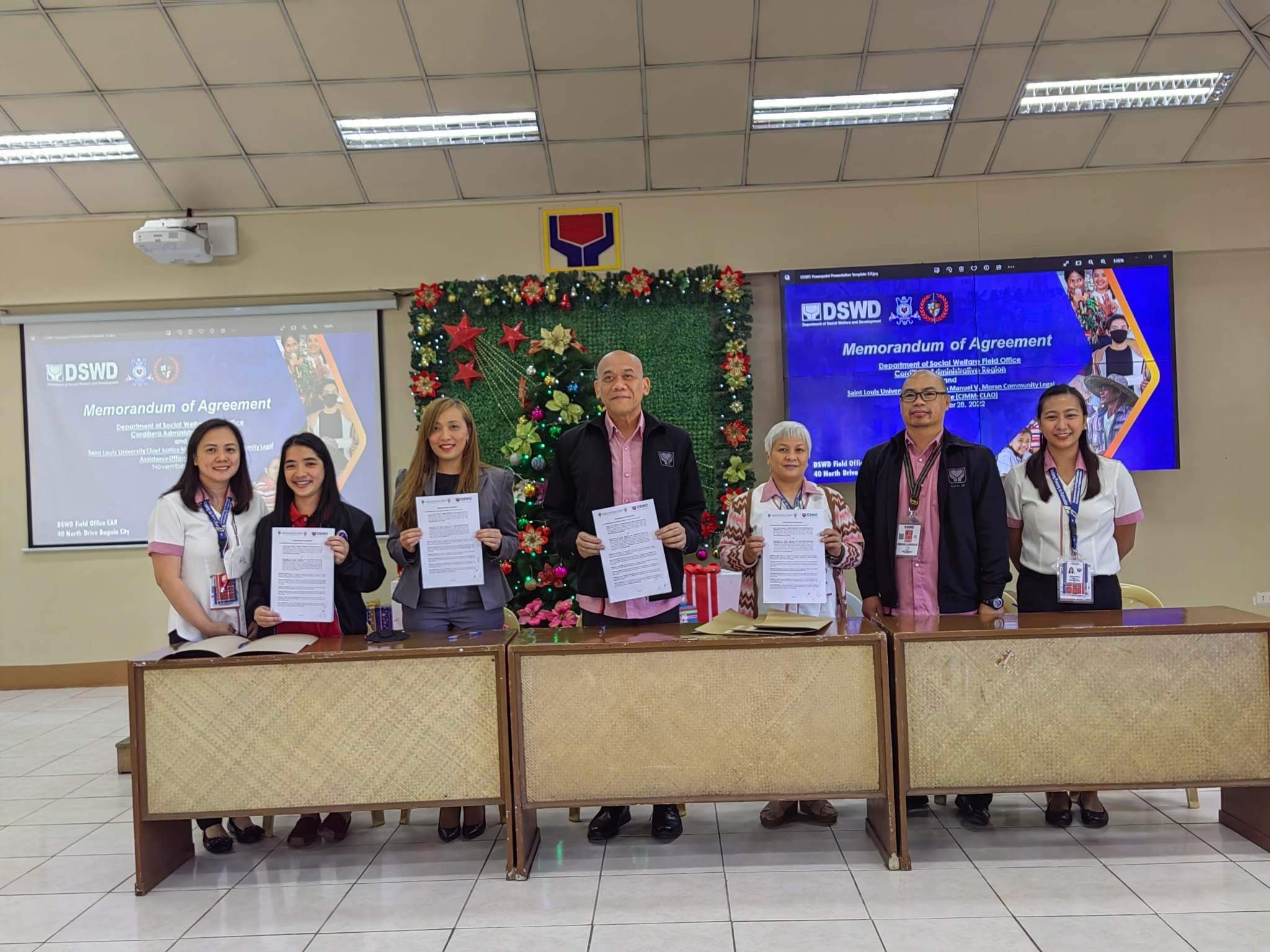 Baguio City- The Department of Social Welfare and Development Field Office Cordillera Administrative Region (DSWD FO CAR) and Saint Louis University (SLU) through the Chief Justice Manuel V. Moran Community Legal Assistance Office (CJMM-CLAO) formalized a partnership which aims to provide free legal service to the indigent sectors of Baguio and Benguet.
On 28 November 2022, DSWD FO CAR Director Leo L. Quintilla, together with Assistant Regional Director for Administration Enrique H. Gascon, Jr., and OIC- Assistant Regional Director for Operations Amelyn P. Cabrera signed a Memorandum of Agreement with the CJMM-CLAO represented by Director Victoria P. Dines, SLU School of Law Dean Christine Angelica Elveña, and Student Chairperson Kara Francisco.
Through the agreement, CJMM-CLAO Law Student Practitioners (LSPs) will be rendering service to the indigent and marginalized who are being assisted by the DSWD. The LSPs are Level 1 accredited by the Office of the Executive Judge of the Regional Trial Court of Baguio City or Level 2 accredited by the Office of the Court Administrator of the Supreme court,  Francisco.
Under the agreement, the LSPs will be able to render service on the following circumstances:
Preparation and filing of complaint and other pleadings with the Office of the City Prosecutor;
Represent indigent and / vulnerable clients involved in criminal, civil, labor, and /or administrative cases including the preparation of legal documents and notarial services for the client's case;
Provide legal advice concerning rights and obligations of clients; and
Serve as subject matter expert for training, seminars, or lectures.
"We are very grateful to Saint Louis University, particularly the CJMM-CLAO because through this partnership, we are helping our clients broaden their opportunity to access services that they can use to promote their welfare. We hope that through this, we will be able to strengthen our capacities to legally assist the vulnerable and disadvantaged", Director Quintilla said.
Individuals interested to avail of the free legal service may visit the DSWD FO CAR Legal Unit at #40 North Drive, Baguio City or call +6374-661-04-30 for initial interview and referral to the CJMM-CLAO. #DSWD FIELD OFFICE CAR, SOCIAL MARKETING UNIT, NERIZZA FAYE G. VILLANUEVA-TRINIDAD