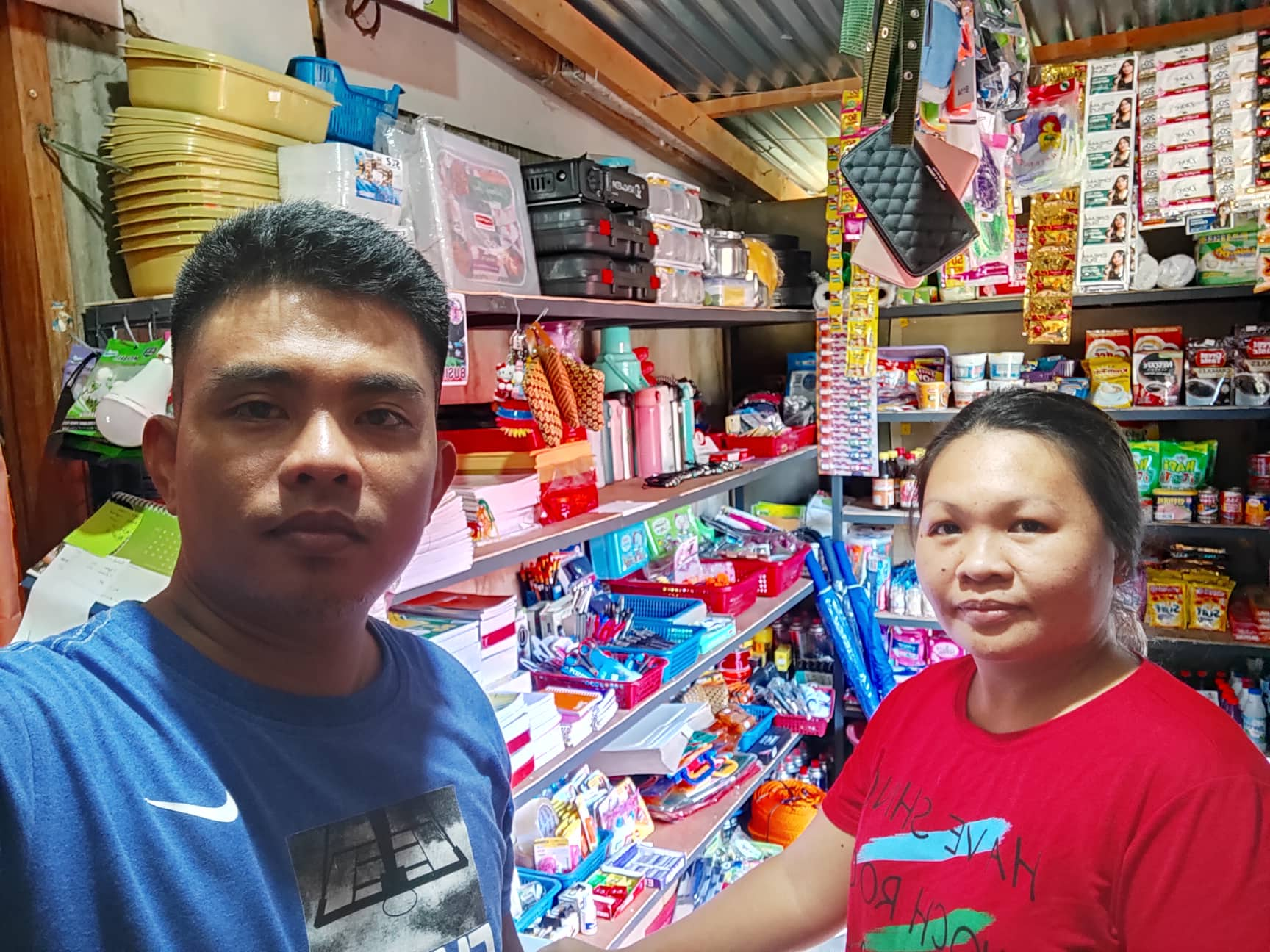 At the age of 21, Jordan Mayo stepped foot in the busy streets of Manila, carrying his bag of hopes and dreams of a better future for his family. He started as a fast food crew in 2011-2017, then worked as a bagger and finally became a cook in a fine dining restaurant in Makati in 2019. 
Together with his partner, working as a staff in a printing press, they were making enough to pay for their rent and children's studies. Not until the COVID-19 pandemic affected their source of income, with his wife losing her job due to the cost cutting implemented in their company. Slowly, they struggled to make end's meet. Until he also lost his job because of the stricter protocols being implemented. Despite the challenges, Jordan tried his best to provide for his family by becoming a delivery rider and by selling bottled spicy vinegar that he made.
"Gapo garud ta nagtuloy tuloy metten daytoy COVID ket inot-inot nga naibus iti savings mi ket ag utang kamin. Isunga nagdesisyon kami nga agawid nalang idiyay probinsya." (Due to the long-term effects of the COVID [pandemic], we started losing our savings and started accumulating debts. It was for that reason that we decided to go back to the province) shared Jordan.
The couple lived under the roof of their parents upon their arrival in Abra Province in April 2020. In Bucay, he and his family took care of their parent's piggery. This also became their source of income.
After a year, they were informed about the Balik Probinsya, Bagong Pag-asa program under the Kapit-Bisig Laban sa Kahirapan-Comprehensive and Integrated Delivery of Social
Services (KALAHI-CIDSS) of the Department of Social Welfare and Development (DSWD) and so they registered for the assessment. With qualifications met, Jordan and his family received around Php 40,000.00 as transitory assistance. They used the money for their basic needs such as groceries, bills and bought some materials for the store grills. Just when they are about to start anew, his father came across an unfortunate accident paralyzing his arm. Whatever was left from the assistance given to them was used for his father's hospital bills. With his siblings and mother, they took care of their father until he slowly recovered.
Thankfully, they also received the Php 50,000.00 livelihood settlement grant for their start-up capital for the sari-sari store they planned to establish. They used the whole capital to purchase stock for the store. However, upon its opening, they noticed that they weren't making so much due to competition in their area, so they decided to sell household items which is not being sold by other stores. This allowed their income to gradually increase. Jordan also accepted part time jobs for additional income and continued their piggery. And as though the challenges come into waves, the pig they have been taking care of had a stillbirth of all the six piglets. This happened after the 6.0 magnitude earthquake in July 2022.
But they remained hopeful despite all the challenges and eventually in September of 2022, the Department of Agriculture awarded two healthy pigs ready for breeding. The assistance was also under the BP2 Program.
"Haan min nga mapanonot nga agsubli idiyay Manila ta adan met ti pangedan mi ditoy. Agpaspasalamat kami iti nagdakkel nga tulong diyay inted iti DSWD ta isu iti nangpawadwad iti sitwayon mi." (We don't consider going back to Manila because we already have a source of income here. We are very thankful for the assistance we received from DSWD because it has helped lighten our situation) Jordan gratefully shared.
At present, Jordan is chasing a new goal and dream, to register his own brand of spiced vinegar and to earn enough profit so they can relocate their store along the road for a wider market, in hopes that this will bring brighter future for his family. #DSWD FO CAR, Social Marketing Unit, Eden Faith S. Fataner.