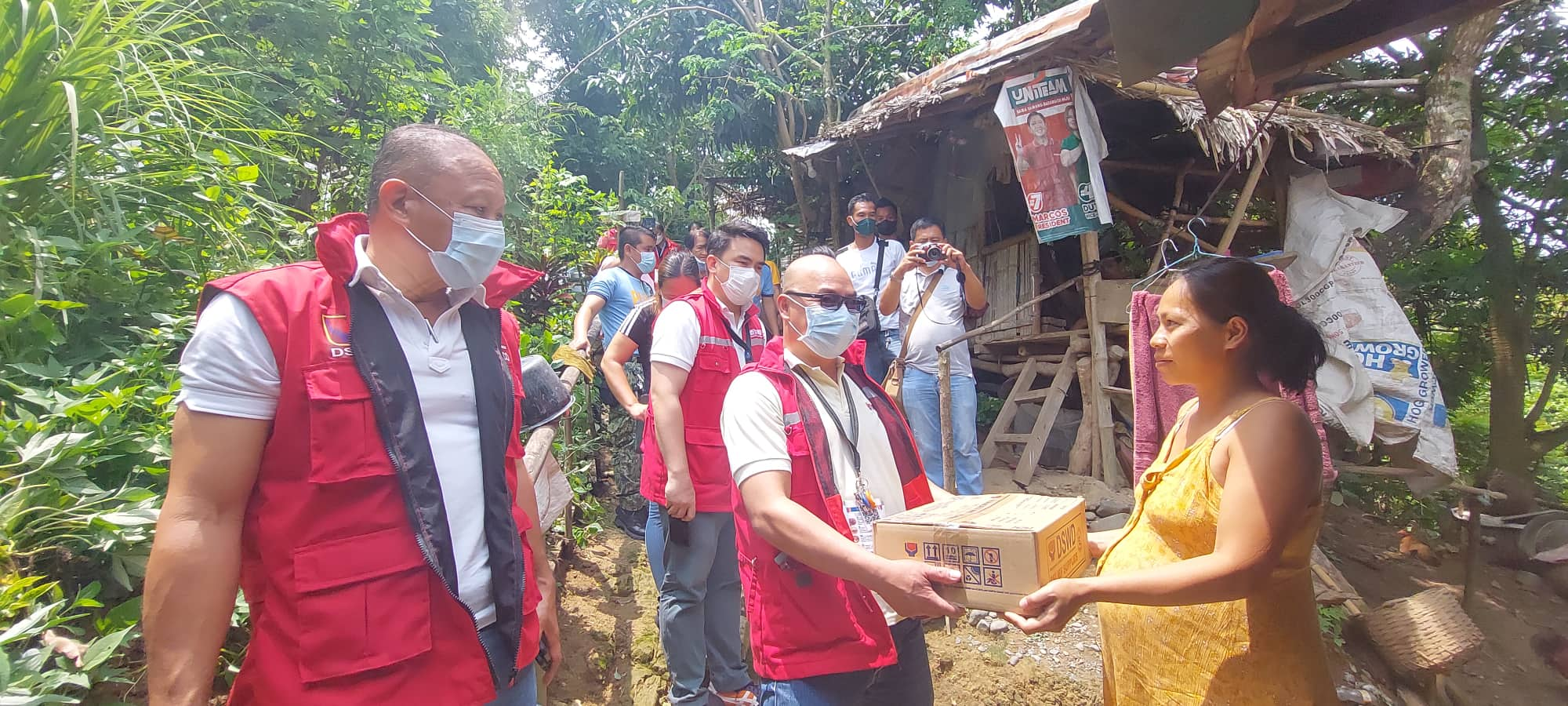 BANGUED, ABRA-  Despite the effects of the magnitude 7.0 earthquake which occurred on July 27, this did not shaken the spirit of Bayanihan and determination of member-agencies of the Cordillera Regional Disaster Risk Reduction and Management Council (CRDRRMC) with its response cluster lead Department of Social Welfare and Development Field Office Cordillera (DSWD Field Office Cordillera) it remained as it led the swift delivery of disaster response for the affected communities most especially in the province of Abra- the hard-hit province of the recent earthquake.
DSWD Field Office Cordillera together with Field Offices 1, 2 and DSWD National Resource Operations Center (NROC) provided food and non-food items to the earthquake-stricken victims in the different provinces in the region.
As of August 17, a total of PHP 130, 972, 728. 36 DSWD cost of assistance were provided to the region this include 112,999 Family Food Packs; 2,540 Hygiene Kits, 1,019 Family Kits, 1,989 Sleeping Kits, 770 Family Tents, 774 Laminated Sacks, 777 Modular Tents, and 6, 568 beneficiaries of Assistance to Individuals in Crisis Situation (AICS). The beneficiaries comprised of those with partially and totally damaged houses and assistance to injured and dead.
Not far from the Abra Emergency Operations Center (EOC), white family tents served as temporary shelter to families affected families of the province following the recent 7.0 magnitude earthquake.
In San Quintin, Abra, 42 year-old Criselda Calonzo, an evacuee of the town recalled the day of the earthquake wherein they thought it would not occur for long. However, the strong earthquake brought alarm on their part where they decided to temporarily leave their homes.
She also thanked the Local Government Unit (LGU), DSWD, and Red Cross for providing their needs in the evacuation camps.
In a neighboring town, in Sagap, Bangued, tricycle driver Victor Nalimma together with 87 families took shelter in one of the evacuation centers. With the strong tremors from the earthquake, it did not spare him with hollow blocks stumbling upon his body which resulted to injuries in his arm and leg.
Nalimma is a recipient of financial assistance through the AICS and food and non-Food Items. He thanked the agency for the food and non-food item that they received adding the financial aid will also help him to buy his medicines.
DSWD Field Office Cordillera OIC Regional Director and Assistant Regional Director for Administration Dir. Enrique H. Gascon Jr. said with the camaraderie of each agencies and LGUs, the delivery of social services will continue in the region.
"Sa tulong ng bawat isa, sa DRRM council, lahat ng ahensiya ay nagtutulungan. Nakikipagtulungan tayo sa ating mga Local Government Units para ma-ensure na wala pong maiiwan. Kung ano man ang concern ng bawat isa, sinisiguro natin na ito po ay natutugunan. Lahat po ay tinutugunan nantin dahil bawat buhay ay mahalaga sa DSWD," he added.
The relief items from the region and donations from various donors was delivered with the help of men and women of the Provincial Action Team Abra, DSWD CAR, Cordillera Regional DRRM Council who have worked day and night in order to ensure the provision and delivery of relief items.
Meanwhile, Director Gascon expressed gratitude to the partner-agencies from the logistics cluster for their relentless and dedicated support during the disaster response operations.
"In behalf of DSWD, the communities we serve, we would like to thank our volunteers from the Bureau of Fire Protection, Army Reserve command (ARESCOM), 503rd Brigade, 5th Infantry Division (ID), 24th Infantry Battalion (IB), 71IB, 71ID, 102IB, 548th Engineer Battalion, Army 51st Engineer Brigade, Citizen Armed Force Geographical Unit (CAFGU), Special Action Force, Provincial Police Office Abra, Provincial Mobile Force Company Abra, Police Regional Office, 2nd Benguet Provincial Mobile Force Company, Baguio City Police Office, Baguio City Mobile Force Company, Regional Reactionary Standby Support Force of the Police Regional Office Cordillera, Philippine National Police Regional Mobile Force Battalion 15, 14th Regional Community Defense Group, 1401 Community Defense Center, Tactical Operations Group 1 and 2 of the Tactical Operations Wing Northern Luzon, and 505th Search and Rescue Group."
"The agency would also like to extend its deepest gratitude to the donors from the International Organization for Migration, Cordillera Career Development Center, 2nd Benguet Provincial Mobile Force Company, Cordillera Sakura Lions Club, JCI Baguio, TEXINS Multipurpose Cooperative (TMPC), JICA, JCI Las Chicas del Baguio, Ms. Mary-Ann Dumo, Mr. John Paul V. Ordovez, Giant International Software Station Inc." # DSWD FIELD OFFICE CAR, SOCIAL MARKETING UNIT, LAUREN ALIMONDO