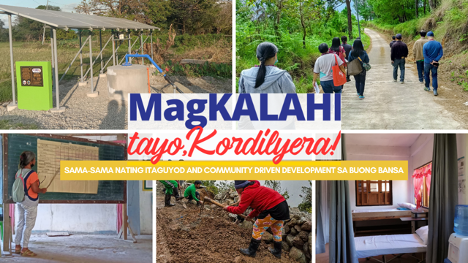 Cordillera Administrative Region- For 2021,a total of 173 community sub-projects were funded and successfully implemented through the Kapit Bisig Laban sa Kahirapan- Comprehensive and Integrated Delivery of Social Services (KALAHI-CIDSS) Program.
Being a poverty alleviation program  of the Department of Social Welfare and Development (DSWD), KALAHI CIDSS aims to enhance the engagement of, and empower the community in working hand-in-hand with their local government unit towards development. This strategy is also known as community driven development or CDD, wherein participation of the community with their LGU is given the utmost importance in identifying, planning, and implementing developmental projects, including infrastructures, to address their most pressing needs.
With the CDD strategy, the topmost priority community sub-project identified is the construction and/or improvement of isolation/quarantine facilities and barangay health stations, in response to the effects of the COVID-19 Pandemic.  This is followed by water systems, construction/improvement of access roads and farm to market roads, improvement of drainage canals, footpaths, and lighting, which are mainly solar electrifications. Other identified sub-projects were flood/river control, slope protection/erosion control, small scale irrigation, purchase of medical equipment and supplies, child development centers, disaster operations center, public sanitary toilets, wash facilities, and support to livelihood, such as drying shed and rice milling facilities.
Through the KALAHI-CIDSS Program, a total fund of Php151,107,311.96 was allotted for the completion of the sub-projects in the region. 54% of the fund came from the International Bank for Reconstruction and Development (IBRD) load proceeds and 35% from the Government of the Philippines (GOP) funds; while the remaining 11% is from the Local Counterpart Contributions (LCC) of participating local government units (LGU) in the region. 
These sub-projects aim to bring hope to 25, 162 household beneficiaries of the 43 participating municipalities from the provinces of Abra, Benguet, Ifugao, Kalinga, Mountain Province,and Barangay Irisan of Baguio City. Some of the participating municipalities belong to geographically isolated and disadvantaged areas and conflict-affected areas.     
As of December 2021, there are 5,117 volunteers from the communities that were trained with the CDD approach. Through this approach, they are able to learn project prioritization, budgeting, and the government procurement process, among others. From their participation, the community's appreciation and accountability in sustaining and maintaining the sub-project is enhanced. More importantly, transparency on the process of implementation and fund utilization is ensured, which also gives them assurance that no form of corruption is exercised.
"Farmer kami lang, ngem gapu ditoy nga programa ket nagadu ti nasuro mi ken nakatulong kami pay iti gobyerno. (We are mere farmers, but we're able to learn a lot and we're also able to help our local government through this Program.)", shared Ms. Delia Wail, one of the community volunteers of Pasil, Kalinga.
For 2022, 62 of the 173 funded sub-projects in the Cordillera Administrative Region are set to be completed by the end of March. Following the physical completion and the closing of financial accounts, all the sub-projects are expected to be turned-over to the respective LGU for its operations and maintenance, while being continuously monitored by the Program. #DSWD-CAR, Social Marketing Unit, Eden Faith S. Fataner