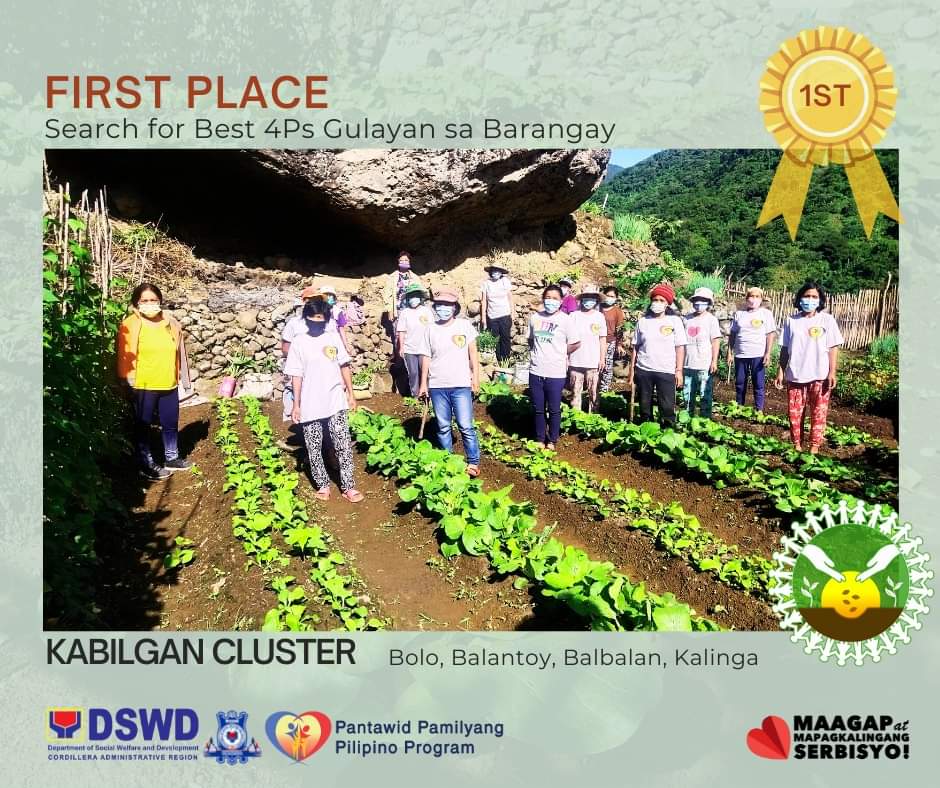 Cordillera Administrative Region- Aimed to contribute to ensuring food sustainability and promote health & nutrition among the beneficiaries of the Pantawid Pamilyang Pilipino Program (4Ps), the DSWD here through the leadership of Regional Director Arnel B. Garcia, CESO II virtually recognized the winners of the first-ever Search for Best Gulayan Sa Barangay (GSB) on 13 December 2021. 
The Gulayan Sa Barangay of Kabilgan Cluster Parent Group from sitio Bolo, Balantoy, Balbalan, Kalinga emerged as the first place with their collective efforts in maintaining their communal garden a haven for organic vegetable products. 
Established in 2016, the parent cluster of 'Kabilgan' which means strong, got the nod of the judges after they collectively integrated natural farming systems and organic agricultural technologies in their communal garden while maintaining the spirit of bayanihan. 
Composed of 14 members, the Kabilgan group has been also donating some of their vegetable produce such as pechay, lettuce, squash, green leaf onions, bitter gourd, and others to the community while the majority of their products are for home consumption and as an income generating project for the group. 
Meanwhile, the second and third places were awarded to the Kaleo Changas Association of Barlig, Mountain Province, and Caba Cluster of Lagawe, Ifugao, respectively. These two GSB clusters have been integrating good agricultural practices in their gulayan that benefited their members. 
Other finalists were the gulayan clusters of San Isidro in the town of Luna, Apayao; Happy Bee Gulayan of Itogon, Benguet; and Cala Lily cluster group of Upper Rock Quarry, Baguio City.
"The communal garden of the 4Ps beneficiaries promotes volunteerism and community involvement in their respective communities especially in this time of the pandemic. We are elated that these groups have been emulating the May Malasakit core value of the Department," Director Garcia said. 
Conducted through field visit and desk documentation review, the Search for Best GSB was spearheaded by the DSWD CAR in partnership with the Department of Agriculture-CAR, Agricultural Training Institute-CAR, CSO partner Seed Project Asia Philippines, and the different Local Government Units. 
As of 25 October 2021, a total of 31,007 household beneficiaries are engaged in Gulayan Sa Barangay while 44,013 beneficiaries have established their backyard gardens.  
The GSB was integrated as part of the initiative of the Pantawid Pamilya in ensuring that the beneficiaries have sufficient nutritious food available on their table towards combating the pressing problems of malnutrition and hunger. This activity is also part of the Family Development Sessions of the program beneficiaries. ### DSWD – CAR, Social Marketing Unit, Marlo C. Abyado Jr., Pantawid Pamilya Information Officer.