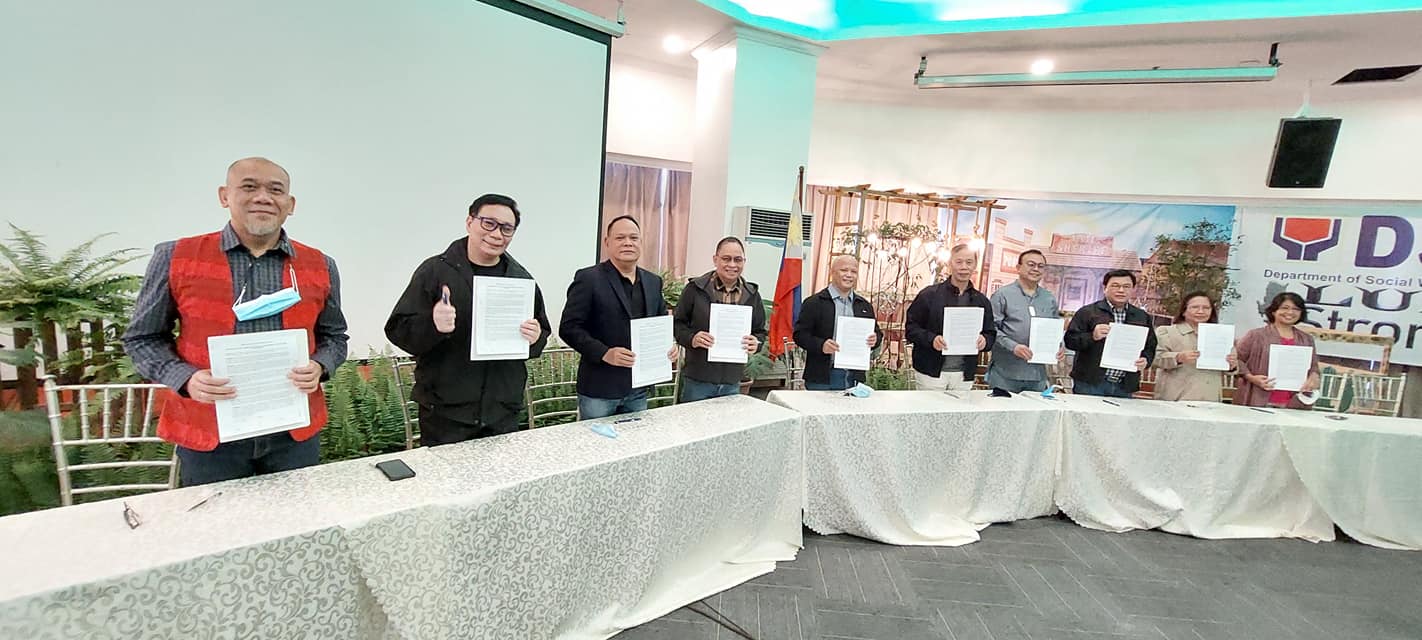 BAGUIO CITY-  Officials of Department of Social Welfare and Development Luzon Cluster on December 18 signs DSWD Luzon Cluster Resolution No. 001 Series of 2021 establishing the DSWD Field Office Inter-Regional Cooperation and Support. 
The Inter-Regional Cooperation and Support is an initiative introduced by FO CAR Regional Director Arnel B. Garcia, CESO II, as he recognized the importance of cooperation and support of every region in the development processes, mechanisms and strategies in the delivery of Social Protection programs and services to the poor, vulnerable and disadvantaged population.
"What we are doing right now is at this point while we are sharing technology, we are aware that even all the regions are actually doing this since time in memorial but it was not really institutionalized. It was not written into a guideline. With this ang maganda ditto it transcended beyond borders. We are now brothers and sisters when it comes to this," Director Garcia stated in his message. 
The signing of the resolution was attended by DSWD CAR Director Garcia, CESO II, DSWD NCR Regional Director Vicente Gregorio B. Tomas, DSWD FO Regional Director I Marie Angela S. Gopalan, CESO III, DSWD FO II Regional Director Cezario Joel C.Espejo, DSWD FO III Regional Director  Marites M. Maristela, CESO III,  DSWD FO IV-A Regional Director Marcelo Nicomedes J. Castillo, CESO III, DSWD FO IV-B Regional Director Fernando R. De Villa Jr. CESO III,  DSWD FO V OIC-Regional Director Leo L. Quintilla CESE, together with DSWD Undersecretary Danilo G. Pamonag, Undersecretary Rene Glen O. Paje, and DSWD Spokesperson Director Irene Dumlao. 
And recently, DSWD Secretary Joselito D. Bautista approved the resolution. 
Under the resolution, the Inter-Regional Cooperation and Support is composed of DSWD Field Offices within Luzon of which said offices shall mutually inter operate to address common concerns and challenges and recommend solutions as well as increase effectiveness and impact of service delivery by pooling and maximizing resources. 
The Inter-Regional Cooperation and Support following functions: 1) Engage in inter-regional exchanges in terms of knowledge management sharing and staff development through field visits, management retreats, cluster consultations, joint trainings; 2) Conduct periodic consultations and/or meetings to discuss, review and assess cooperation activities, and; 3) Provide inter regional technical assistance and resource augmentation to strengthen timely social services delivery among the regions.   
The desired outcomes include: 1) Increased efficiency in the provision of social services through collaborative public policy and decision making; 2) Benchmark of good practices from the other regions; 3) Increased knowledge and competency among staff through immersions, trainings and inter regional knowledge management activities and; 4) Increased customer satisfaction and trust with government as a result of timely and efficient provision of social services through inter regional cooperation and support.// # DSWD FIELD OFFICE CAR, SOCIAL MARKETING UNIT, LAUREN ALIMONDO