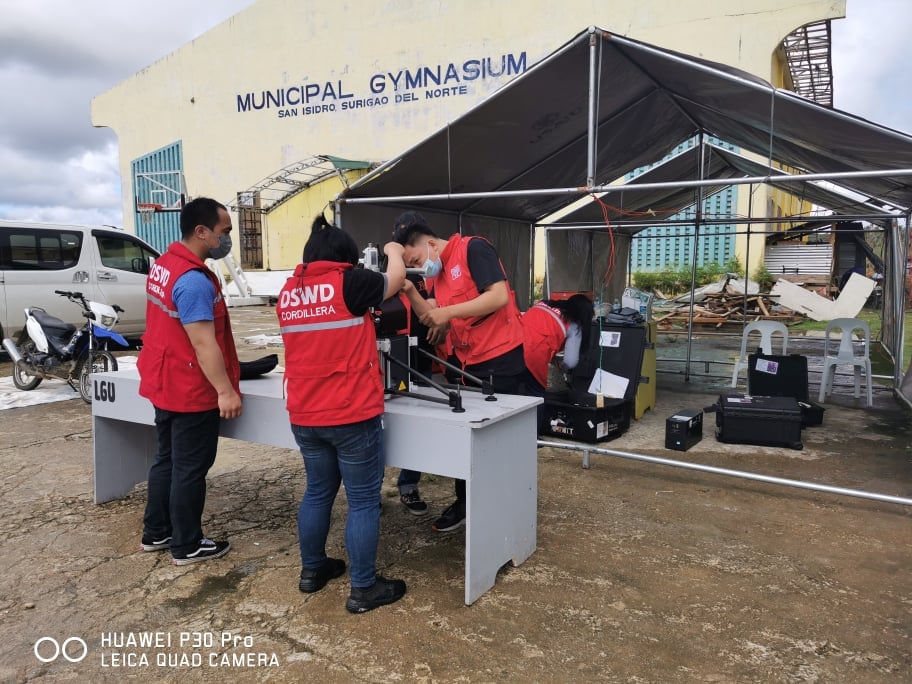 At a glance, the roof of the Municipal Hall of an Isidro, Surigao Del Norte was blown by the strong winds and rains brought about by Typhoon Odette, electrical posts, broken communication lines, and fallen trees scattered on the road. 
Outside of the destroyed Municipal Hall, on 11 January 2022, the four-man emergency telecommunication team from the Department of Social Welfare and Development Field Office Cordillera Administrative Region (DSWD FO CAR) successfully restored communication connectivity through the INMARSAT emergency telecommunication equipment. 
As family food packs were airlifted in C130 to Tacloban for relief augmentation to affected victims of Typhoon Odette, an emergency telecommunication equipment and emergency telecommunication team from the Region were deployed in CARAGA region to aid the affected areas with no communication signals. 
The team composed of Mr. Hamlet Mayona, Ms. Rodalyn Banguid Olatic, Ms. Karen Joy Guiniawan, and Ms. Beverly Gawidan, utilized the emergency telecommunication equipment- SAT phones and the INMARSAT, which comprised of a very small aperture terminal, a small dish which access satellites in order to relay data. 
On the said day, the team assisted San Isidro Local Social Welfare Development Office and municipal employees to connect to the wireless network and calls via SAT phones. A total of 22 personnel were able to resume their important work-related activities including accessing messages and emails, and report to their supervisors. 
"The INMARSAT is one of the technologies available to the DSWD which is used during disasters as telecommunication services are usually affected. With the help of our partners such as the Central Office we are able to acquire of the technology through subscription which is activated during disaster. It was given to DSWD FO CAR in 2017 and also used in Apayao back in 2018, now we are able to continue using the technology", DSWD FO CAR Regional Director Arnel B. Garcia, CESO II shared. 
As of 11 January 2022, DSWD FO CAR is able to provide 17, 061 family food packs amounting to Php 8.6 million. Meanwhile additional 10,000 family food packs worth Php 5.1 million were provided by DSWD Field Office I and non-food items including 1,000 hygiene kits, 2,000 sleeping and 2,000 family kits worth PhP 7.6 million were from Field Office III while 8,000 malongs, 35 laminated sacks 200 collapsible water containers for Field Office MIMAROPA have been committed for the communities affected by TY Odette.  Of the family food packs, 2,300 were already hauled to Tacloban City in Leyte as of January 13. 
Director Garcia also shared that aside from the relief items, the DSWD FO CAR is preparing Response and Recovery Teams for augmentation. 
"We have already composed three teams each for communication and data management, warehouse management, psychosocial support, camp coordination and management, and escort and deployment that are ready for augmentation to CARAGA, Region VI, Region VII, and Region VIII. We also have 13 special disbursing officers ready to assist should there be a need in the aforementioned regions", Director Garcia said. 
"All of these efforts are results of our Inter-regional Operationability on Disaster response with Oplan Binnadang as one of the pilot activities. It is not just within the region that we are extending our help but to the communities affected by TY Odette, but we are also supported by other Field Offices in Luzon that were spared from the typhoon's wrath" Director Garcia added. 
Meanwhile, Director Garcia also extended deepest gratitude to all those who have taken part in Oplan Binnadang such as Government institutions including the Armed Forces of the Philippines, Bureau of Fire and Protection, OCD-CAR, Tactical Operations Group 1, Tactical Operations Group 8, Department of Public Works and Highways Cordillera, DPWH-Abra, 24th Infantry Battalion, 71st Infantry Battalion, Benguet Second Provincial Mobile Force Company, Provincial Headquarters-Provincial Police Office, SAF, CAFGU, Highway Patrol Group-Abra, Philippine Air Force Clark, DSWD Field Office I, DSWD Field Office III. 
Volunteers from various organizations and agencies which also augmented in the repacking of relief goods include the Army Reserve Command, La Trinidad LGU Volunteers, Technical Education and Skills Development Authority, Bureau of Fire Protection Cordillera, BFP- Baguio, 1401st Battalion, Benguet Second Provincial Mobile Force Company, Special Program of the Employment of Students (SPES), Food-for-Work, Baguio City District Engineering Office, DPWH-Benguet, Division Federation of Supreme Student Government -Baguio City with officers from Pines City National High School and Baguio City National High School and Philippine Air Force Clark. 
Moreover, the Field Office we would also like to thank various organizations and individuals that  have extended their donations (as of January 13) including the Rotary Club of Baguio, Ms. Janice Buclig, Bureau of Fire Protection-CAR, SLU Laboratory Senior Laboratory School through the Youth on Point and Division Formation of Supreme Student Government, 122nd Naval Combat Support Squadron Reserve Philippine Navy together with the Baguio Country Club Employees MultiPurpose Cooperative, Baguio City Country Club Employees, Dr. Luisito Molas, Dr. Banny Bay Genuino and Hotel and Restaurant Association of Baguio (HRAB)namely: Baguio Country Club Corporation, The Manor at Camp John Hay, Jack's Restaurant Baguio, MV Alabanza Longganisa, University of Baguio, St. Patrick Village and Haleyon Vacation Rentals.
Donors can bring their donations at DSWD FO CAR Main Office at 40 North Drive, Baguio City. For queries and clarifications kindly contact: Ms. Kurtney Luoang (09303592805), Mr. Johnny L. Bumakil (09776744791). # DSWD FIELD OFFICE CAR, SOCIAL MARKETING UNIT, LAUREN ALIMONDO and NERIZZA FAYE G. VILLANUEVA-TRINIDAD