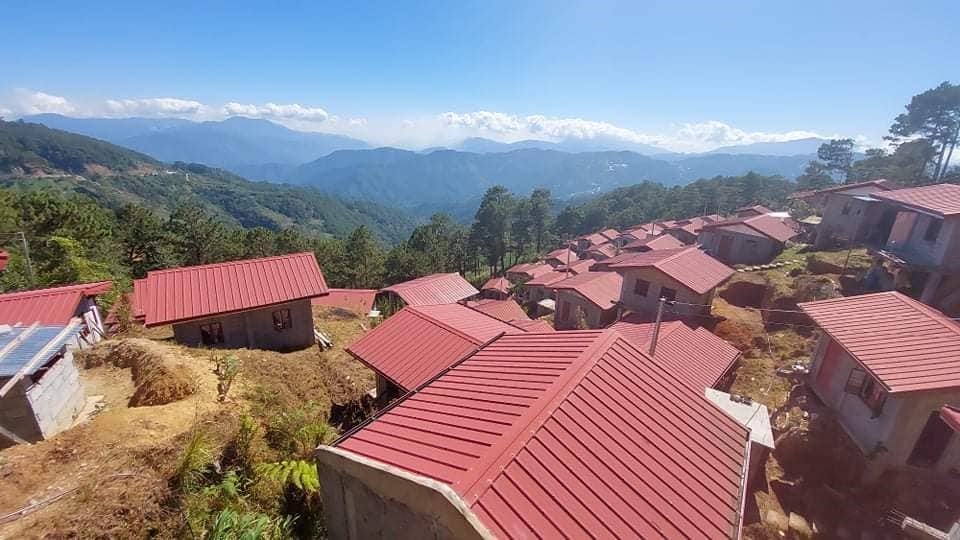 With an average of 20 tropical cyclones crossing the Philippine Area of Responsibility every year, Philippines has been vulnerable to adverse effects of tropical cyclones notably landslides, flash floods, and storm surges. 
In the northern part of the country, the Cordillera Administrative Region is not spared of the effects of various hazards. However, government efforts from the national to local level has been implemented as part of disaster response and recovery.
On the part of the Department of Social Welfare and Development (DSWD), interventions such as the Core Shelter Assistance Program (CSAP) have been implemented to communities in the region.
The CSAP is meant to assist family victims of disaster to acquire decent shelters. It is made available to family-victims whose houses were totally or partially destroyed by either natural or manmade disasters. 
Mr. Oniel Ngadanan, expressed fear and panic seeing the cracks of their home at Sitio, Mamuyod, Tublay, Benguet. The fifty-three-year-old farmer added being one of the beneficiaries of the CSAP in Tublay, Benguet is a big help to them and thanked the department for its assistance. 
"Diyay gamin ayan mi idjay Mamuyod, agcrack, agpanic kami, inmay kami toy (relocation) tapnu safe. Ta dagijay balbalay mi idjay ada crack na. Dakel nga tulong kadakami daytoy nareceive mi nga assistance. Agyaman kami iti DSWD isuda umumay mangassistar, mangmangted iti tulong. (Our house in Mamuyod, Tublay, Benguet has cracks, seeing these resulted to panic on our part and thus, we avail of the program and decided to transfer here in the relocation site for safety reasons. This is a big help to us and we thanked DSWD for its assistance)," Ngadanan stated.
Upon receiving the shelter, CSAP beneficiary Marso A. Mayonget, 51, have maximized every space of their shelter. He developed a small kitchen beside a small bathroom and comfort room. Moving inside their house, visitors are welcomed with a wall of their family photographs where behind the wall is a room for him and his wife. Beside the room is a living room which also serves as a dining area of the family. 
A small space outside was also intended for them to dry clothes and an area where their plants are found. Downstairs are two rooms which are occupied by their relatives. 
Both beneficiaries Jovita Florentino, 40, and Napoleon Sacla, 48, said that they decided to transfer to the relocation site as their home iin Sitio Mamuyod is declared as part of a sinking area.
"Indeclare da nga sinking area. Kasla nu typhoon mabubutbuteng kami ta diyay crack idjay ayan mi. Narigat met nu agyan kami idjay nu ada typhoon (We fear for our safety as cracks are already present in our home. It is tough to stay there whenever typhoon arrives)," Sacla added. 
Tublay Mayor Armando Lauro and Provincial Board Member Atty. Ruben Paoad in their speech during the turn-over ceremony on January 11,2022 thanked the DSWD FO CAR, MSWDO, the beneficiaries for the awarding of the housing units to beneficiaries. 
To recall, the relocation project was conceptualized by LGU-Tublay in 2013 after receiving a report from the Mines Geosciences Bureau (MGB) regarding the Progression of Ground Instabilities at Sitio Mamuyod, Ambassador, Tublay, Benguet. 
In its report, the MGB stressed that mass movement is still present in the area and residents should be evacuated during typhoons of heavy precipitations and they should be relocated to a more stable ground. 
In 2014 the LGU-Tublay requested assistance from DSWD through its CSAP with the relocation project located at Tabeyo, Ambassador, Tublay, Benguet.
The eligibility for the assistance is based on a set of criteria where in the assessment and recommendation of the City/Municipal Social Welfare Officers (C/MDSWDOs) following a set of criteria provided by DSWD through Administrative Order no. 17 series of 2010 or the Omnibus Guideline on Shelter Assistance and validated by the DSWD Field offices.  
The DSWD FO CAR provided a total of Php 7,604,500 financial assistance for 78 identified beneficiaries for the Core Shelter Assistance in Tublay. Aside from the Core Shelter Assistance, Cash for Work for the site development, construction of Child Development Center, Sustainable Livelihood Program, Multi-Skills Training on lemon production and housekeeping were also provided by the Department. 
During the Turn-over Ceremony on 11 January 2022, a total of 66 families received the housing units while the remaining 12 shelters will be turned over to the beneficiaries after completion. 
The turn-over was conducted together with the CSAP beneficiaries, Local Government Unit of Tublay, DSWD FO CAR, Provincial Government of Benguet, and Officials of the Mamuyod Community Association. 
Meanwhile, the DSWD FO CAR also turned-over two CSAP projects in Flora, Apayao and Natonin, Mt. Province in December 2021. 
Ninety-six housing units were turned-over to beneficiaries of CSAP December 28 2021 at barangays Butac and Balangao in Natonin, Mt. Province. 
DSWD FO CAR provided a total of Php 6,720,000 financial aid (Php 70,000/housing unit) for the Core Shelter Assistance.
During the Turn-over Ceremony, a certificate of completion and occupancy was given to the core shelter beneficiaries awarded by the DSWD FO CAR together with the Local Government Unit of Natonin, Municipal Social Welfare and Development Office (Natonin), Officials of barangays Butac and Balangao.
It was in 2009, when MGB Cordillera probed the sinking area of the two barangays and recommended for the families to be relocated to a safer area. 
In Flora, Apayao, 85 shelters constructed in barangays Allig, Bagutong, Sta. Maria were also turned-over with a total of PhP 5,950, 000 cost of assistance. 
Due to the strong winds of Typhoon Vinta in 2013, this led to damage to properties in the three barangays of Flora where several houses were partially and totally damaged.
DSWD FO CAR Regional Director Arnel B. Garcia, CESO II said the CSAP is one of the Department's efforts in order to extend the disaster response and recovery to the communities affected by previous calamities. 
"I would like to express our gratitude to all who took part in this especially for the support of the beneficiaries, Provincial LGUs, Local Government Units including the Municipal Social Welfare and Development Officers who took part in the realization of the CSAP in their communities. I look forward to the fact that these infrastructures would not only bring our beneficiaries peace of mind during disasters but they can have something that they can call home," Director Garcia added. # DSWD FIELD OFFICE CAR, SOCIAL MARKETING UNIT, LAUREN ALIMONDO