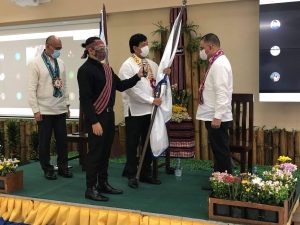 The Department of Social Welfare and Development Field Office Cordillera Administrative Region (DSWD FO CAR) welcomes a new leadership as Director Arnel B. Garcia, CESO II has officially assumed office on 1 April 2021.
Director Garcia succeeded OIC Regional Director Leo L. Quintilla who has been assigned to DSWD Field Office Bicol Region. Director Quintilla has served the Cordillera Region for one year and eight months. During his short stint as the Director of DSWD FO CAR, he was able to lead the region in bagging various awards such as the Best Social Amelioration Program Implementation for a regular region. He has also been conferred the Gawad Kalihim for his invaluable efforts during the COVID-19 operations in the Region.
Meanwhile, before joining the DSWD FO CAR, Director Garcia has served the Cagayan Valley for four (4) years and the Bicol region for eight (8) years. He started his career with the DSWD in 1985 as a Senior Social Welfare Analyst and rose from the ranks and became a Director IV in 2009 and holds the same position to present.
With 35 years of experience on social welfare and development, Director Garcia has brought numerous contributions in improving the well-being of communities in areas he served.
Under his leadership during the COVID-19 operations, DSWD FO V was also awarded with the Best Social Amelioration Program Implementation for mega region.
His efforts have been recognized as Director Garcia has received numerous awards including DSWD Best Manager and Gawad CES in 2012. GAWAD CES is a Presidential award that recognizes members in the Career Executive Service (CES) for exemplary performance and significant contributions, particularly in the areas of innovation, information and communication technology, social services, administrative reforms and public policy. He also received a Special Recognition under the Gawad Kalasag of the Office of Civil Defense. The said recognition is for his innovations on disaster response.
Outside the DSWD, Director Garcia has been the former President of the Regional Executives and Directors Association in Bicol Region for two terms and former Vice President of the National Union Career Executives Services Officers for Luzon. He also teaches review classes for Social Worker Board Examination and serves as a CES Evaluator.
"I am elated and excited to be part of the improvement of the lives of the Cordillera people as it has been my personal advocacy to help address hunger and poverty in the country. I am looking forward to be working with our partners and stakeholders for the betterment of our communities in the Region", Director Garcia said. #DSWD FO CAR, SOCIAL MARKETING UNIT, Nerizza Faye G. Villanueva-Trinidad