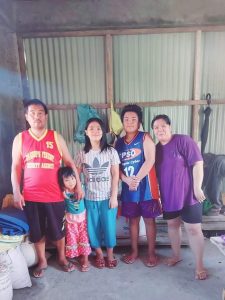 Jumelyn bids the Pantawid Pamilya goodbye after opportunities knock on her door, promising a better future for her and for her family.
At 34, Jumelyn is confident that leaving the program is one of the most meaningful decisions her family has ever made despite having still a meager income.
'Agyamanak iti programa a Pantawid Pamilya gapu ta nanglukat daytoy iti addu nga opurtunidad kadakami a pamilya (We are thankful for the Pantawid Pamilya because this opened many opportunities for our family),' Jumelyn Gados gratefully shared. 
Just like other families, Jumelyn's family from Poblacion, Tadian, Mountain Province experienced hurdles in life before becoming a program beneficiary, but they stood with hard work and patience after being stumbled from life's turmoil. 
Jumelyn had her first child when she was in her second year of college. Unplanned, she had to stop her schooling to take care of their child. 
Her husband Ricoh, only relies on on-call carpentry labor work back then. They were then left with fear and uncertainty having limited employable skills and scarce financial resources. 
It was until the Pantawid Pamilyang Pilipino Program of the Department of Social Welfare and Development became the starting point that gave them opportunities to strive more and work harder. They became a program beneficiary in 2009. Since then, Jumelyn and Ricoh had instilled togetherness, hard work, and patience within their family.
It was through the program that she was able to speak confidently in front of her co-beneficiaries and other people. It also paved the way for her to develop her leadership ability. Jumelyn served as a Parent Leader in her cluster for three years and she received positive feedback from her group members with her energetic and dedicated service. 
But before having those qualities, Jumelyn recounted how their life before has affected her confidence. 
'Awan unay ti confidence ko idi nga agsao iti sangoanan ti addu a tao. Mabainak a talaga. Ngem idi nag at-attendar kami iti Family Development Session (FDS), nakatulong daytoy iti panang enhance me iti leadership abilities me ken naadal me nga agbalin a boses ti kakadwa me (Because of our poor life, I was not confident to talk infront of many people, I was really shy to speak, back then. But when we were immersed with the monthly FDS of the program, we were motivated to speak and as the voice of our co-parents),' Jumelyn confidently shared. 
Moreover, Jumelyn once worked as an Overseas Filipino Worker but fate did not favor her due to some health conditions. Left without enough resources from work abroad, she went back home and pursued a caregiving course sponsored by the Mountain Province Provincial Local Government Unit. 
In 2017, she became a recipient of the Pre-employment Assistance Fund (PEAF) under the Sustainable Livelihood Program (SLP) which is another program sof the DSWD Field Office CAR. She was then an applicant as a forest guard at the Department of Environment and Natural Resources. Luckily, she was hired as a Job Order with a daily wage of 295 pesos.
Believing that she has enough skills and the capacity to work with a more stable and decent job, Jumelyn tried her luck as Laboratory Aide at the Luis Hora Memorial Regional Hospital, located in a nearby town from their residence.  
In June 2020, at the height of the COVID 19 pandemic, Jumelyn got the same job position as a regular employee of the said hospital with a monthly rate of about 16,000 pesos. Jumelyn admits that her work is really challenging, especially that she is exposed to health risks, but she is grateful to have stable work during this pandemic. 
With her regular employment, she immediately consulted the Municipal Operations Office and voluntarily submitted her accomplished and signed waiver from the program. 
'Ammuk idi pilang damu nga isu ti patakaran ti programa, ngem malaksid ijay, makitak nga makaya min nga tumakder iti bukod me a saka, ken isu ti ammuk nga rumbeng nga aramiden (I knew at first the policy of the program, but, apart from that, I believe that we can stand on our own, and this is the right thing to do),' Jumelyn said. 
Under the program's policy, waiving is done voluntarily. A household also exits from the program when the youngest monitored child in the family reaches the age of 18. Another means is through the Grievance Redress System if the beneficiaries are reported on third offense for misdemeanor acts. 
Effective 8 June 2020, the family of Jumelyn was deactivated from the program.
Their children CJ, Rica Cesaria, and Raven, serve as their inspiration that keeps them stronger and going. CJ is now in grade 8, who was then in pre-school when they were registered as Pantawid Pamilya beneficiary. Meanwhile, Rica and Raven are in Grade 7 and Grade 1. The new mode of learning may have challenged their children, but Jumelyn shared that she patiently guides them in their modular sessions, like how she helped her parent group members when she was still a parent leader. 
At present, Jumelyn's family has started to build a concrete shelter from their savings. With their combined efforts, her husband is now into hollow blocks making while maintaining a small swine production. 
Jumelyn is one of the many faces of women in the Cordillera who have shown a great example of a strong, hardworking, and persevering mother, a wife, and a caregiver. She may earn just enough for the daily needs of her family but she is confident that they make ends meet with hard work, diligence, and staying together. ### DSWD-CAR, Social Marketing Unit, Marlo C. Abyado Jr., Pantawid Pamilya Information Officer, with reports from Janet L .Segundo, PDO II, Provincial GRS Focal- Mt. Province.