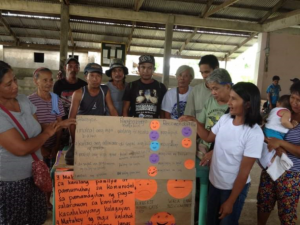 A helper, a supporter, and a giver-these describe Jane Del Rosario who was once a timid and shy person and is now an active leader in her community.
A mother of two and a committed wife to her husband, Calixto, Jane attributes her transformation to the Pantawid Pamilyang Pilipino Program. Aside from the cash grants that augmented their family needs, the program has transformed her into a better version since they were included in 2012. .
Life's adversity
At 40, Jane recollects how she and her family juggled to survive from poverty and life's adversity. Her family lives in the remote barangay of San Antonio in Sta. Marcela, Apayao.
With no stable livelihood, Jane and Calixto patiently depend on the meager income from farming as the family's only livelihood. With no farm to cultivate, Calixto relied on the daily labor work offered by their well-off neighbors.But according to Jane there were times that they did not receive work offers and this has made their situation even harder.
"Sobrang hirap ng pamilya namin noon. Kung saan-saan ako nangungutang ng pera para may pambili ng bigas. Saka lang kasi kami may pera kapag may tatawag sa asawa ko na magtrabaho sa bukid (Our family was very poor then. I borrowed money everywhere (from all of my friends) just to have rice on our table. Because we only had money if my husband is called to work)," Jane continued.
Jane emotionally shared that their life condition has affected her self-esteem and confidence in dealing with different people. Jane recounted some instances that she almost lost courage from desperation because she felt that they were secluded in life.
"Hindi ako gaanong lumalabas ng bahay, hindi ako marunong makisalamuha sa maraming tao dahil sobrang mahiyain ako, at hindi ko iniisip na maghanap ng iba pang pagkakakitaan (Back then, I do not usually go out from our house because I was really shy to talk to other people. I never thought of looking for another source of incomeJane shared.
Back then, Jane continued that she really wanted to help her husband, but her shy character hindered her from doing so.
Motivation from the program
When Jane's family was included in the Program, their living condition and her outlook in life gradually changed. Their seemingly secluded life has revamped as they immersed themselves in the Program's monthly Family Development Session (FDS).
According to Jane, the FDS has greatly helped her in overcoming her timidity. This has also boosted her self-confidence in communicating with her fellow beneficiaries and neighbors.
"Natuto akong makisalamuha sa maraming tao dahil sa FDS. Ang mga seminars na aking nasalihan ay lubos na nakatulong sa akin at nakapagbigay din ito ng lakas ng loob na makapagsalita sa harap ng maraming tao (I learned to mingle with different people because of the FDS. The seminars I participated in were really helpful in developing my confidence to talk in front of many people),"Jane narrated.
Other than that, Jane continued that they learned how to maintain a strong relationship within their family and they had recognized the importance of time with each other. Also, this has encouraged her to become a responsible and active member of the community.
A heart to serve
With the passionate character Jane has exemplified in their monthly learning sessions, her fellow beneficiaries recommended her as the Parent Leader (PL) in their cluster. The PL serves as the direct link between the program and the beneficiaries. They provide assistance to the Municipal Link especially in updating the profile of the beneficiaries, conducting meetings, and in the preparation of FDS.
Becoming a PL for Jane was never an easy task but she was motivated by her family. She was hesitant at first because she has no experience in mobilizing people, but according to her, she was guided by the Municipal Operations Office (MOO).
In 2019, Jane and her fellow parent leaders in the municipality established the Santa Marcela Parent Leader's Association where she currently serves as the President. Through the Association, she and some of her group members were able to receive individual business equipment assistance from the Department of Labor and Employment.
According to Jane, this has greatly augmented the cash assistance they receive for the health and education of their children through their complete compliance to the program conditions and the daily income her husband earned from farming.
With Jane's leadership potential and active support to community activities, the San Antonio Barangay LGU appointed her as the Barangay Health Worker where she is in-charge in assisting the health-related concerns of their constituents.
Giving back
Jane shared that with the blessings she receives from the Government, it is but time to give back and share her services to the most in need members of her community.
Without getting monetary amounts in return, she willingly assists her fellow beneficiaries on their concerns about the Program and she patiently coordinates it with the MOO.
On the height of the implementation of the Social Amelioration Program, Jane also assisted in the validation of the beneficiaries in their barangay for the said Program. The SAP is part of the government's Emergency Subsidy Program for the most affected families during the COVID-19 pandemic.
While serving as the Barangay Health Worker in her community, Jane ensures that she has enough time for her family and she stays optimistic for their good health and for her children to finish their studies. Her son Jerome is now a Grade 9 student and Angel Kaye is currently in Grade 1 who are both enrolled and now under modular sessions.
Jane encourages her fellow Pantawid Pamilya beneficiaries to actively participate in community assemblies and activities for them to be updated on government programs and services.
With the continued passion of Jane as a parent and a community leader, she has truly proved that timidity can be conquered  as long as you have the willingness and motivation to  become a leader and serve others. ### DSWD-CAR, Social Marketing Unit, Marlo C. Abyado, Jr., Pantawid Information Officer with reports from MOO-Sta. Marcela.