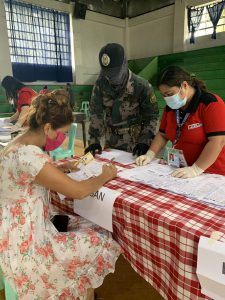 Cordillera Administrative Region- The Department of Social Welfare and Development Field Office Cordillera Administrative Region (DSWD FO CAR) in close coordination with the local government units of Baguio City and Kapangan, Benguet has started to release financial assistance to additional poor families who have been affected by the community quarantine implemented due to COVID-19 pandemic.
This is part of the 18 million families that have qualified to receive the 1st tranche of financial assistance under the Emergency Subsidy Program (ESP) of the Social Amelioration Program (SAP) mandated by Republic Act 11469 or the Bayanihan to Heal as One Act. The financial assistance aims to aid in the economic impact of the ECQ by providing PhP 5,000.00 to PhP 8,000.00 to each affected family depending on the regional minimum wage. For the Cordillera Region, families received a maximum of PhP 5,500.00.
For the 1st tranche, DSWD FO CAR has served around 299,896 families in the region.
"Our local government units in CAR have submitted around 9,000 waitlisted or additional beneficiaries. We have already accommodated their list but the families are still for post-validation. Once found eligible, they will receive the 1st tranche. And to jumpstart, we have already conducted our pilot payout in Baguio City and Kapangan, Benguet", DSWD FO CAR Leo L. Quintilla said.
On 16 June 2020, the DSWD FO CAR team led by Undersecretary Jose Ernesto Gaviola and OIC RD Leo L. Quintilla together with our partners from the Department of the Interior and Local Government, Armed Forces of the Philippines, the Philippine National Police and the local government units conducted the payout to 396 waitlisted beneficiaries from Baguio City and Kapangan.
Meanwhile, qualified families in Baguio City and Benguet will also be receiving the 2nd tranche of financial assistance under the SAP. However, the schedule of payout to post-validated and qualified beneficiaries of the 2nd tranche is yet to be finalized.
"The DSWD FO CAR is doing its best to release the assistance to the clean list of beneficiaries before 24 June 2020. We would like to inform the potential beneficiaries that we will be closely coordinating with their local government units for the specific details of the payout", Director Quintilla said.
On the other hand, 13,612 Pantawid Pamilyang Pilipino Program or 4Ps families from Baguio City and Benguet have already received the 2nd tranche of the assistance through their EMV cards.
Based on the Inter-Agency Task Force on Emerging Infectious Diseases resolutions no. 30-31, for the Cordillera Region only Baguio City and Benguet Province remained under the General Community Quarantine, thus the two areas qualified to receive the 2nd tranche of the financial assistance. #DSWD-CAR, Social Marketing Unit, Nerizza Faye G. Villanueva