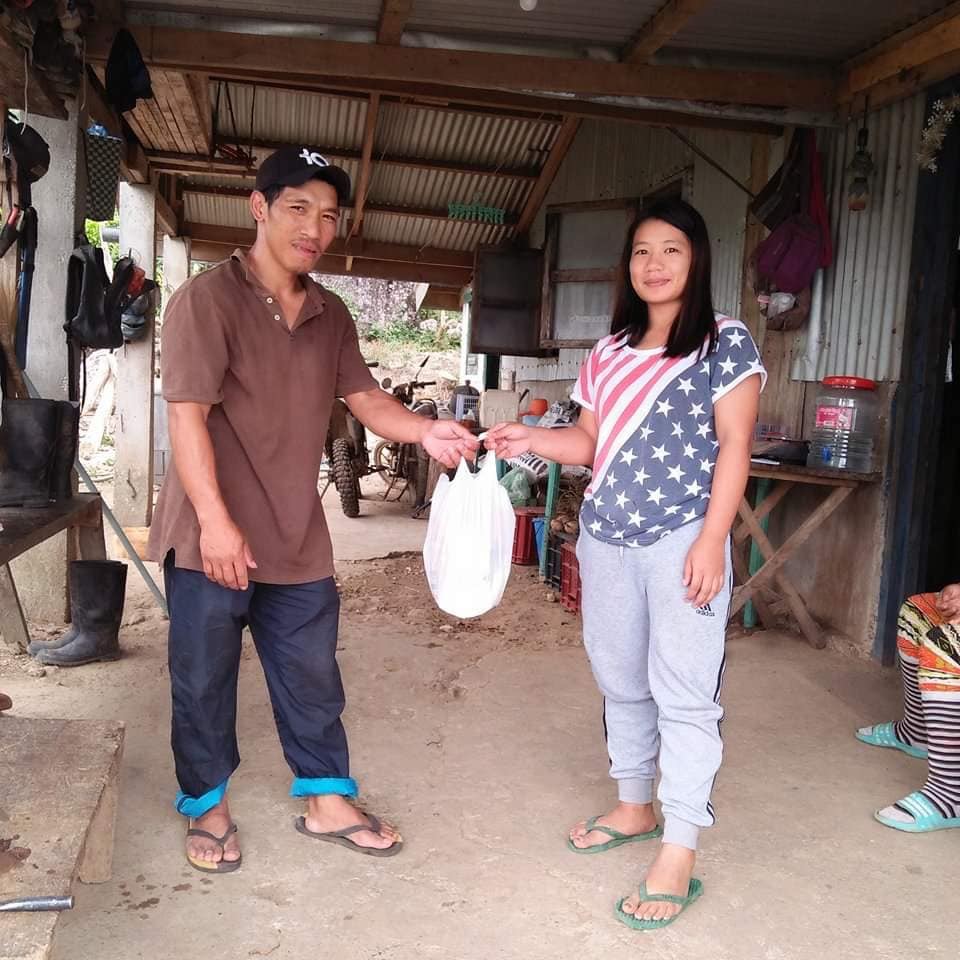 Even if they are also in need, 43 beneficiaries of the Pantawid Pamilyang Pilipino Program (4Ps) of the Department of Social Welfare and Development-Cordillera Administrative Region (DSWD-CAR) voluntarily shared a portion of their emergency subsidy cash assistance received under the Social Amelioration Program.
The 4Ps beneficiaries received an additional amount of PhP 4,150.00 and allotted some to be shared in kind by purchasing food items for their fellow poor affected families in Tabaan Sur, Tuba, Benguet.
"Napanunot me nga agcontribute ta nakita me nga addu dagiti kakailyan nga apektado ti COVID-19 ken talaga nga agkasapulan da kas kadakami. Sapay koma ta makatulong daytoy bassit nga food packs kadakuada (After receiving our grants, we thought of sharing it to our family neighbors who are also affected of the COVID-19. We hope that the food packs will help them)," Parent Leader Grace Abance said.
The members contributed 100 pesos each to buy food items like flour with baking powder, instant coffee, noodles, bath soap, and detergent bar roughly enough to form 25 family food packs worth 200-250 pesos each.
According to Grace, they did not include rice in their relief packs since their Barangay local government unit has been providing rice and canned goods to their affected constituents. The group also coordinated with the barangay council for the list of most affected families as a basis for their distribution.
Meanwhile, Grace urged her fellow beneficiaries to spend the cash grants for their family's needs and not for their wants.
"Kadagiti kakadwa me nga benepisyaryo ti Pantawid, usaren tayo koma diyay cash grants tayo iti nasayaat kas iti pagkasapulan tayo iti uneg ti pamilya tayo, pangaaasi yo ta saan yo nga us us aren iti kumkumporme kas iti inum ti alak ken sugal (To our fellow beneficiaries, let us use our cash grant for our needs at home, please do not use it for to buy liquor and other vices like gambling)," Grace said.
In barangay Taba-an Sur, 67 active household beneficiaries are being monitored. This totals the 10,966 beneficiaries in the province of Benguet who already received their Emergency Cash Assistance under the SAP-ESP. This completes the total 59, 396 beneficiaries in CAR alone amounting to 326 million. Regular grant amounting to a maximum of PhP 1,350.00 per household is expected to be released within the quarter. ### DSWD-CAR, Social Marketing Unit, Marlo C. Abyado, Jr., Pantawid Information Officer