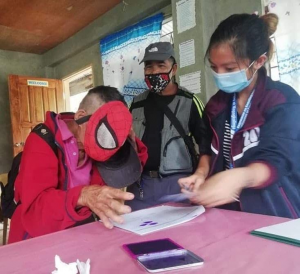 Cordillera Administrative Region– As of 19 May 2020, theDepartment of Social Welfare and Development Field Office Cordillera Administrative Region (DSWD FO CAR) has already released a total of PhP 192,918,000.00 to 64,306senior citizens in the region. This is under the Social Pension Program for Indigent Senior Citizens.
The stipend under the said program amounts to PhP3,000.00 or PhP 500.00 per month for January to June 2020.
"For our region, we have already conducted our payout for the Social Pension Program as early as January this year. For the months of April and May, our payouts are being done in the provinces of Abra and Ifugao", OIC- Regional Director Leo L. Quintilla said.
9,348 Social Pensioners from Apayao Province have already received the stipend in January 2020 amounting to a total amount of PhP 28,044,000.00. 19,245 Social Pensioners from Benguet Province have received the stipend in February and March with a total amount of PhP           57,735,000. For Kalinga Province, 13,113 Social Pensioners received a total amount of PhP     39,339,000.00 in March. Meanwhile, 8,467 pensioners from Mountain Province have received a total amount of PhP 25,401,000.00 in February.
"We are closely working with our local government units to fast track the release of the remaining stipend to our Social Pensioners in Ifugao and Abra without compromising the health protocols that are still in place since we are still under community quarantine. We appeal to our stakeholders to follow health measures such as wearing of masks, and observing physical distancing. Our senior citizens need not to leave their homes since we allow authorized representatives to receive their grants on their behalf", Director Quintilla said.
For Ifugao Province, there are 6,444 social pensioners whohave received a total of P 19,332,000.00. In Abra Province, 7,689 social pensioners have also received a total of P 23,067,000.00 stipend. Disbursement of funds for the provinces of Abra and Ifugao is expected to culminate this May 2020.
Relatives of the Social Pensioners are allowed to receive the stipend on behalf of the senior citizens upon the presentation of necessary documents. Among the documents to be presented include authorization letter duly signed by the pensioner and their barangay official, valid ID of the senior citizen and the claimant, and photocopy of the senior citizen and the claimant's ID.
In the Cordillera Administrative Region,
there are 91,264 senior citizens who
are qualified to receive the Social Pension stipend. These senior citizens are considered
to be poor
, frail, and sickly. Social Pensioners also do not receive regular income, pension or assistance from the government, insurance agencies, relatives or private individuals.
#D