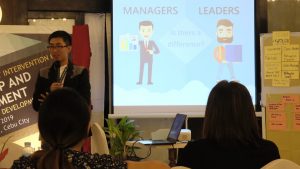 Cordillera Administrative Region- He wanted to establish businesses, but he ended up building people. This is the journey of Mr. Jerry D. Julian or Sir Jed to most of his colleagues and mentees.
Sir Jed is the Training Specialist III and designated Section Head of the Capacity Building Section (CBS) of the Department of Social Welfare and Development- Cordillera Administrative Region (DSWD-CAR).
He earned a degree in Agribusiness but was not able to practice his course as he chose to teach in an international school in Baguio City.
"Gusto kong mag-business noon kaya lang nag-boom ang pagtuturo ng English as a second language kaya sinubukan kong magturo", Sir Jed shared.
But this may have been fate's way to lead him into his unknown life mission back then.
Lifelong mission unfolds
"Habang nagtuturo ako, I started to realize na baka ito na 'yung career na para sa akin", Sir Jed said. Thus, he took courses in professional education and later on  passed the Licensure Examination for Teachers.
However, in 2009, he took the opportunity to join the government through the DSWD.
"Nakita ko kasi na pareho sa mandato ng DSWD ang gusto kong gawin. Gusto kong tumulong din sa mga kagaya ko:, Sir Jed shared as he reminisced his humble beginnings.
He started as an Administrative Assistant. After serving for 10 months in the said position, he was promoted to a Training Specialist position which he held until 2014. Determined to push his career further, he applied and was hired in DSWD Central Office as a Project Development Officer designated as a Training Officer. Later on, he took a break from government service but still supported the Department through his consultancy services.
Home is where is heart is
Despite the accomplishments in his career, Sir Jed seemed tobe incomplete. He realized that he needed to be with his family thus, he decided to apply and was later on hired as a Training Specialist of DSWD-CAR.
This did not only let him come home to the Cordillera region and his family, but this has allowed him to be with his first love- to be able to teach and capacitate people.
"As a Talent Development Practitioner, I am happy and fulfilled because I know that I can help in changing the life of a person through the capacity building and knowledge that we give.
When we capacitate our partners and stakeholders, we see improved service delivery. This in turn may result to our communities' improved quality of life.
Ito na rin ang paraan ko para ibahagi sa kapwa ko Kordilyeran kung anong biyaya meron ako. I feel happy an fulfilled", Sir Jed said.
Aside from achieving inner happiness, Sir Jed is also able to contribute to the accomplishment of DSWD-CAR's commitments. Under his leadership, he was able to implement various innovations such as gamification of learning, use of audiovisual presentation during capability building activities, and use of technology-driven tools. He also pushed for the corporate membership of DSWD-CAR to prestigious organizations such as the Philippine Society of Training and Development (PSTD) and the Association of Special Libraries in the Philippines (ASLP).
He also introduced the concept of Knowledge Sharing Session and learning conversation through the conceptualization of a platform dubbed as Social Welfare and Development (SWD) Talks to promote a culture of learning within the Field Office so that personnel can improve their competencies and perform their functions effectively and efficiently. To further support tis, he pushed for the development of a Core Group of Specialists Directory of Expertise within the Field Office to promote access to internal knowledge and exterpise and to aid the Field Office in sourcing Subject Matter Expert or Resource Person during its activities.
The Maestro
With his efforts and passion, Sir Jed has been conferred the Gawad Maestro 2018 Outstanding Learning and Development Professional of the Year award.
The Gawad Maestro is the PSTD's most prestigious award giving body on talent development that aims to honor and recognize individuals and organizations that have demonstrated leadership and creativity in improving organizational performance through learning and development.
He also received various commendations from the Department and was able to bring numerous recognitions and awards to the DSWD-CAR.
Despite his accomplishments, Sir Jed continues his pursuit for greater things and inspiring others.
"Life is embracing changes. Life is learning. And it should never stop. As long as we can, let us continue to share and empower the people that we meet", Sir Jed shared.  # DSWD-CAR, Social Marketing Unit, Nerizza Faye G. Villanueva