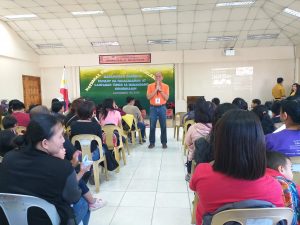 Cordillera Administrative Region- The Department of Social Welfare and Development (DSWD) here reiterates the importance of observing children's rights to further promote their welfare.
This is also supported by the theme of the 2019 National Children's month celebration which is "Karapatang Pambata: Patuloy na pahalagahan at gampanan tungo sa magandang kinabukasan".
In the closing activity for the said celebration, DSWD-CAR OIC Regional Director Leo L. Quintilla highlighted the importance of empowering the children by providing information.
"It is important for children to know their rights. It is by knowing that they are able to ask for what is good for them", Director Quintilla said.
Director Quintilla emphasized the four basic rights of children which includes the right to be served with a proper diet for them to have a healthy body, the right to be dressed properly to protect them from any kinds of weather, the right to live in a decent house for them to feel secured and comfortable, and the right to health care.
Meanwhile, Director Quintilla also reiterated the role of adults to ensure that children's welfare will always be considered.
"For us parents, let us make sure to respect these [children's] rights. As adults, we have to protect the life of and to love our children. Make our family full of love and understanding to have a good happy Filipino family", Director Quintilla added.
Meanwhile, various activities were also conducted in the closing event. Book coloring activities were prepared for 3-5 year old children to enhance their creativity. Orientation about online safety and poster making contest were also conducted for children aging 6-17 years old while parents underwent an orientation on parenting and were provided with tips for them to have a good relationship with their children.
The activity was attended by the clients from the Regional Haven for Women and Girls (Regional Haven), Regional Rehabilitation Center for Youth (RRCY) and the Reception and Study Center for Children (RSCC).
The Regional Haven, RRCY and the RSCC are three residential care facilities maintained by the DSWD-CAR. The said institutions provide 24/7 protection and rehabilitation services to women and girls who have been victims of abuse and exploitation, children in conflict with the law and children who have been neglected and abandoned.  #DSWD-CAR, SOCIAL MARKETING UNIT, Merry Ann Wandas and Nerizza Faye G. Villanueva