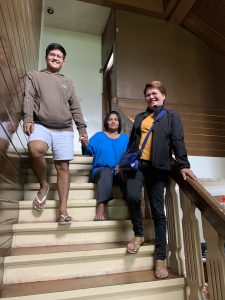 Cordillera Administrative Region- Have you ever wondered where mothers draw strength to endure and surpass life's daunting challenges? How they make impossible things possible?
Some people say they draw strength from their children- their magical source of energy no matter how challenging these children are. But how can a mother survive life if she lost her reason to fight?
For 26 years, 51-year-old Benigna Careneo- Blanco held unto the memories of her children. These memories and her yearning to be with them again kept her brave and strong to survive all the challenges in her life.
According to Nanay Benigna, she lived with her husband and her four children in Benito Soliven, Isabela. Due to poverty, her husband decided to work as a gasoline boy in Cauayan City, Isabela where he met another woman whom he eventually lived with. Having a new partner, her husband forced and threatened to kill her.
Fearing for their life, Nanay Benigna left with her children Emilio Jr., who was then only 7 years old, and Elizabeth, who was four years old. Her other children, Vanessa and March Kevin, remained under her husband's care.
To escape, they walked from Isabela to Bataan. Due to fatigue, she fainted somewhere at the market place and at that point she lost Emilio, Jr. Benigna sought help from a social worker in Bataan but despite their efforts, her son was nowhere to be found.
With a heavy heart, Nanay Benigna continued their journey to Bataan with only one of her children by her side. While in Bataan, her husband's relative took Elizabeth to Solano, Nueva Vizcaya while Benigna was reintegrated to her aunt at Sumaoy, Camarines Sur hoping that she can now live peacefully.
Bumps along the Way
But fate did not favor Nanay Benigna. She had to live with different people who physically abused her. One even forced her to beg.
Instead of losing hope, Nanay Benigna used her situation as an opportunity to earn money for her to go back to Isabela and look for her children. After all the hardships, her efforts paid off when she was able to go back to Isabela and locate Vanesa, one of the daughter who was working as a house helper. But this turned into a bitter sweet moment for Nanay Benigna when her daughter asked her to go back to Bicol because she can't accommodate her.
This did not discourage her to give up. She positively continued to look for Elizabeth. At Solano, Nueva Viscaya, she finally found her living with her in-laws, but once again, Nanay Benigna was heartbroken as she left after her daughter asked her to go back to Bicol since she will not have a place to stay. This forced Nanay Benigna to live on the streets.  She shared that she survived by begging and cooking her food with empty cans that she found along the way.
These experiences may have taken its toll on Nanay Benigna's mental health. She recalled that she again started to experience episodes of hallucination where she saw light posts as figure of people asking her to walk, beg, and run away from police officers.
When a new road opens
With her situation, Nanay Benigna wandered from Isabela until she was caught by the police at Tublay, Benguet. She was brought to the Local Social Welfare Office of Tublay and was eventually turned over to the Regional Haven for Women and Girls (Regional Haven).
The Regional Haven for Women and Girls is one of the institutions of the Department of Social Welfare and Development- Cordillera Administrative Region (DSWD-CAR) that aims to provide protection and proper intervention and rehabilitation services to women and girls who are victims of violence, abuse, and exploitation.
At first, Nanay Benigna felt that staying in the Regional Haven would hinder her from reuniting with her family but surprisingly fate favored her this time. With the efforts of the social workers of the Regional Haven to connect with their local counter parts, they were able to find her relatives and her children including her lost son.
On 30 July 2019, Nanay Benigna's 26-year journey of longing for her child Emil came to an end as he came to visit her.
Emil recalled that ill-fated day when his mother fainted which left him wandering while crying until someone took care of him and helped him meet his foster parent.
Despite having a new family, Emil admitted that he also looked for his biological mother with the support of his foster parents. After a year of tracing his family's whereabouts, he received a call from the Regional Haven informing him about his mother.
With what happened, the Regional Haven did not just answer Nanay Benigna's long time wish but also of Emil's as finally, he was able to be with his mother again.
"Nagpapasalamat po ako sa May Kapal, sa mama ko, sa Regional Haven kung hindi dahil sa inyo, hindi ko makikita ang tunay kong ina. Sa totoo lang, masaya naman ako sa pamilya na meron ako ngayon pero iba din kasi kapag nahanap mo kung saan ka nanggaling at ang sarili mong pamilya ", Emil said.
"Masaya na ako dahil nakauwi na rin siya sa tatay niya, at nakasama na rin niya ang mga kapatid niya.  Wala na akong wish kundi makasama ang mga anak ko" Nanay Benigna said.
Mama Beth, who stands as Emil's mother, has always been supportive in his wish to find his mother.
Mama Beth also commended the efforts of DSWD- CAR in helping Emil's dream turn into reality. "Ipinagmamalaki ko sa Manila dahil iba talaga ang effort ng DSWD-Cordillera para mahanap ang kanyang pamilya", she said.
According to Emil, his Mama Beth is willing to accommodate Nanay Benigna in their home.
At present, Nanay Benigna and Emil are working on strengthening the bond that was once tested by life's uncertainties. While she is still in the center, she is not just maximizing her time to help her co-residents in the center and making efforts to improve her health by taking her medications but she is also preparing herself to be a mother to her children.
Nanay Benigna is now taking her steps to a better journey full of hope with the love of her children and her newfound family. #DSWD-CAR, SOCIAL MARKETING UNIT, Merry Ann Wandas and Nerizza Faye G. Villanueva