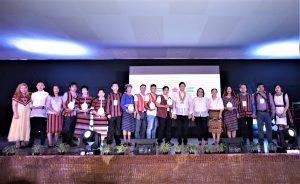 Eight (8) community-based organizations from the Cordillera Administrative Region were recognized by the Department of Social Welfare and Development during the 5th BAYANi Ka!
Awards held in Butuan City on August 13, 2019.
The organizations has been active partners of DSWD in the implementation of the Kapit-bisig Laban Sa Kahirapan-Comprehensive and Integrated Delivery of Social Services (Kalahi-CIDSS). Kalahi-CIDSS is an anti-poverty program of the department which uses thecommunity-driven development approach to empower communities, to reduce poverty, and improve local governance.
The BAYANi Ka! Awards is an annual recognition event for program partners who showed
exemplary dedication in the implementation KALAHI CIDSS-NCDDP by putting their bayan
(community) first before themselves (i).
Four community-based organizations in Kapangan, Benguet took the pride of being the
BAYANi for improved local governance, indigenous peoples welfare, gender and
development, and peace promotion. These are Cayapes Kapangan Irrigators Association
Incorporated, Barangay Sub-project Management Committee of Pudong Kapangan,
Cayapes Womens Organization and Datakan Women's Brigade.
There are also two organizations in Pudtol, Apayao that were recognized under the BAYANi
Ka! for Environmental Protection, and Youth category. These are the San Jose Upland
Farmers' Association and Amkiland Youth Organization.
Further, the Natubleng Ladies Association of Buguias, Benguet was acknowledged under
the Sustained Community Volunteers Group category while the Senior Citizens of Barangay
Quidaoen of San Juan, Abra was awarded as BAYANi under the elderly category.
DSWD Secretary Rolando Joselito Bautista lauded the BAYANi Ka! Awardees for their
selfless service to their communities. He added that with the 600,000 community volunteers
around the country, the department is assured that the sub-projects built through Kalahi-
CIDSS will benefit of most of the community members.
Meanwhile as part of the National Community Volunteers' Congress which followed the
BAYANi Ka! Awarding on August 14 and 15, participants from the 15 Regions covered by
Kalahi-CIDSS visited communities in Surigao Del Sur and Agusan Del Norte that
implemented Kalahi-CIDSS.
The participants shared their common and unique experiences in implementing a
community-driven development program through a focused group discussions with fellow
community volunteers in the municipalities of Carmen, Agusan Del Norte, and in San
Agustin, Barobo and Hinatuan, Surigao Del Sur. They also visited sub-projects implemented
in the said municipalities.
After the activities, Community Volunteer Roger Garcia from Kapangan, Benguet reflected
that Kalahi-CIDSS should be continued as a program of DSWD since it has helped so many
communities. "Based on what I saw and heard during the event, the [Kalahi-CIDSS]
implements projects that are needed by the communities," he added.
Garcia also agreed with Surigao Del Sur Representative Johnny T. Pimentel who said during
his inspirational message that the process of implementing projects should start from the
bottom to top and not the other way around; to ensure that projects will really benefit the
communities. #DSWD-CAR, SOCIAL MARKETING UNIT, Jasmin Kiaso