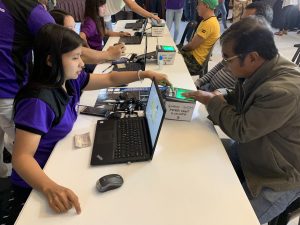 Cordillera Administrative Region– A total of 8,498 families from Benguet and Kalinga have already received the Comprehensive Assistance for disaster Response and Early recovery Services (CARES) card of the Department of Social Welfare and Development (DSWD).
This is a result of the conducted Disaster Vulnerability Assessment and Profiling Project (DVAPP) implemented with the support of the International Organization for Migration (IOM). Families enumerated under the said project are entitled to receive the said card.
As of 19 July 2019, 2,423 DSWD CARES cards have been released to the families from Itogon, 4,031 from Tublay and 2,044 from Pasil.
"The DSWD CARES card is a digitized access card that the holders can use when availing programs and services provided by the DSWD in times of disasters. This simplifies the current beneficiary registration and verification process of the Department", OIC- Regional Director Leo L. Quintilla shared.
The DSWD is currently using the Disaster Assistance Family Access Card (DAFAC) in monitoring and managing the provision of assistance during disaster operations. Unlike the DAFAC which is manually filled-out during the provision of assistance, the DSWD CARES Card is supported by a database which already contains the necessary information about the family to be provided with assistance. This may help in fast tracking the release of assistance to the affected families.
Meanwhile, Benguet Provincial Social Welfare and Development Officer Juana B. Banawe acknowledged the efforts of the DSWD and the IOM in implementing the Project and in helping them know the status of their people. She also expressed intent to implement the same project in the entirety of the province.
"We are looking forward to the roll-out of this project. We hope that this will be implemented in every municipality for us to have an accurate database of families who are at risk. By having truthful information, we can plan and implement efficient service to our communities. This will help us manage our resources well and strengthen community preparedness as well", Dir. Quintilla said.
The DSWD-CAR is in continuous coordination with its partners and stakeholders for the improvement of its disaster response operations. #DSWD-CAR, SOCIAL MARKETING UNIT, Nerizza Faye G. Villanueva