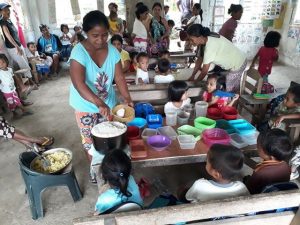 Cordillera Administrative Region- Around 43,120 children enrolled in Early Childhood Care and Development (ECCD) or Day Care Centers in the region have availed of the Supplementary Feeding Program (SFP) of the Department of Social Welfare and Development (DSWD) here.
This is based on the report of the SFP Regional Management Office as of 21 May 2019. The number reflects children that were enrolled in various ECCD centers in the region who underwent 120 days of feeding which began in June 2018.
"In consonance with the Program's mandate which is to improve and maintain the nutritional status of our children by providing augmentation support for feeding program and intensifying nutrition and health education, we have provided supplementary feeding to all children in the ECCD centers in our communities regardless of their economic and health status", Director Janet P. Armas shared.
For the 8th cycle which runs from June 2018- March 2019, the Province of Benguet recorded the highest number of beneficiaries with 9,016 children. This is followed by Abra with 8,684, Kalinga with 6,829, Ifugao with 6,095, Mt. Province with 4,756, Baguio City with 4,607 and Apayao with 3,133.
"We are expecting that this number will still increase since some of our partner local government units are yet to complete the implementation of the 8th cycle. We are also doing our best to make sure that the implementation of the 9th cycle will be smooth despite some changes involving the Program", SFP Focal Person Eleonor Bugalin-Ayan shared.
For 2019, the local government units through their local social welfare and development offices (LSWDOs) will receive the goods for the feeding program. This is in support of DSWD Secretary Rolando Bautista's pronouncement that no funds shall be transferred to local government units in the implementation of DSWD programs and services. This is to safeguard the funds from possible corruption risks.
The 9th cycle, which is expected to commence on June 2019, is targeting to serve 42,999 children.
"We would like to ask for the continuous support and assistance of our stakeholders especially our counterparts in the local government units and the parents in the implementation of the Supplementary Feeding Program. We acknowledge your contributions in the success of our effort to cater to the needs of our children. We hope that the meals we serve can help encourage our children to attend the early childhood care services provided by our LSWDOs", Director Armas said.
For queries concerning the Program, the Management Office can be reached through +6374- 661-04-30 loc. 25027 or through sfp_focar@yahoo.com or https://www.facebook.com/dswdfocar. # DSWD-CAR, Social Marketing Unit, Nerizza Faye G. Villanueva