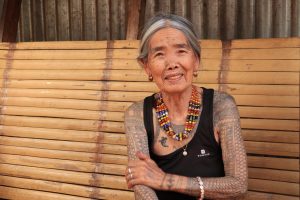 Cordillera Administrative Region– My journey to finding a hundred-year-old treasure started with a phone call. Despite the urgency of the trip, I wasn't able to resist the invitation. I had to take it. I had to take this once in a lifetime experience.
Upon checking my schedule, I already said yes to another commitment. This meant that I had to travel for more than 17 hours just to make the journey possible. However, life has its twists and turns, my schedule was cleared a day before the trip. But our journey will still not be easy.
No treasure map, just sticks and dust
Treasure hunters use maps. But for this journey, all we have is our passion and a little bit of luck. We were prepared to take a daylong road trip but our bodies were not prepared to take a hike. Nevertheless, we took the road that many have already taken.
The end of our journey can be overseen from where we began. But as we pushed through, the dust-covered path ahead of us seemed to be endless. Luck appeared to be on our side as the clouds tried to cover the scorching heat of the sun while traversing the steep route. At some point, trees and plants offer us shade where we could catch our breath. A tree branch also served as my trekking pole for the duration of the hike.
Treasure more than gold
After almost an hour, we were able to reach our destination. The place was crowded with people of different colors. But one woman stood out.
Despite the hustle around, she was engrossed to what she was doing. She was quiet but her presence can be felt.
Still catching my breath from the hike, I was mesmerized. In front of my eyes was a treasure far more precious than gold. Immediately, I took out my camera to capture the moment before we were asked to wait in a separate area.
Limelight and sparkles
Time finally came when we met the hundred-year-old treasure. Despite the language difference, we felt the warm welcome of Apo Whang-od as a smile glimmered from her face.
Apo Whang-od took the limelight as the oldest living mambabatok or traditional tattoo artist from the Butbut tribe in Kalinga. She has been conferred various awards and featured in different media. But humility and affection can be sensed in her presence. This positive aura may have helped her reach this milestone as she officially turned a hundred years old on 7 March 2019.
As her birth certificate reflects, Whang-od Parat Oggay was born on 7 March 1919 in Buscalan, Tinglayan, Kalinga. Her birth was registered by her brother, Rudy Oggay, in May 2015. Whang-od is currently residing with her relatives in Buscalan where she received the recognition for centenarians from the National Government through the Department of Social Welfare and Development- Cordillera Administrative Region.
Whang-od is one of the 120 centenarians of the Cordillera Region who have received the Centenarian's Cash Gift and a Letter of Felicitation.  She is one of the nine (9) centenarians from Kalinga Province. Meanwhile, there are 30 centenarians from Abra Province, 9 in Apayao, 11 in Ifugao, 27 from Mountain Province, 21 in Benguet Province and 13 from Baguio City.
"We are honored and elated to recognize this milestone of a pride of the Cordilleras. But it is not only Whang-od who is our treasure. All our centenarians and elderlies deserve the acknowledgment and respect from all of us for they possess the wealth of experience and gift of wisdom that only through time that they were able to acquire.", DSWD-CAR Director Janet P. Armas said.
"This is also very timely since we are observing Women's Month this March. Apo Whang-od is an epitome of how a woman can bring pride and honor to her community, as well as challenge the misconceptions that our society have", Director Armas added.
From 2017 to 2022, the theme for the Women's Month celebration is "We make change work for women" which underscores the empowerment of women as active contributors to and claimholders of development. This 2019, the celebration focuses on strengthening efforts to improve and track the progress of implementation of the Magna Carta of Women (MCW), and other relevant laws and commitments pertaining to women rights.
"May we all be inspired to take part in bringing changes in our society especially those that will benefit every woman in the community. We do not need to be in offices or high-ranking positions to make this possible. By doing our best in everything we do, by loving our talents and flaws, by continuously perfecting our craft, by showing respect and compassion to others,  by simply being ourselves and improving to become the best version of our selves- by starting with ourselves, we can make change work for women", Director Armas said. # DSWD-CAR, SOCIAL MARKETING UNIT, Nerizza Faye G. Villanueva