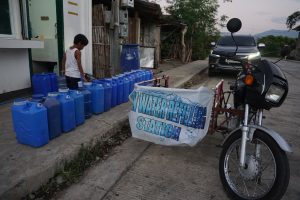 After his classes, Jude, a Senior High School student, did not waste a minute. He immediately went home, changed his uniform and went his way to his part time job. Not long ago, he started delivering jars of drinking water to households around his barangay. One water jug delivered to the doorstep of customers will earn him five pesos.
"What I earn during the evenings is my allowance the next day," Jude says. The desire to help his parents on their daily living expenses inspired him to work part-time as a water delivery boy. Jude earns around 100-150 pesos every evening.
This work opportunity for Jude started when his barangay established their own water refilling station. It never dawned to the people of San Juan Norte in Manabo, Abra that they will have their own water refilling station in their barangay until they heard that it was possible with the Kalahi-CIDSS project of DSWD.
"When Kalahi-CIDSS was introduced, we could not identify other projects except for a water refilling station," Barangay Treasurer Rowena Curbi recalls. She remembers that her community was excited to implement a project that would somehow help them address their problems on health while promoting gainful employment.
Rowena related that they buy water from a refilling station at a neighboring barangay. Her family, a family of six, spends around 320 pesos monthly for their drinking water including delivery fee. "We are sometimes burdened with our water bill but it is better than compromising the health of our family," Rowena voiced.
All these changed when their barangay was prioritized during the municipal inter-barangay forum for participatory resource allocation (MIBF-PRA) with the water refilling station as the sub-project.
Mary Jane Badilla, the chair of community volunteers in Barangay San Juan Norte shared that at first they lacked confidence to implement their proposed sub-project. "I thought that it would be too difficult to implement a water refilling station since it was our first time managing a project. In the end, I realized that it was not as complicated as I imagined. The willingness to learn matters the most," she reflected.
A lookback to their journey
Community volunteers identified the water refilling station as their top priority need during their barangay participatory situational analysis in 2015.
The community also considered proposing a deepwell but after deliberating, the water refilling station came on top of their choices. They believed that this would best answer to some of their health problems, and their overburdening drinking water bills.
Procuring the materials for the water refilling station also proved to be difficult for the community. The community volunteers went as far as San Fernando, La Union to canvass quality materials and equipment for the refilling station.
With all the challenges that came with the implementation, the water refilling station was only completed on October 2017. Shortly after its turn-over, the station began its operation on December 2017 under the management of Barangay San Juan Norte Drinking Water Association.
With the fully functional water refilling station, residents of the barangay now buy water from the station they help build. For Rowena's family, she says that they only spend 160 pesos monthly for their drinking water. "That is half the price of what we used to pay a couple of years ago," she added.
As of today, there are around 146 families, including Rowena and Jude, benefitting from the San Juan Norte Purified Drinking Water. It has been operating for over a year now, however the station is still establishing itself in the industry. According to the president of the organization, they are still improving their operation and maintenance capabilities, and stabilizing financial status to provide better services to their customers.
The total cost of the refilling station inclusive of a storage located at the second floor, an  ozonizer and smothifier is ₽1,096,644.26.  #DSWD-CAR, SOCIAL MARKETING UNIT, Jasmin Kiaso