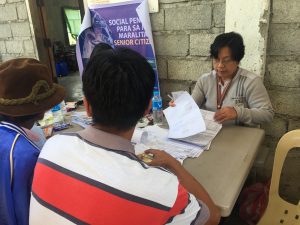 Cordillera Administrative Region– With the goal to serve our senior citizens better, the Department of Social Welfare and Development (DSWD) here has implemented new approaches to improve the delivery of the Social Pension Program for Indigent Senior Citizens (Social Pension).
"Since its first implementation in 2011, our Regional Program Office for Social Pension has been continuously strategizing for the enhancement of the program while making sure that we are not violating any law", DSWD-CAR OIC-Regional Director Janet P. Armas said.
Among the innovations implemented by the program is the creation of an information system that serves as a database of its program beneficiaries. To facilitate better understanding of the documentary requirements, authorization letter released by social pensioners have also been translated to the local dialect.
"For this year, we are also doing a validation of our social pensioners to ensure that those who are most in need are the ones receiving the stipend, Director Armas added.
The Regional Program Management Office with the assistance of the Local Government Units are doing the one on one assessment. This aims to clean the list of the senior citizens who are receiving the Social Pension.
Republic Act 9994 or the Expanded Senior Citizens Act of 2010 mandates the provision a monthly stipend amounting to five hundred pesos (PhP 500.00) to indigent senior citizens to augment the daily subsistence and other needs of the senior citizen. Department  Administrative Order No.15, Series of 2010 further states that only indigent senior citizens not receiving any pension, regular income or any form of assistance from their relatives are qualified to receive the stipend.
"We would like to appeal to our partners and stakeholders for the success of our validation. Let us be truthful in providing the necessary information", Director Armas said.
Meanwhile, the DSWD commends its partners who have strategized to improve the delivery of the assistance.
"We are grateful to our partners who unceasingly support us in our delivery of social welfare and development services. Without their assistance, we will not be able to serve the Cordillera people", Director Armas added.
With its geographical terrain, the municipality of Paracelis in Mountain Province has devised a strategy to improve the delivery of the Social Pension Program to its senior citizens. Since 2015, on-site cluster pay-out has been conducted for far-flung barangays including barangay Anonat, Palitud, Botiguey, and Bananao.
"Nakita namin ang hirap ng mga senior citizen sa pagbyahe para makuha ang kanilang stipend. May kalsada naman pero hindi pwede ang sasakyan lalo na kapag umuulan. Motor lang ang pwede", Paracelis Municipal Social Welfare and Development Officer Emma Tamang shared.
Meanwhile, Social Pensioners in the area appreciate this strategy.
"Maymayat ta as-asideg bassit. Nasapa kami nga makaawid ken asideg nga pagibagaan ti problema (Mas maganda dahil mas malapit na. Mas maaga rin kaming makauwi at mas mas malapit na pagsabihan ng [aming] mga problema)", Mangari Sasat shared.
73-year old Mangari Sasat is one of the 1,420 social pensioners from Paracelis. She worked as a farmer however in 2017; she was forced to stop because of her health condition.
"Agyamanak ta ada iti kastoy ta isu pay ti pagsayaatan nga pag-gatang ti agas ken mausar (Nagpapasalamat ako dahil ito ay nakatutulong sa pag-bili ng gamot at iba pang magagamit)", Mangari shared.
As of January 2019, 63,176 social pensioners from the region have received the total assistance worth PhP 94,764,000.00. This covers the 1st quarter assistance for 2019. Remaining assistance will be released through scheduled payouts within February 2019.
Meanwhile, the DSWD would like to assure the 18,812 social pensioners who have yet received the 2018 4th quarter stipend that the Field Office is currently doing the necessary actions and coordination with the Central Office for them to receive the said assistance. #DSWD-CAR, SOCIAL MARKETING UNIT, Nerizza Faye G. Villanueva