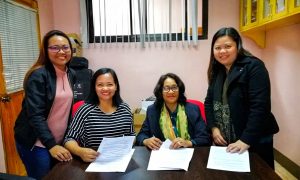 The Department of Social Welfare and Development (DSWD) Field Office Cordillera through the Pantawid Pamilyang Pilipino Program recently signed a Memorandum of Agreement (MoA) with the Saint Paul University of the Philippines (SPUP) Community Development Center Foundation Incorporated to collaborate in providing services to children beneficiaries and their families.
Through its Child Protection toward Enabling Childhood Development and Community Participation (Child Protect) Project that commenced last year, the SPUP Tuguegarao City is implementing various services in some barangays in Luna and Flora, Apayao, which caters to both Pantawid Pamilyang Pilipino Program beneficiaries and non-Pantawid Pamilya beneficiaries. The Child Protect Project covers 21 barangays in Apayao that covers 1, 119 children aged 0-14 years old.
"The harmonization of services between the public and the private sectors is crucial for the achievement of development goals especially with the unified provision of services and programs to children. This partnership between SPUP and DSWD is surely a big contribution in helping poverty-stricken communities and in ensuring that children are healthy and in school," DSWD-CAR Assistant Regional Director for Operations Marygrail B. Dong-as said.
Meanwhile, SPUP Executive Director Noemi Cabaddu mentioned that they have been implementing various programs that augment the DSWD services for the past years especially in Region II. Their expansion in the Cordillera is a part of their advocacy to reach out to more communities and to the Indigenous Peoples (IP) sector.
To create pathways for healthy infants and educated children, the Child Protection Project has provided capacity building to strengthen local child protection committees, capacity building to supervised neighborhood play facilitators and child development workers, conduct of child and parent development sessions, provision of learning materials and supplies, and provision of interventions to child at risk of dropping out from school. These activities are in partnership with the local government units and national government agencies.
"The Pantawid Pamilya has been opening its doors for the private sectors to augment and support in helping children and their families through various services and programs," Pantawid Pamilya Regional Program Coordinator Fatima Florendo shared.
In 2018, the SPUP in partnership with Child Fund also implemented projects in Apayao like the Early Childhood Development for IPs to improve the access and use of quality ECD centers and the Emergency Response Recovery Intervention to assist typhoon-afflicted areas. Initially, the SPUP used the Pantawid Pamilya Supply-Side Assessment result to identify projects that could benefit communities. The SPUP was able to construct and renovate child development centers, which benefitted Pantawid and non-Pantawid children beneficiaries.
As of December 2018, the Pantawid Pamilya or the Conditional Cash Transfer in the Philippines covers 60,694 household beneficiaries in the Cordillera. It provides monetary and non-monetary incentives to families in exchange of verifiable conditions on health, nutrition, and education. It monitors 5,495 0-5 year old children for health conditions and 115,600 3-18 year old children for education condition. Eighteen civil society organizations have MoA with the DSWD in support to the conduct of Family Development Sessions and monitoring of Pantawid Pamilya. ###