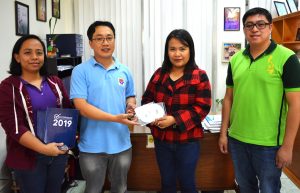 The Department of Health (DOH) Cordillera is set to use the Department of Social Welfare and Development's database of poor households for the improvement of health access and services to the poor and vulnerable sectors in the region.
Listahanan is an information management system that identifies who and where the poor are in the country. It makes the database of poor households available as basis for identifying potential beneficiaries of social protection programs and services.
DOH CAR Regional Director Dr. Amelita Pangilinan expressed her gratitude to the DSWD for sharing the Listahanan data. She emphasized that with the data they can easily track and give the needed health information, programs and services to poor households like sanitary toilet facilities, safe water source and information on the importance of attending health facilities. "Before, this are just numbers but with the Listahanan data, we hope we'll be able to zero out the unmet needs and improve the health status of our poor people in the community" she said in her statement.
DOH Designated Data Protection Officer Atty. Veronica Zandra de Jesus said they are really grateful for the Listahanan database as it will help in improving their service to the people especially since the Department of Health has a mandate to reach every last Filipino and to provide health services for them.
The DSWD has released the database of poor to the health department after a series of orientation activities strict adherence to DSWD data sharing requirements in compliance with the Data Privacy Act of 2012. The data sharing agreement was signed by DOH Regional Director Dr. Amelita Pangilinan and DSWD Regional Director Janet P. Armas.
Regional Director Janet P. Armas congratulated the DOH for being the first national government agency in the region to sign a data sharing agreement with the Department. She also encouraged local government units, national government agencies, and other organizations to maximize the use of Listahanan in assisting more poor families and individuals through data sharing.
Through the data sharing, the DOH will have access to specific information of poor households in CAR like name, address, age, sex, marital status, water source, toilet facility, and attendance to health facility. #DSWD-CAR, SOCIAL MARKETING UNIT, Mark Erik King Guanzon