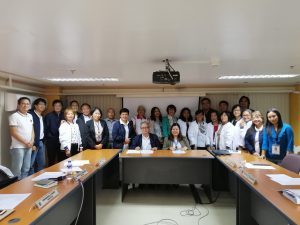 Cordillera Administrative Region- The Department of Social Welfare and Development (DSWD) Field Office CAR and the Baguio-Benguet Community Credit Cooperative (BBCCC) signed an agreement to formally collaborate in providing basic services to selected areas in the region.
This has been the result of the convergent efforts of the Kapit-bisig Laban sa Kahirapan- Comprehensive and Integrated Delivery of Social Services (Kalahi-CIDSS) and Pantawid Pamilyang Pilipino Program (Pantawid Pamilya).
Representatives of the Board of Directors (BOD) and Officers of BBCCC and program heads of DSWD Kalahi-CIDSS and Pantawid Pamilyang, the signing of MOA on 21 November 2018 signified the start of a promising partnership to build community projects to answer the development needs of selected poor barangays.
"Through the results of the Pantawid Pamilya supplies side assessment, we were able to identify the gaps that needed interventions. This reached the BBCCC and they decided to assist us through their corporate social responsibility", Pantawid Pamilya Regional Progam Coordinator Fatima Florendo shared.
Thus, both parties agreed to partner in conducting medical and dental missions, and providing medical supplies or equipment to health centers and reading materials to schools.
To seal the partnership, the BBCCC BOD considered to fund medical equipment needed at the Barangay Health Center of Kinama, Rizal, Kalinga. The equipment include medicine refrigerator, cooler for medicine, weighing scales, Fetal Doppler, BP apparatus and others which amounts to around PhP 309,000.00.
BBCCC Chair Oscar Adversalo remarked that the partnership is history in the making as it is the cooperative's first partnership with a government entity. "We will start small, but we will surely move to a bigger project in the future," he added.
DSWD Kalahi-CIDSS Program Manager Imelda Tuguinay expressed DSWD's gratitude towards the cooperative for their interest and enthusiasm to provide services to the Department's beneficiaries and clients. "The partnership is timely, specifically for Kalahi-CIDSS, as we have been working non-stop to look for funders of the priority projects identified by our target communities that didn't make it to the cut of the program's fund," she added.
The partnership originally started through the information drive conducted by the BBCCC to the partner beneficiaries of the Pantawid Pamilya. After engaging with some DSWD activities, the cooperative was able to recognize the possible collaboration between the organizations.  #DSWD-CAR, SOCIAL MARKETING UNIT, Jasmin Kiaso and Nerizza Faye G. Villanueva