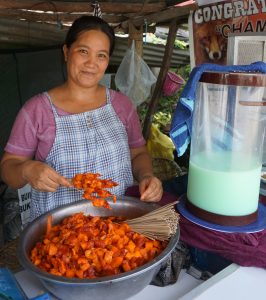 TABUK CITY, Kalinga – "Agpagradwar akun iti maysa nga college ket pirmi ragsak ko kumbaga kala nga nakaala akun iti maysa nga trophy (Now that my child will be graduating from college, I am very happy. It is as if I am earning a trophy.)", boasts Maribel V. Arboldeda, 41 years old, a mother of 6 and a wife of a barber.  Maribel's family is a beneficiary of the Department of Social Welfare and Development's Pantawid Pamilyang Pilipino Program (4Ps) and Sustainable Livelihood Program (SLP).
Humble Beginnings
In 2017, Maribel was provided with a food cart business through the SLP of the Department of Social Welfare and Development (DSWD).
"Idi umuna ket basit lang ilaklakok kala daytoy barbecue maysa lang nga kilo iti gatangek inaldaw, isu iti maituno ti malem. (When I was just starting with the food cart business, for instance the barbeque, I only purchase one kilo of meat a day, which we sell in the afternoon)" she recalls.
Even though she had low income at first, Maribel saved and started to buy large quantity of pork which she prepares and supplies to other street vendors in their neighborhood in Bulanao, Tabuk City, Kalinga.
"Iti inaldaw agatangakun iti 20 kilos iti pork nga tuduken me, ilakok ti 3 pesos per piece kadagiti kailyan me nga mang wholesale.Ada met iti 6,000 ko nga i-savings binulan nga usaren dagiti anak ko iti eskwela da karkaru iti allowance ken tuition idyay ada ti college. (Now I purchase 20 kilos of pork which I prepare and sell at PhP 3.00 each stick to our fellow residents who are buying in wholesale. From a month's income, I separate Php. 6,000.00 for our savings which my children use in school especially for the allowance and tuition of my college student)," said Maribel.
Maribel remembered that it was very hard for their family to survive each day since they only rely on his husband who's a barber earning PhP 300-500, an income that she budgets for their needs and children's tuition fees.
Earning for a Valuable Trophy
Maribel's hardwork and careful budgeting allowed her to send all of their six  children to school. "Madiskarte dapat, dagijay daduma iti savings me ket pinag puonak iti sabali nga negosyo kala iti wagwagan ken online buy and selling. (We should be innovative. From our savings I ventured into ukay-ukay and online buy and selling business)," Maribel explained.
"Uray no marigatanak ipapatik ladta nga mangpadakel iti pagbiyagan me ta amuk nga para kadagitoy anak ko. Kayat ko makita nga makaswela da, maala da iti mayat nga trabaho ta madimi nga nu anyat kinarigat biyag me tadta ket isu paylaeng ituloy da. (Even though it is hard , I try my best to expand the livelihood that was provided because I want my children to finish their studies so that they could get good paying jobs and not experience poverty)", she added.
This year, Maribel's 1st child will finish Bachelor of Secondary Education in Tuguegarao, Cagayan.
"Agyamanak launay iti naited nga livelihood iti SLP, adan iti pangkabuhayan me nga isu mangtultulong kanyami nga umangat basit panagbiyag me. Adan iti maisave nga mainayun nga usaren dagiti anak me nga makaturpos iti eskwela da. (I am grateful for the livelihood provided by SLP, we now have additional source of income to help us lift our economic status, in addition, we can save more money for our children's schooling)," Maribel said. #DSWD-CAR, Social Marketing Unit, Babble Mae Gorio