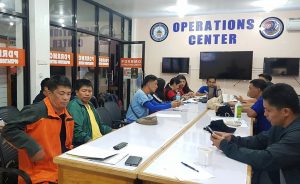 Cordillera Administrative Region– As of 4 am of 31 October 2018, the Department of Social Welfare and Development (DSWD) here has been monitoring around 2,511 families with 8,886 individuals who have been affected by typhoon Rosita.
"Of the families we are monitoring, 1,386 are from Benguet, 518 are from Kalinga, 300 from Apayao, 116 from Mountain Province, 103 from Ifugao and 88 from Abra ", DSWD-CAR OIC Regional Director Janet P. Armas said.
"We are in close coordination with the local government units in monitoring our communities. This is to ensure that their needs will be properly addressed. We, in the DSWD, may not be able to provide all of these, but we would like to assure the public that we will work with other agencies and institutions and try our best to help them", Armas added.
The DSWD-CAR has accounted 2,270 families that have been displaced due to the typhoon. 1,719 families are staying inside 142 evacuation centers while 551 families are staying with their friends or relatives.
"Our displaced families have conducted pre-emptive evacuation and we are monitoring them through the local social welfare and development offices and our Social Welfare and Development Teams in the localities." Director Armas said.
On 30 October 2018, DSWD-CAR personnel visited various evacuation centers to check the situation of the evacuees. Aside from providing food and non-food relief items, the DSWD can also provide psychosocial interventions to the victims.
Meanwhile, DSWD-CAR is also closely monitoring the victims in the landslide incident in Natonin, Mountain Province.
"Our personnel in Mountain Province are working with our partners on ground to provide the necessary interventions. We will provide our services upon the assessment of our social workers", Armas added.
As of 30 October 2018, a total of 12,655 family food packs have been released by the Field Office to various municipalities which can be distributed to TY Rosita victims. Additional 28,710 family food packs is available at the DSWD-CAR Warehouse in Puguis, La Trinidad, Benguet for augmentation. The DSWD-CAR is also maintaining 321 dignity kits, 1655 family kits, 976 hygiene kits, and 4,530 sleeping kits.
"We would like to ask our communities to closely coordinate with their respective local governments as they are our partners in ensuring that our interventions will reach them. DSWD can also be reached through Municipal Operations Office and SWAD Offices in the areas", Director Armas said. #DSWD-CAR, SOCIAL MARKETING UNIT, Nerizza Faye G. Villanueva