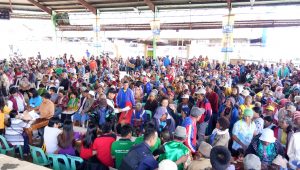 Cordillera Administrative Region– As of 18 August 2018, a total of 44,834 pensioners under the Social Pension Program for Indigent Senior Citizens of the Department of Social Welfare and Development (DSWD) have received their Unconditional Cash Transfer (UCT) stipend.
The stipend that has a total amount of PhP 2,400.00 has been released through payout with the LandBank of the Philippines.
"Out of the target 49,966 social pensioners, we are already able to release around 89% of the stipend that amounts to PhP 107,601,600.00", DSWD-CAR OIC Regional Director Janet P. Armas said.
Meanwhile, there are 14,330 social pensioners who are expected to receive their stipend through a third party conduit
"The conduits are expected to deliver the stipend in 23 municipalities in the region that are geographically challenging", Director Armas added.
Municipalities that will be covered by conduits include Boliney, Bucloc, Daguioman, Lacub, Licuan-Baay, Luba, Malibcong, Sallapadan, Tineg, Tubo, and Langiden in Abra, Calanasan in Apayao, Kibungan, Bakun, Bokod, and Kabayan in Benguet, Tinoc in Ifugao, Balbalan, Pasil, Lubuagan, and Tinglayan in Kalinga, and Paracelis and Natonin in Mountain Province.
On the other hand, the Listahanan Regional Program Management Office is currently conducting orientation to partners who are expected to notify the target beneficiaries. Listahanan-identified UCT beneficiaries need to be notified and registered before they can receive the stipend.
As of 25 July 2018, around 18,048 Listahanan-identified households in CAR will be receiving the UCT assistance.
"We would like to appeal to our beneficiaries to be more patient in waiting for the release of their UCT assistance. We assure you that we are doing our best to deliver the service to you as soon as we can. Payouts are continuously being scheduled and we are closely working with the LandBank and your local government units to ensure that you will soon receive the assistance", Director Armas added.
The Unconditional Cash Transfer or UCT is an assistance lodged under the DSWD that aims to help Social Pensioners, Pantawid Pamilya, and Listahanan-identified poor households cope with the additional cost of living brought about by the increase in amount of common commodities. It is a provision of the Tax Reform for Acceleration and Inclusion (TRAIN) Law. #DSWD-CAR, SOCIAL MARKETING UNIT, Nerizza Faye G. Villanueva