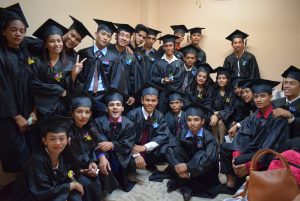 "Kung gusto nating umangat ang antas ng ating pamumuhay, dapat tayong magsikap hindi iyong palaging nakalubog sa lupa na hindi alam kung kalian aahon" (If we want to improve the quality of our lives, we should know when to rise)", 21 year-old Jonathan Gonzales positively shared.
It was in the afternoon on April 6, 2018 when Jonathan received his NC II certificate for Mechatronics servicing and Manufacturing Technology from the National College of Science and Technology-Institute of Industrial reseach and Training (NCST-IRRT), Dasmariñas, Cavite.
Early Labor
Living in Pudtol is never easy for Jonathan whose family do not own any agricultural land and are dependent on farming and daily labor as their source of livelihood.
"Gapu ta awan iti sarili me nga daga a matalon nga pangalaan iti kanen me, nagrugi ak napan nakilako iti tinapay ken balut idi kaubing ko (Since my family doesnot own a farm, we experienced hardship forcing me to work as a bread and "balut" vendor at a young age)", Jonathan shared.
At an early age, Jonathan Gonzales was separated from his biological family forcing him to live with his aunt. Jonathan's mother died when he was still an infant. His aunt who resides in Pudtol, Apayao then took care of him whom he considers as his second mother.
"Dahil sa hirap ng buhay namin,  highschool lang ang natapos ko dahil wala na kasi kaming perang gagamitin sa pag-aaral ko. Noong tumigil ako sa pag-aaral, naghanap ako ng trabaho at nakuha naman akong attendant ng isang water refilling station sa amin, kung minsan naman nakikiarawan ako o kaya ay tumatangap ng dalawa o tatlong trabaho para mas malaki ang ma-uuwi kung sahod (Because of poverty, I was just able to finish highschool due to financial constrains for further education. When I graduated from highschool, I worked as an attendant of a water refilling station in our place, at times I accept two or three daily labors to get a higher income)", Jonathan added.
Take Opportunities Seriously
In December 2016, the Department of Social Welfare and Development (DSWD) through its Sustainable Livelihood Program (SLP) implemented a skills training on Mechatronics Servicing NCII and Certificate in Manufacturing Technology NCII, an opportunity provided to children of Pantawid Pamilyang Pilipino Program (Pantawid Pamilya) households in Apayao for viable employability or alternative source of income.
Since their family is a beneficiary of the Pantawid Pamilyang since 2012, Jonathan qualified to be a participant of the Skills Training modality of SLP. This is a modality under SLP's Employment Facilitation (EF) track that aims to provide assistance to qualified participants seeking employment through pre-employment guidance and orientation, technical-vocational and soft skills training, as well as job referrals or placement, among others.
With Endeavour
Jonathan took the opportunity and went to National College of Science and Technology-Institute of Industrial research and Training (NCST-IRRT), he and fellow beneficiaries underwent 3-months skills training and 1-year On the Job Training (OJT).
Acknowledging the importance of this opportunity, Jonathan and fellow participants from Apayao did their best during the training. Their efforts and sacrifices were recognized as they received a Setsuko Miyata-Gan (Model Trainee) Award. During the ceremony they were given certificate and medal. Above these recognitions, Jonathan, now, reaps the fruit of his labor.
"Nagkaroon ako ng pagkakataon na makakuha ng magandang trabaho, ang aking sahod ay pinapadala ko sa aking ina na siyang ginagamit nila sa araw-araw na gastusin. Dahil nakapasok na ako sa kompanya pinagbubutihan ko ang aking trabaho, pag nakaipon ako, itutuloy ko ang aking pag-aaral para makakuha ng diploma (I had the opportunity to get a good job,I am sending a part of my salary to my mother which they use for everyday expenses. Since I am now absorbed in the company, I will continue my study to get a Diploma)", Jonathan said.
Remembering his hardship and his family, Jonathan made a promise to himself that someday through his continuous endeavours, he will soon receive a diploma and be regularized at work. He wants to renovate their house and provide a livelihood for his aunt.#DSWD-CAR Babble Mae Gorio and Katrina Apayyo