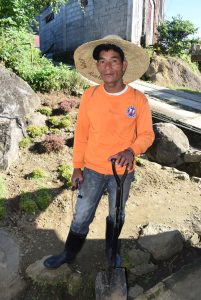 NATONIN, Mountan Province – "Idi pinanawan dakami ni baket ko ket nabati kanyak dagiti anak mi nga uubing karkaru jay inaudi ta manu bulan a baby paylang, permi ti rigat ko ta awan mangkita kanyada ket kasapulak a rumwar ta mapanak makipurdiya tapnu ada pangalaan iti maigatang iti makan (When my wife left us, our children were left under my care, especially our last child who was then still an infant. It was very difficult for me because there is no one to watch over my children while I go out and work for us to have something to eat)", recounts Jimmy Alinchawang, 50 years old and a single father of three sons and one daughter.
This is an unfolding story of Jimmy, a father who is raising three sons and one daughter. Jimmy's family is a beneficiary of the Department of Social Welfare and Development's Pantawid Pamilyang Pilipino Program (4Ps) and Sustainable Livelihood Program (SLP).
Family Sacrifice
As a Pantawid Pamilya beneficiary, Jimmy's children are required to go to to school as a condition for them to continue receiving their grant. However, since no one will look after the children, Jimmy's eldest child had to stop going to school.
"Ada ti maysa aldaw a madama iti ubrak ket agtawtawag ni manang ko nga mang-ibga nga nasinit ti iman dyay buridek ko, iti kasdyay nga damag nagdadarasak nga nagawid. Gapo iti daytoy a pasamak nagsarsardeng piman dagidyay anak ko iti tig maysa tawen ti skwela da tapnu ada ti mangbantay idyay buridek me (One day while I was at work my sister called me informing that my last child's hand was burnt, worried, I immediately went home. Because of the incident, his children had to stop going to school to take care of their sibling)."Jimmy shared.
When his children stopped going to school, the household was on the verge of being removed from the Pantawid Pamilya Pilipino Program (4Ps) for non compliance. Fortunately, with the assistance and guidance from the members of the Municipal Action Team (MAT) the situation was remedied. Jimmy availed financial assistance and was reffered to Department of Public Works and Higways (DPWH) Trabahong Langsangan.
The members of the MAT serve as frontliners in delivering the programs and services of the Department for the poor, including the 4Ps, SLP, and Kalahi-CIDSS-NCDDP among others within their respective municipality.
Dedication and Hard Work
In 2013, Jimmy availed a 6-month employment through the Trabahong Langsangan, a joint project of the Department of Social Welfare and Development (DSWD) and the Department of Public Works and Highways (DPWH) implemented under the Employment Facilitation Track of SLP.
The Employment Facilitation is SLP's track that provides assistance to qualified participants seeking employment. Activities in the track include pre-employment guidance and orientation, as well as job referrals or job placements.
Under the Trabahong Lansangan, beneficiaries were employed to do declogging of drainage canals, road maintenance and street sweeping.
"Ta naikan ak opportunidad nga agtrabaho, dinisiplinak ti bagik nga sumrek a nasapa ken inpakat ko met kabaelak nga mang isimpa iti urnos na jay area nga ayan ko (Since I was given an opportunity to be employed, I disciplined my self to go to work early and to have dedication in working properly)," Jimmy said.
Jimmy earned P412 per day and in the course of six months, he was able to support his family's daily needs and never had to struggle every morning where to get a living to feed his children.
Although the work did not mean job for years, Jimmy felt so grateful because of the opportunity. Motivated, he excelled in his work and was awarded 2nd place in the search of cleanest section of DPWH Mountain Province in 2013.
To Gainful Employment
Jimmy's exemplary performance paved way for a better employment opportunity.
"Naalaak nga leadman ti DPWH idi 2014, nu anya ti inarararamid ko idi isu metlang intultuloy ko (I was hired as a lead man of DPWH in 2014, I continued to perform my job properly just like before)," Jimmy said.
From 2014 to 2017, Jimmy was yearly awarded as 1st placer for the cleanest section in the entire Mountain Province.
"Gapo ditoy nga programa han kun nga probproblemaen iti pangalaak iti kanen mi iti inaldaw. Ti sweldok isu pagapuwan dagiti gastosen mi jay balay ken pagskwelan dagiti anak ko (Because of the program, I am no longer anxious on where to get our living expenses and I was also able to support my childrens school expense)," Jimmy described.
To date, Jimmy has been working in DPWH as a lead man for more than three years. Now he is earning 13,500 per month and he is contracted yearly. He believes that he can attain his dreams through dedication in work. #DSWD-CAR, Social Marketing Unit, Babble Mae Gorio