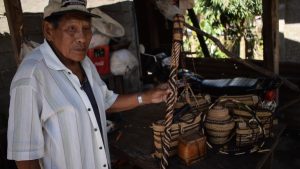 Most people say that life begins at 40 as the popular adage claims that a person's life begins to get better at the age of 40. However, some would argue that life can be enjoyed anytime. But indeed, lucky are those who come to relish life beyond 60.
In the Cordillera Administrative Region, there are 132,893 senior citizens based on the 2015 Philippine Statistics Authority data. Among these include Patricia Tallongon and Marcos Alib, who we met in the Province of Kalinga.
Both Patricia and Marcos now enjoy the 20% discount and priority lanes when availing program and services. They are also among the 79,316 social pensioners who in 2017 were able to receive PhP 500 per month under the Social Pension Program of the Department of Social Welfare and Development (DSWD).
Nanang Patricia's Sari-Sari Store
Patricia Tallongon of Bulanao, Tabuk City, Kalinga was born on 22 November 1952. She married Jaime Tallongon and together, they raised a family of eight (8) through farming.
"Maysa ak nga farmer. Haanak nga naka-eskwela. Isu nga makipordeya ak idi tapno ada iti mainayon iti maigastos. Apanak agraep ken agdalus. ( I'm a farmer. I was not able to get formal education thus I had to do daily labor for additional income. I harvest [rice] and clean [the surroundings].", Nanang Patricia shared.
Nanang Patricia had to deal with this physical work until she turned 50. Eventually, she had to stop to take care of her grandchildren. At present, she has fourteen (14) grandchildren, five (5) of which are under her care.
"Tatta ket maysa ak nga baby sitter kadagiti apok. Ken agbanbatayak met iti sari-sari store ko. (I now the baby sitter of my grandchildren. I am also looking after my sari-sari store.)", Nanang Patricia said.
The sari-sari store was given by one of her children to help her in providing her needs. Nanang Patricia started the store in 2015.
"Dakkel iti maitulong na daytoy store ta isu ti pangalaak iti mausar. Mainayon pay iti SocPen [Social Pension Program], nga pag gatang iti gatas ken dagiti daduma pay nga mausar. Makanayon met nga maisakada iti store. (The store is a big help for me to buy the things that I need. I use the [stipend from] Social Pension Program to buy milk and other needs. It helps in buying items for my store)", Nanang Patricia shared.
Tatang Marcos' Rattan Products
While Nanang Patricia acquired her own store through her children, Tatang Marcos believes that his capacity to earn for his living is a gift from God.
Tatang Marcos, 80 years old, proudly showed his products made of rattan including bags, belts, and chains among others.
"Aglaglaga ak ti ilako mi ta isu ti pangalaan mi iti igatang ti sida, ken kape ken daduma pay nga mausar. (I weave so we can sell our products for us to buy food, coffee and other needs.)", Tatang Marcos shared.
Since his products are sold only in their residence at Butbut, Tabuk City, Kalinga, Tatang Marcos admitted that he cannot consider this as a permanent source of income. But he insisted to continue his craft not just to make a living but to share his skill and to continue being a productive member of his family.
"Nu kuma ada ti kayat na nga ag-adal ket isurok. Ituloy ko latta ta isu iti amok nga trabaho ken makatulong iti pamilyak. (Only if there is someone who is interested to learn the craft, I am willing to teach them. I will continue to do this because this is my job/skill and it helps my family.)", Tatang Marcos added.
Like Nanang Patricia, Tatang Marcos also receives stipend from the Social Pension Program of DSWD. The Social Pension Program is DSWD's contribution to the full implementation of Republic Act 9994 or the Expanded Senior Citizens Act. The program aims to help the frail, sickly, and poor senior citizens.
"Uray bassit ket isu ti mausar nga paggatang ti agas (Though the amount is minimal, I use it to buy my medicine.)", Tatang Marcos said.
Living beyond 60
Though the strength of youth has left Tatang Marcos and Nanang Patricia, both have shown their resiliency to continue living a full and productive life.
"Haan ko nga baybayan nga haanak nga makatulong iti pamilyak ta ipapatik nga masapol iti panaggaget tapno agbalin met nga nagaget dagiti uubing. (I will not permit myself not being able to help my family because I believe that I have to be their example of diligence so that the younger people will also be diligent.)", Nanang Patricia shared.
Though minimal, the stipend from the Social Pension Program plays a big role in their lives.
"Nu awan iti SocPen baka marigatanak nga anayen iti kwarta. Iremedyo mi nga padakelen pay iti store tapno isu ah mainayon iti maawawat ko. (If I do not receive SocPen [Social Pension stipend], it will be difficult for me to make ends meet. We will continue working hard to expand our store so I can still have additional money to use.)", Nanang Patricia added.
Nanang Patricia and Tatang Marcos look forward to the additional benefits that the Social Pension Program may bring to them. But for now, they continue to prove that they can help their families and most specially, provide for their selves and not depend on the mercy of anyone.
Through the convergent effort of the Government, their families, Nanang Patricia and Tatang Marcos, living beyond 60 is made easier. And we hope that time comes when each one will need not to worry on living a life beyond 60 years old. #DSWD-CAR, SOCIAL MARKETING UNIT, Nerizza Faye G. Villanueva