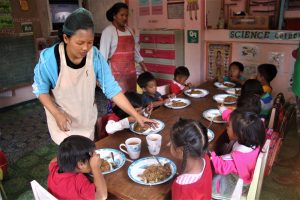 Barangay Baang is located almost atop a mountain in Hungduan, Ifugao overlooking a stunning descent of ricefields until a crystal clear river that cuts their boundary with barangay Hapao.
It takes a 30-minute to one-hour hike from the end of the road to reach the community. There stands a tiny child development center officially called Bannawol Day Care Center where 11 healthy children attend lessons.
But, what could be their not-so-secret strategies to keep their children healthy? We delved on their Local Government Unit's intervention to continuously improve their child development centers.
AIMING FOR ZERO MALNUTRITION
Katie (not her real name), 3, chomps on a special pancit carefully prepared by parents in the community. By her cheery actions after eating and drinking her Choco milk, the food served to her and her classmates must be toothsome.
Katie is one of the 11 pupils at Bannawol Day Care Center who was found out to be malnourished before the start of the Supplementary Feeding Program funded by the Department of Social Welfare and Development and jointly implemented with the Municipal Local Government Units and the Child Development Service Parents Group.
Her mother, Kathy (not her real name), 22, says that her child was underweight. "Nagkurang ti protein na (she lacked protein)," she says.
Thankfully, after three months in the Supplementary Feeding Program, she gained weight. "Sinursurot ko diyay inted da nga menu book ket mayat met ti resulta na (I followed what was in menu book and I've seen good results)," she continued. Kathy has a daily guide now on preparing low cost but nutritious and tasty dishes that her two kids love.
The menu book was provided by the Supplementary Feeding Program but the Local Government Unit of Hungduan personalized it and replaced some ingredients with indigenous food.
"We incorporated food with the same nutrient content that are readily available in our backyards or in our community, in our personalized menu book," says LGU-SFP Focal John Bumangabang.
He says that using indigenous food does not only defray cost of food but parents are also assured on local vegetables and livestock available in the community.
Now, 10 months since Katie reached her normal weight, she continues to improve physically and socially. "She easily makes friends and, comfortably plays with other children," her mother says.
Bumangabang says that like DSWD, one of the municipality's top priority are the welfare of their children. Thus, one child with malnutrition is a great concern for them.
In the municipality of Hungduan, 28 out of 356 children enrolled with the Supplementary Feeding Program were found out to be malnourished. Three months after undergoing supplementary feeding, 26 children improved in weight.
In the Ifugao province, there are 74. 61% (out of the 4982 SFP enrollees) children who improved their weight after the 120 days supplementary Feeding Program.
GOING BEYOND NUTRITION
Aiming for an up to global standards in its child development centers, LGU Hungduan continues to work on improving every child development centers by training Child Development Workers (CDWs) and launching various efforts to raise fund for the development of their Child Development Centers.
"We are aiming to implement the Early Childhood Care and Development (ECCD) Program since some of our materials and modules are already outdated," says John Bumangabang.
He says that if they want to properly provide the best growth and development for the children of Hungduan, they should upgrade their level of their child development centers which is currently level I.
"With the inputs from DSWD-CAR staff who came to assess our centers, we realized that to be at par with the standards of ECCD, we have to improve several things for the sake of our children," adds Bumangabang.
The municipality targeted to train their CDWs on April 2018 and implement the ECCD Program on June 2018. "Hopefully, the DSWD Regional Office can provide us resource speakers for us," mused Bumangabang"
He continued that they are looking forward on using modules of ECCD so that the lessons will be consistent in the whole municipality.
Apart from nutrition and education aspect of their children's development, parents in Barangay Baang together with the barangay officials also proposed and are about to build a play area beside the Bannawol Day Care Center.
"We set aside some budget to build swings, slide and seesaws," says Barangay Kagawad Evangeline Pelajio. The parents and barangay officials admitted that after the technical assistance provided by staff of DSWD-CAR they recognized the importance of playing for children to develop their social and physical abilities.
The Bannawol Day Care Center stood for 26 years catering to early development of children in the barangay. For Child Development Worker Elisa Bidang who has been the teacher of the school since its establishment in 1992, services for children has been gradually improving.
Welfare of children also became a community's concern since parents became proactive to give the best nutrition and education, and develop social and physical skills of their children. #DSWD-CAR, SOCIAL MARKETING UNIT, Jasmin Kiaso