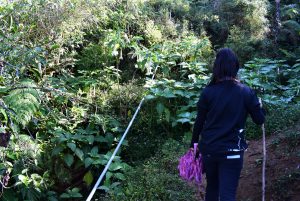 Kibungan, Benguet ─ "Manipud sin rugugi, naki-ububla kami (Since the start, we were involved)." Miles Maguido, a community volunteer, reflected as he scans his memories on how they were able to accomplish a seemingly gigantic project in his barangay. After his morning chores, we got a chance to talk about his thoughts on being involved in a community project from start to finish.
He mostly talked about the collective decisions they made while experiencing the whole process of driving their own development.
"Mayat ti agmitmiting ta adda ngay ti panag-iistorya ti pagsayaatan, pagtitinulungan ken maamuan pay dagiti kasapulan ti barangay (Conducting meetings is helpful since these become venues to talk about beneficial things for us, cooperation and we get to know what else our village needs," Miles says.
He said that during meetings, there are helpful suggestions from the participants. "We even realize what we need as a community and what we need to do to achieve it," he added in vernacular.
WHERE THERE ARE NO ROADS, BUT ONLY FOOT TRAILS
Miles, 51 years old, is a resident of Proper Tacadang, the farthest barangay in Kibungan, Benguet.
No roads but only foot trails will lead you to this village. Around 2, 000 meters above sea level, it naturally became a favorite destination of mountain climbers and nature lovers. Hiking to the village rewards one with breathtaking views of rocky mountains, and if you're lucky you can have the chance to see the stunning view of the sunset.
To successfully reach it, one needs to have the right physical and mental strength to survive the 6-7 hike with uphill or steep trails which could go up to 90 degrees' angle.
While nearing the village, one can be awe-stricken with the carefully and artfully carved rice terraces which the local would say was established and maintained by generations of farmers. The barangay boasts of organically produced rice, free range chicken and other naturally raised livestock.
In recent years, the growing coffee industry is boosting the village's economy. Their aromatic Arabica Coffee can easily steal the hearts of coffee lovers and visitors.
Certainly, a far-flung village such as Barangay Tacadang definitely has its own perks. But unlike other barangays, Tacadang residents live isolated lives far from everyday comforts, which is easier or simpler to get with the availability of roads.
The lack of water system in almost all its sitios also make life of the residents more difficult. Fetching water from springs is a major part of their household chores.
Further, most of us enjoy the conveniences electricity bring especially communication, but some of the sitios in this village have yet to experience the handiness of work using electricity.
Mary Grace Crisologo, a DSWD Kalahi-CIDSS staff assigned in the area says that whenever it gets dark in Sitio Lanipew, where she currently stays, she obsesses about the lights-filled community Legab, Bakun.
"When I first came here, I would usually sleep as early as 6PM since there is no television, internet connection even simply reading is difficult," she says.
To keep in touch with her family and co-workers, she bought a solar panel mainly for charging of phone and for occasions she badly needed light to finish her work.
With mere physical challenges, it could be easy to forget about the village not to mention bringing services or development there.
But for over 1,886 residents, this is their beloved home. The residents here are hard-working enough to sustain their families. Only that they need a hand to live life much easier and be at par with standards of living.
The municipal local government unit (MLGU) of Kibungan just did that when they gave an equal chance to all its seven (7) barangays, far or near, to implement Kapit-Bisig Laban sa Kahirapan-Comprehensive and Integrated Delivery of Social Services (Kalahi-CIDSS) project of the Departmetn of Social Welfare and Development.
A BASIC SOCIAL SERVICE
With a new opportunity at hand, the residents were also willing to work together the MLGU and DSWD Kalahi-CIDSS to improve their barangay.
Considered a Geographically Isolated and Disadvantage Area (GIDA), Barangay Tacadang has seven (7) sitios with a total of 19 sub-sitios.
After undergoing a rigorous process to identify community problems and possible solutions, the barangay came up with a comprehensive list of their priority needs.
Realizing the importance of a water system in their everyday lives, the barangay made this as their top priority project. With full expectation that it will be undeniably challenging to complete the project, they still pushed through with their project proposal knowing that this might only be their chance to turn around their everyday situation.
The news about their approved proposal brought much excitement at the same time uneasiness to the residents. "Most of us are first timers being involved in such a project so we have to learn how to manage development projects," Miles said in vernacular.
With much perseverance, they planned and successfully implemented strategies to achieve their dreams of bringing water closer to their homes.
The bayanihan system was revived in the village since residents are always enjoined to participate in every activity. "Rinumwar ti mayat nga ugali nga panagtitinnulong (The good community spirit (bayanihan) was revived)," notes Miles.
Miles also mentioned that community volunteers were trained together on project management. "I learned a lot especially on procurement," he says.
Even with the financial support from DSWD Kalahi-CIDSS and MLGU Kibungan, logistics remained to be the biggest challenge in implementing the water system.
"Hauling of the materials was the most difficult part in building the community project," Miles recounts. He remembers that during the implementation of the water system, every household took parts in carrying aggregates and materials from sitio Beyyeng in Bakun.
On regular days, the hike from Beyyeng would normally take six hours but carrying loads such as construction materials unsurprisingly takes longer time.
"Diay eggeman ti daduma ket half bag ti semento, diay daduma ket maysa nga bag ngem umabot ti walo nga oras nga ipagpagna da. Kasdiay ti karigat na ditoy (Some carried half bag of cement while others carried a full bag and they would carry this for eight hours. That is how difficult [hauling] here)," Miles remarked.
He went on to say that even the water pipes were transported with most struggle. "Dagidiay gripo ket aatidog isunga narigat ta diyay pagnaan nagkillo-killo (With the length of the water pipes, it was difficult [carrying them] in the zigzagged trails)."
Miles added that it took them a long time to complete it as they also had to tend to their ricefields. Thus, they hauled the materials and aggregates by their agreed schedule.
With much sacrifice, a total of five (5) water tanks, one (1) intake tank and four (4) distribution tanks, had been constructed to cater to the needs of the residents including the school and health station.
TRULY, WATER IS LIFE
For the three cycles now, the barangay prioritized water systems as their tangible project under the DSWD Kalahi-CIDSS. The first water system was built in Sitios Bekes and Culiang and second was in Proper Tacadang while the third cycle is still ongoing in Sitios Lanipew, Tanap and Asob.
Emma, a teacher of Es-esa S. Aludos Elementary School, says that fetching water is a part of their daily routine in the school. Usually, it would take about an hour to fetch water from a nearby spring.
"The school is commonly the venue of trainings, meeting or outreach programs and we usually accommodate our visitors here," Emma says. She added that they are usually burdened with lack and inaccessibility of water whenever they hold occasions or activities.
But these days, it seemed that this burden has been dropped down from their list of needs. This time, you can see students, teachers and community members washing dishes under faucets near the school.
On October 30, 2017, the water system in Proper Tacadang where Emma teaches had been completed. And, fetching water using buckets or water containers seem to be a permanent thing of the past now.
For the sustainability of the facility, the operation and maintenance of the water system was entrusted to the Te-eng Ed Proper Tacadang Association, an existing organization in the barangay.
The water systems in the barangay now stands as a proof of the residents' tenacity amidst the logistical challenges, and their dream of a better community equipped with facilities to sustain them though their daily lives including their industries.
Investing resources for development in remote barangays such as Tacadang is an act of seeing beyond the direct return of investment but rather looking into the future of the children who can possibly become important figures in the town or in the region. It certainly calls for a just and compassionate perspective from anyone to be able to care about their future. #DSWD-CAR, SOCIAL MARKETING UNIT, Jasmin Kiaso