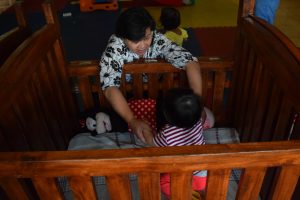 She has never been married. But she is a mother (and a father) to not less than twenty (20) children who never grow old.
Avoiding numbers and formulas
The surprise of her life started from avoiding numbers and formulas.
Ms. Nelly Mason of the Department of Social Welfare and Development- Cordillera Administrative Region (DSWD-CAR) decided to take up Bachelor of Science in Social Work only to avoid math subjects. Despite this, Ma'am Nelly was able to finish the course and pass the board in 1984.
Since then, she worked as a Social Worker in various offices, until in 1998, she was hired as a Social Welfare Assistant in the Home for Women in DSWD Region I located in San Fernando City, La Union. On that same year, she transferred to DSWD-CAR under the Crisis Intervention Unit (CIU).
From avoiding numbers and formulas in college, Ma'am Nelly started to count her years serving as a Social Worker. Regardless of her employment status, she remained true to the commitment of her profession- to help and serve others. Despite the demands and accountabilities under the CIU, she waited for eight (8) years to get a contractual Social Welfare Officer II position.
CIU, now called the Crisis Intervention Section, is the DSWD office responsible for the provision of immediate response to individuals in crisis situation.
"Fast-phased ang CIU. Nagrerescue kami ng mga bata. Nagbibigay ng tulong sa mga namatayan ng kamag-anak. Minsan, 24-hours pa ang operation namin.", Mason recalled.
Aside from being a designated head of the CIU, Ma'am Nelly also served as a Social Welfare and Development Team Leader for Benguet Province and became the Focal Person on Disaster Response and Management in 2013.
In 2014, she was able to get a permanent Social Welfare Officer III position. But in April 2015, another surprise came her way.
Instant family
After years of serving individuals in crisis situation, Ma'am Nelly was reassigned to the Reception and Study Center for Children (RSCC) as the Center Head.
RSCC is a 24-hour residential facility for children 0-6 years old. It provides protection and rehabilitation services through temporary residential care to neglected, abandoned, abused, exploited children and those with special needs growth, development, safety, and security programs and services.
"Hindi ako ready na iwan noon ang CIU kasi on-going pa ang pagprovide namin ng tulong sa mga SAF families. Pero andoon na. At hindi naman ako nagsisisi na nalipat ako dito sa RSCC", Mason shared.
With her transfer, Ma'am Nelly has become the mother and father to the children and staff in the residential care facility.
"Feeling ko sa sarili ko, hindi ako qualified to take care of a child. Pero madaling mahalin ang mga anak natin. At hawak natin yung buhay ng mga bata. Nasa atin yung future nila na mahanap yung family na most favorable para sa kanila, aside dun eh responsibilidad din natin na habang nandito sila sa center ay makakatanggap sila ng kalinga at iba pang pangangailangan nila", Mason said.
Aside from the provision of daily needs, the center also facilitates adoption and foster care services for the children.
"We have to look for a family that we assess as qualified and willing to accept and treat our children as their own.", Mason added.
In her stay, Ma'am Nelly has already established connection with the children. Baby Paul, not his real name, was eight (8) months old when turned over to the RSCC. The baby was physically abused before was abandoned.
"Siya kasi yung bata na parating gustong maunang kumain. Natataon naman na ako yung parating andun kaya sinusubuan ko siya", Mason shared. After more than two years in the Center, Baby Paul was adopted by a couple from Finland.
"Noong una, mahirap mag entrust ng bata lalo na yung mga napapalapit satin. But we have to look at the brighter side na magkakaroon na sila ng pamilya kasi temporary lang naman ang buhay sa center kasi hindi normal ang buhay dito para sa mga bata", Mason said.
Ma'am Nelly's love and care for the children transcends beyond her responsibilities as a Center Head. In her own initiative, she has coordinated with various private groups and organizations for the needs of the center and the children. She has established partnership with Local Government Unit of La Trinidad, Baguio Dairy Farm, Philippine Charity Sweepstakes Office, Sunflower Children's Center, BENECO, KAISA ANG BUHAY Foundation, Baguio General Hospital, academe, religious groups and some private individuals including Fr. Gerardo Costa, Jojit Mondares, and some adoptive parents.
"It takes a village to raise a child. Kaya napakalaking tulong ang naibibigay ng mga donors and partners natin. Hindi enough na DSWD lang ang magbibigay sa mga bata", Mason shared.
"Si Ma'am Nelly, maasikaso siya sa mga bata. Pag may dinaramdam ang mga bata aksyon agad. Magaling siya sa pakikitungo at open siya sa pakikipag-usap. Magaling din siya mag-manage ng pera at mas maraming donations ngayon. Abundant ang resources namin.", said Honorata Daguyen, RSCC cook for 12 years.
This passion and commitment has been recognized by the Rotary Club of Baguio City as she was given the Vocational Service Award this 2018. Same award has been given to Mr. Johnny Bumakil, Center Head of DSWD-CAR's Regional Rehabilitation Center for the Youth.
Ma'am Nelly is only one of the few heroes of DSWD-CAR who have given their lives to serving the people. In the case of Ma'am Nelly, she is able to enjoy the love and company of boys and girls whom she treats as her own. Even though she is not able to see these children grow as they need to leave the center, Ma'am Nelly is ready to give the love and care as their temporary nanay and tatay until these children find the family of their own # DSWD-CAR, Social Marketing Unit, Nerizza Faye G. Villanueva