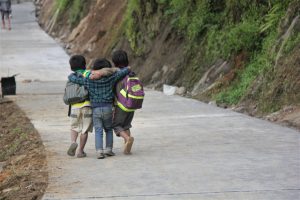 The sight of women working in a construction project is relatively new in Barangay Bangbang, Hungduan, Ifugao.
According to the women community volunteers of the barangay, they have always been involved in "Baddang" (Bayanihan) activities of their town thus physical labor is not new to them. But, to be paid for providing such is definitely a fresh experience for the women of this small village.
Lallain Baguilat, one of the laborers during the construction of the 350-linear meter road in their barangay, said that they have received equal payment as men.
"Diyay ti kamayat na daytoy nga Kalahi ta open para iti amin (This is the good thing about Kalahi [CIDSS], it is open to all)" notes Lallain. There were 25 of us, women, who joined the preparatory work for the concreting of the road, she added.
Along with other women, Lallain was provided a temporary employment for 25 days earning 380 pesos a day. "Diyay bayad mi ket isukapay paggatang pangkusina ken allowance ti annak mi (Our payment will supplement for our kitchen needs and for the allowance of our children)," she continued.
The Department of Social Welfare and Development through Kapit-bisig Laban sa Kahirapan-Comprehensive and Integrated Delivery of Social Services targets that in every sub-project, 30 percent of laborers should be women. As of January 2018, records show that 61 of laborers in the region are women.
More than their stint during the construction of the road, they also had their share of learnings from the trainings they attended which was organized by DSWD Kalahi-CIDSS and Municipal Local Government Unit (MLGU) of Hungduan.
When DSWD Kalahi-CIDSS was introduced in Lallain's community in 2014, most of those who volunteered are women. "We are glad to have been part of the community project because this was an opportunity for us to learn and experience managing a project," says Community Volunteer Conchita Ananayo.
She narrated that they had been involved in the project since the identification of their top priority needs of their barangay.  "We prioritized the concreting of our roads here in the barangay since we had a recurring problem on transportation of our products and availing services at the town or provincial center," Conchita added.
Since the start of DSWD Kalahi-CIDSS in 2014, Barangay Bangbang had implemented concreting of their farm-to-market road. With a total fund of more than 2.8 million from DSWD and MLGU Hungduan, they were able to implement a total of 650-linear meter road.
Another community volunteer, Robin Pannapu, is also proud that his community completed these projects. He said that being involved since the start of the project influenced them to pour their hearts into it.
"Ta dakami met lang ti mangusar, idi nagtrabaho kami ket insimpa mi ta ti panpanunuten mi tapno haan nga mabiit nga mapirdi. Bawal diay kurang ti semento para ti maysa nga span (Since we are the ones who will use it, we had to ensure its quality so that it will not be easily destroyed. We really followed the standard number of cement for a span)," notes Robin.
Robin also beamed that people in his community are more satisfied since most of them had a say in the decision for their community project.
"Uray diyay gastos ket maamuwan ti amin ta maipresentar gamin iti umili (Even the expenses are reported to the community)," Robin added.
"What used to be a muddy road here is now well-improved and safe road for motorists," says John Bumangabang, Executive Assistant of the Municipal Mayor. He continued that a portion of the newly improved road directly leads to the only elementary and high school in the barangay.
The concreting of the road in Barangay Bangbang has granted the community with ease of transport for their products and doable access to the different services at the town and provincial center.
Community volunteers also expressed that if ever they will be granted another community project whether from DSWD or other agencies, they would still prioritize improvement of another portion of their barangay road. "There are still parts of our barangay road that needs concreting," Robin says.
The 650-linear meter road might still be a small part of their dreams fulfilled but it is now a road to be remembered as a silent proof of the community's participation and cooperation especially the women community volunteers and laborers. #DSWD-CAR, SOCIAL MARKETING UNIT, Jasmin Kiaso