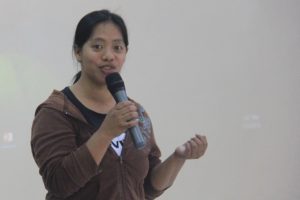 Like many Pantawid beneficiaries, Jocelyn Llano, dreams of a better future for her family. For her, every day is a struggle to make ends meet. But she has also learned that every day, and every meeting is an opportunity in disguise.
Source of strength
Jocelyn Dayao Llano is a 34 year old high school graduate and a native of Lualhati, Baguio City. Her husband, Romy Sagubo, 32, is also high school graduate. They are renting a small room in the city with their two children, Vhan Allen (Grade 5) and Jancel Alyser (Kindergarten) who are both studying at Rizal Elementary School.
She understands the difficulty of raising a family with their economic situation, thus she does everything in her power to help her husband who is a laborer.
She and her husband have casual jobs, but it hardly sufficed for their daily needs. Back in 2013, their household became part of the Pantawid Pamilyang Pilipino Program.
Diligence has no age
She started traditional "hilot" massage when she was still young and single. This continued to be her source of income to make ends meet as she had her family. But having a small number of regular clients could not compensate the high cost of living in the city. Her clients would also often ask her if she was a licensed massage therapist because she apparently have the skills of a professional, but for the longest time, her answer was no.
This changed when she decided to push through and continue to improve her skills.
In 2008, she completed a course on Basic Massage through the Department of Education's Alternative Learning System. However, she realized that having a certificate on Basic Massage is not enough to land her a job in massage marlors. Thus, she furthered her knowledge and skills through a Massage Training and took the DOH Licensure Examination for Massage Therapist given by the Department of Health through the DSWD's Sustainable Livelihood Program in 2015. That same year, she passed this licensure examination.
As a licensed, freelance massage therapist, Jocelyn now earns PhP 10,000.00-12,000.00 monthly. During the RAC_RSDC meeting, she happily shared her story. The Regional Advisory Committee (RAC) and Regional Social Development Committee (RSDC) is an interagency committee that convenes different national government agencies to work together, harmonize, and complements various programs and services of the government for Pantawid beneficiaries in convergence areas. During these meetings, one Pantawid beneficiary is enjoined to share their story of change. For this quarter, Jocelyn of Baguio City was chosen.
Jocelyn shared that her life back then was difficult and earning money without a certificate or license was a daily struggle. "Noon hirap akong humanap nang PhP 100.00, ngayon kinikita ko na'to sa loob lamang ng 5 minutes".
Her yearning to improve herself and help others did not stop there. In September 2016, she was accepted as one of the trainors in Basic Massage under DepEd's ALS. And just recently, she was commissioned as an on-call Lactation Massage Specialist at the Baguio General Hospital and Medical Center.
When asked if she regrets not having a degree and formal training in school, her answer was simple but striking. "Marami ngang nakapagtapos, pero wala namang trabaho".
Stand tall, stand out
"Noon, nakayuko akong maglakad, kase nahihiya ako sa kalagayan ko, pero ngayon kaya ko nang maglakad ng taas noo", Jocelyn shared. She added that their situation before, being poor and disadvantaged because she was not educated made her scared to take opportunities. This was how Jocelyn faced life back then, always looking down at her situation not seeing all the opportunities that passed by because she's too scared to look up.
There was one time when his eldest son asked to be enrolled in Taekwondo Class, but she was not able to do because of their financial constraints. That broke Jocelyn's heart.
Now that she has had quite an education through ALS and life experiences, her confidence was boost.
With this, she is now able to reap the benefits of her labor. Staying true to her promise, she has started to sow.
She said that with hard work, her dream house is now under construction. "Kung noon nangungupahan lang ako, ngayon, pag tapos na yung bahay ko, ako na ang magpapa-upa. Nakakapagod mag-masahe, pero alam bawat patak ng pawis ko ay katumbas ng isang cemento na pagpapagawa ng bahay ko".
Although it took her almost a decade to surpass the challenges of her life, she is determined to keep her faith and continue to serve and help others by her healing hands. She also shares her wisdom and charisma to her fellow beneficiaries as well as her fellow massage therapists.
Jocelyn claimed that her life changed after getting licensed. For her, it is not all about the money, but the self-confidence she earned because of these opportunities. She now has a stable job that enables her to pay the bills and also have extra money to fulfill her eldest son's dream to enroll in Taekwondo Class. He is now training at Bravehearts in Abanao, Baguio City.
Jocelyn is just one of the many faces of Pantawid Pamilya who have fought extreme poverty and is now slowly transitioning into financial stability. In her journey to attain her dreams for her family, she realized she realized that nothing can't be done with hope and confidence. These became her weapons to change her fate amidst all the difficulties in life.#DSWD-CAR, SOCIAL MARKETING UNIT, Phylein Maria Rosette U. Callangan with Ellen G. William