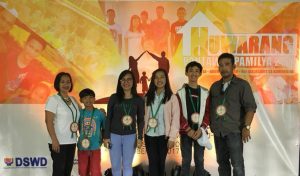 The rain was just washing off the roof and the sun was peeping through the windows as this year's Regional Huwarang Pantawid Pamilya winner was announced at Villa Silvina Hotel on July 31, 2017. The family of Nesar and Ligaya were not really expecting to win but are very much thankful for the opportunity and challenge that comes from being called Huwarang Pantawid Pamilya.
Start of something special
In 1995, since her family cannot send her to college due to financial constraints, Ligaya journeyed overseas to work as a Household Service Worker in Malaysia where he met Nesar who was then working as a Baker in the same country. They became friends after they met in bible study hosted at their employers place, "Nakita niya ako ma'am tapos na love at first sight na siya, (laughs) ayun tapos hindi na siya tumigil tumawag and magpapansin, and then nagpaalam na po siya umakyat ng ligaw sa employer ko" He saw me then and he felt love at first sight, he started calling me and kept on doing things to catch my attention, after that he decided to properly ask my employer who was also the Christian family who took me in if he could court me. Days have passed and by 1998, they were blessed with their first child. On the same year, Ligaya decided to go back to the Philippines to take care of their child. Nesar stayed in Malaysia to continue his work for him to provide the needs of Ligaya and their first baby.
Blessed by a bunch
The couple has been married for 14 years now, and it wasn't all rainbows and butterflies. As normal couples do, they also had a few misunderstandings because of their personal differences but they made sure that these differences did not hamper the love and respect they have for each other. "Mayroong away na hindi maiiwasan ang mag-asawa, pero hindi ibig sabihin nun na mawawalan na nang respeto sa isa't isa, lahat naman nadadaan sa mabuting usapan at naniniwala kayo sa isa't isa" There are arguments that are inevitable in the life of a married couple, but it doesn't mean that you lose respect for each other in the process, everything can be settled when you talk about it properly and you have faith in each other, she added.
In their fourteen years of marriage, they were blessed with four beautiful children namely Beverly Ann, Joyce Ann, Philip John, and Caleb John. At present, their first child, Beverly Ann is enrolled at Kings College of the Philippines as a third year student taking up Bachelor of Science in Secondary Education. Their second child, Joyce Ann is a grade 11 student at the University of the Cordilleras (UC) Science, Technology, Engineering and Math (STEM) Program. Their third child, Philip John is enrolled at Pines City National High School as grade 8 students and their last child, Caleb John is a grade 5 pupil at Cypress Christian Foundation School.
Their children all excelling academically and are also active church members who are leading the bible study every Sunday at their church.  The family as perceived by the community is one of the role models when it comes to family values since they are able to practice and manifest good values and all the learnings and knowledge that the family gained from the Family Development Session as well as their experiences and good practices from their church and community. "Sa disiplina, minsan magkaiba kami ng approach ni misis, but both sides, gusto naming maging maayos sila, yung sumusunod sa matatanda, minamaintain namin na lagi din sila nasa church, dun namin hinuhubog ang mga bata" . When it comes to disciplining their children, Nesar says that sometimes, their way of disciplining varies but both are aimed towards making their children better people, they should follow their elders, and we make sure that they're always with us in church, it is where we mold them to become the person they would be.
They know the importance of the program grants and they make sure they excel in school and in the community. They study together for tests and help each other in everything, from chores to school work and other activities. In down times, they tell their parents what they feel and pray and ask for guidance.  
Hard work pays off
The Dela Cruz family was registered as beneficiaries of Pantawid Pamilyang Pilipino Program on December 2011 as part of Set 1. During the time of assessment, Nesar didn't have a stable job, he only gets called for simple daily plumbing and carpentry jobs and Ligaya was only working part time buying and selling stuff she can find in the market. Their total combined income then weren't enough to get them through the day with their 4 children in school.
The family claimed that it is a blessing but at the same time a social challenge for them as it is packaged with many responsibilities, "madaming condition ma'am but we strive to meet them para sa kinabukasan ng mga bata, at sinisiguro din po naming alam nila yun, kaya nagsusumikap sila sa school" The program has a lot of conditions, but we strive to meet them for the sake of our children's future, and we make sure they know this as well, that's why they try to do good in school, shares Ligaya.
As a recipient of the program, they are motivated to prove that they are achievers in their own way and are role models not only in their community but in school. The blessings they receive as beneficiaries (cash grants) has been their inspiration to encourage their children and also the other children beneficiaries in their community to do well in school and be able to be at their best.
The learnings from the Family Development Sessions are also one of their most prized gain from being beneficiaries since their family's values grew and their ties stronger. "Meron pa sakin ung unang FDS manual ma'am and namemorize ko na po yun dahil sa tuwing may bago akong nalalaman, shinashare ko na agad sa pamilya ko, bago ko i-discuss sa iba, dahil din alam ko na makakatulong ito sa amin" I still have the very first FDS manual they gave us and I already got it memorized since I discuss every new topic I learn to my family first before sharing it during the FDS because I know that it will truly help our family grow, Ligaya shared.
Determined and focused
The family is actively participating in all community activities such as barangay clean and green activities, community assemblies, school related activities and church events.  She acknowledges that as a Child Development Worker and a Parent Leader, Ms. Ligaya has to lead and continue to encourage her co-parents in the cleaning activities of their Barangay and is strongly advocating responsible parenting. 
The couple is hoping that their dreams and aspirations for their children will be achieved through their hard work and continuous support. They dream to have them hold a college degree which would land them better opportunities that will improve their quality of life and become God fearing and responsible individuals in the community. Now they see them grow to be wonderful individuals and for them there is no greater gift.
As part of the transitioning households of Pantawid Pamilya in Baguio City, they are welcoming the change with open mind. They know that the program is not going to support them forever and now they see this exit as a new opportunity for them to strive better and live life to the fullest, bringing everything they've learned from the program and sharing it not only to their families and friends, but also to give back to their communities in their own little ways. #DSWD-CAR, SOCIAL MARKETING UNIT, Phylein Maria Rosette U. Callangan