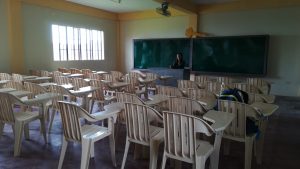 Education for them is almost equivalent to progress, or at least the first step to achieving quality life. This is the mindset of parents from Sagpat, Palina as they believe that their children deserve better education.
They knew that one huge step in making this happen is building a better educational facility.
For over two decades now, students of this barangay specially sitio Bokes, just maximized the existing school building in their community.
Loreto Ganawed Jr, one of the community volunteers in the barangay, remembers that the old school building was established in 1993. "Enggana tadta ket maus-usar pay lang diyay makeshift building nga nagtitinulongan met lang ti umili idi (Until now, the makeshift building constructed by the community before is still being used)" he recalls.
However, with their growing population, the building cannot accommodate all pupils, thus another school building, now hosting a primary school, was constructed through the Department of Education.
But still, according to Parents Teacher Association Chair Tessie Abawa, the new building is not enough for the 188 pupils in their sitio.
When DSWD Kapit-bisig Laban sa Kahirapan-Comprehensive and Integrated Delivery of Social Services (Kalahi-CIDSS) was introduced in the barangay in 2014, they saw an opportunity to make a difference from over 20 years ago.
Making a difference
Before the makeshift school building was constructed, Manong Loreto said that he attended the Saddle Elementary School. He said that he could reach his school after a 40-minute walk from his sitio.
A conducive learning environment was not the only pressing need before. Building a school where everyone could easily access it is another challenge.
Manang Tessie affirmed to this as she shares her experience when she was a pupil. "Ada-adayo ti eskwelaan idi. Siyak ket magmagna ak ti two hours tapno madanun ko lang pagiskwelaan (Our school before was far [from home]. I had to walk for two hours just to reach school)."
Now that they are parents, Manang Tessie is convinced that if they will be given the opportunity to change the situation for their children, they would gladly do so.
"Haan mi nga kayat nga kasdiay ti mapadasan met dagidiay ubbing mi. Isunga nagtitinnulong kami akas community tapno maipaay mi ti nasaysayaat nga para ti anak mi (We do not want our children to experience the same situation we had as pupils. Therefore, as a community, we worked together so we can give something better for our children.)," she continued.
Both Manong Loreto and Manang Tessie said that the local government unit launched efforts in the past to request for additional school building but none of it was successful.
The entrance of When DSWD (Kalahi-CIDSS) was introduced to their barangay, their eagerness to propose for a school building was revived.
Manang Tessie cited that the growing population in the barangay makes the school building as their number one priority.
Starting the quest
In partnership with DSWD Kalahi-CIDSS and the local government unit of Kibungan, the whole community of Sagpat worked together actualize their proposed one-unit, one classroom school building.
Mentioning that it was their first time being involved in a Community-Driven Development program, most of them remember their challenges in going through the government procurement process.
"Serving canvass, retrieving them until the delivery of materials was a first time for us. It was difficult dealing with suppliers because we were still learning and sometimes we don't know what to do," Manang Tessie shared in vernacular.
She added that there are rules and policies to follow in procuring goods and services using government funds and that is how corruption is being curtailed.
The community volunteers also voiced that their involvement from the beginning of the program allowed them to slowly understand that the documentary and training requirements were necessary to ensure a participatory and transparent program.
Along with the challenges of working on their project proposal came the generosity and good practices of the community members.
"Nakitulong din waday lugana sin hauling di materyales, nan provide iman din teachers si makan, din estudyante ya parents nakitulong sin panakabite ya sin construction mismo (Those who have vehicles volunteered for the hauling of materials, teachers provided food while students and parents helped during the riprapping and actual construction)," Manong Loreto testified.
After a barangay assembly, community members decided to render free labor for four days during the actual construction and riprapping works around the school building.
Manong Loreto said that the four-day free labor is nothing compared to the number of years that their children can use the building when asked if they don't feel unfair for rendering free labors.
"The 1.4 million funds from DSWD Kalahi-CIDSS and LGU is like our prize for diligently working together as a community," he happily said.
Beyond the Physical Structure
With the community putting more importance to education than any other needs of their barangay, Manang Tessie explained their belief "Idiay ka gamin nga agkaprogreso ta siyempre no haan ka nga nagrugi ti Kinder, haan ka maka apan elementarya, haan ka maka highschool, haan ka maka kolehiyo. Siyempre haan kan makaaply ti work mo ([Education] is where progress starts because when you did not start from Kindergarten, you won't be able to enter elementary until college. With that, you won't be able to apply for work)."
The community firmly believes that when you are educated, you can uplift your life including your family, you can travel to other places or learn other languages. With education, there are only few limits to what you can do.
As parents, they wanted their children to have variety of choices and opportunities and not to be limited to farming only.
By taking the challenge of implementing a school building, barangay Sagpat definitely made a huge step to open opportunities for a better life for their children.
After its turnover on September 15, 2017, the school building now provides a conducive learning facility for the pupils of the barangay. #DSWD-CAR, SOCIAL MARKETING UNIT, Jasmin Kiaso