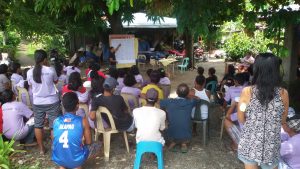 Love for the community and passion to serve the people are among the many reasons why they become community volunteers of DSWD's Kapit-bisig Laban sa Kahirapan-Comprehensive and Integrated Delivery of Social Services (Kalahi-CIDSS) program.
In my field works as a community development officer assigned in the province of Abra, I would often meet community volunteers from different walks of life. As part of my work, I enjoy talking with our community volunteers whenever I would get a chance. Some of their words would just stay in my memory and that's when I know that it's time to put those thoughts into writing.
Each municipality in Abra has its own uniqueness even if they belong to the same province. It goes the same with the community volunteers I've met. Most of the times, their version of change depends on their development status and their political situations.
One of my favorite municipality is Langiden, Abra. I recall that my visits there are often coupled with challenges of crossing the Abra river especially during rainy seasons. Whenever I arrive in Langiden, I'd always think that I'm entering a tiny place where time has stopped. While some municipalities are "developing" or changing fast, this community has maintained its rustic atmosphere.
Langiden, Abra is now implementing 4th cycle of DSWD Kalahi-CIDSS under the National Community-Driven Development Program. Their first to third cycle implementation is funded through a grant by the Millennium Challenge Corporation (MCC) of the United States of America (USA).
There, I met Manang Mary Bueno, 56 years old, Barangay Sub-Project Management Committee (BSPMC) Chairperson of Barangay Quiliat, Langiden, Abra.
"Imbag man ta nakaumay kayo ditoy training tayo," I greeted her and she answered me casually in her Abra Ilokano accent.
"Adu ti ubraek kuma idiay balay ngem siyak met ti maysa nga nadutukan nga volunteer iti Kalahi-CIDSS sunga inbaon da siyak nga umay makiseminar ditoy (There are many household chores that I'm supposed to do but since I was chosen as one of the volunteer, they sent me to attend this seminar)", she said during one of our casual conversations during our Community driven-development and Gender and Development Training.
Manang Mary is serving as a BSPMC Chairperson in her barangay for the first time. According to her, she was elected during their 5th barangay assembly.
It all starts with a sacrifice
Attending trainings and seminars are among the many activities that community volunteers have to attend which means having to temporarily leave their families at home.
The volunteers would talk about their chores they left back home but then during reflection sessions, they would realize and appreciate the importance of the trainings being organized for them.
My community works also gave me the opportunity to enter and leave Luba, Abra. The people here are warm as their love and care for the environment. Their indigenous practices and cultural values are the things that sets them aside as people especially their unwavering bayanihan spirit.
"Nagadu ti training ken seminar ti Kalahi ditoy barangay, munisipyo ken daduma pay nga lugar kasla kuma idiay Bangued ken Baguio sunga isakripisyo mi ti oras mi ken ibati pay ti pamilya ti manu nga aldaw karkaro no idiay Baguio (There are a lot of trainings and seminars in Kalahi-CIDSS conducted here in the barangay and municipal center, in Bangued and also in Baguio City so we need to sacrifice our time and leave our family for a couple of days)", confirms Tatang Leonardo Ramos, 62 years old, BSPMC Chairperson of Barit, Luba, Abra.
"Haan kuma nga palubusan ni baket ko syak nga makiseminar ta awan mangkita dyay nuwang me ngem inmayak latta (My wife told me not to attend seminar since no one will take care of our Carabao but still I came to attend)", Tatang Leo claimed during a chat at Bangued when he attended the Capability Building for BSPMC Chairpersons. When asked why does he end up attending trainings, Tatang Leo happily answered "I learn a lot of things especially when I attended the LGU forum where we visited Kapangan, Benguet. It was my first time to attend such activity outside Abra. I think I will treasure that experience for the rest of my life" he said in vernacular.
Like Langiden, the municipality of Luba is also implementing one cycle of Kalahi-CIDSS NCDDP after they finished three (3) cycles of the program through the MCC grant.
Another municipality that I remember well is the municipality of Lagayan. While staying in the community, apart from the being entangled in political challenges, I find this place as home to persevering people who are willing to change the status of their community.
As Manang Jacqueline Tabas recounted, "A kas maysa nga volunteer, adu met a ti naadal ko iti Kalahi-CIDSS, naadal nu kasanu ti ag-implementar ti maysa a proyekto, nu anya ti umuna nga maaramid ken daduma pay (As a volunteer, I learned a lot from Kalahi-CIDSS; I learned how to implement a project and the steps in doing so)".
Manang Jaqueline is the Project Implementation Team Chairperson of her barangay. Her team is in charge of the actual physical implementation of their approved proposal.
She said that the trainings they attended opened them to ideas on what they need as a community as well as the steps they can do to help develop their community.
While going around communities in Abra, community volunteers would often express their gratefulness that their capacities are improving. With that, the program is definitely achieving its purposes. I would also commonly hear their clamor that the program should be continued at the LGU level.
"Mayat kuma no tuloy tuloy ti Kalahi-CIDSS ta makita nga talaga nga amin nga kwarta ket mausar para iti proyekto (We hope that the program will be continued because there is transparency in how the fund is being used)," Manang Jaqueline says.
I'm also one with them hoping that transparency will be practiced in all government operations and, that the services needed may really reach the citizens.
For Kalahi-CIDSS, the volunteers are the forefront of the program implementation at the community level. Their journey towards community development is still long. But knowing that there are community volunteers with passion and right capacity is a good and fresh beginning. Their selfless service will surely echo in their communities as the continue with their quest for development. Truly, they are in their own way, our unsung heroes. #DSWD-CAR, SOCIAL MARKETING UNIT, June Tay-og, Community Development Officer