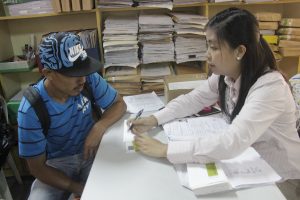 Cordillera Administrative Region – Around PhP 12,715,000.00 has already been released by the Department of Social Welfare and Development (DSWD) here to 1,870 households whose houses have been damaged during the onslaught of Typhoon Lawin in 2016.
The shelter assistance was released through cash cards. This was done in partnership with the Landbank of the Philippines (LBP) Baguio Branch.
"Unlike the first release which is in the form of cash, the remaining assistance to the victims is now being provided through cash cards which the victims can use in case that they will again need the assistance of the Department", DSWD OIC-Regional Director Janet P. Armas said.
In 2016, Typhoon Lawin victims whose houses were damaged were given Emergency Shelter Cash Assistance (ESA) amounting to PhP 5,000.00 as an immediate and initial response to help rebuild their homes. Subsequently, a validation was conducted to ensure veracity of documents submitted to the Department. Victims who are able to comply with the requirements of the Department have been considered eligible for the second tranche of assistance amounting to PhP 5,000.00 for partially damaged houses, and PhP 25,000.00 for totally damaged houses.
In July 2017, the victims from the municipalities of Bokod, Kabayan, and Tuba in Benguet, and Baguio City were the first to receive their cash cards.
As of 23 August 2017, 856 households in Benguet and Baguio City were able to receive the assistance amounting to PhP 5,780,000.00 This accounts to all target beneficiaries in the said area.
Meanwhile, there are already 202 households in Kalinga Province who have received the assistance amounting to PhP 1,370,000.00. Around PhP 5,565, 000.00 assistance has also been distributed to 812 victims in Abra Province.
The Department is expected to provide the Emergency Shelter Assistance amounting to Php 268,635,000.00 to 45,007 households in the Region.
"The amount we have released is just a small portion of our target which means that most of our beneficiaries are still waiting for our assistance. And we, in the Department, are exhausting all our efforts to release the remaining assistance within August to September", Disaster Response Management Focal Mary Ann G. Buclao said.
To further facilitate the release, distribution of ESA cash cards is being done in the municipal level. Meanwhile, beneficiaries who were not able to claim the cash cards during the on-site distribution can claim their cash cards at Baguio City Landbank Servicing Branch. Beneficiaries are required to bring one (1) 2×2 ID photo, a valid identification (ID) card with photo, photocopy of the valid ID and/ or Barangay Certificate signed by the Barangay Captain in absence of a valid ID.a
The DSWD-CAR will be coordinating with the respective Local Social Welfare and Development Offices on the specific schedule of the release of assistance.  #DSWD-CAR, SOCIAL MARKETING UNIT, Nerizza Faye G. Villanueva and Phylein Maria Rosette U. Callangan